The Pure Water Occasional for October 14, 2013
With articles about lead in water and lead in bathtubs, the continuing decline of the water level in Lake Michigan, and how filter carbon adsorbs contaminants. There is also lots of world water news, and, as always, much more.
Bathing Can be Hazardous to Children's Health
by Valerie Wigglesworth
Eric and Laura Rudeseal had already started tearing out the baseboards and door frames in their Arlington home when they realized there might be lead-based paint.
With two young children and a third on the way, they recognized the need for safety while remodeling the 1964 home Eric Rudeseal grew up in.
They tried a home test kit but still weren't sure whether they were dealing with lead. So they ordered blood tests for 2-year-old Trevor and 6-year-old Kassidy. Results indicated both had been exposed to the toxic heavy metal. But to their surprise, paint wasn't the source.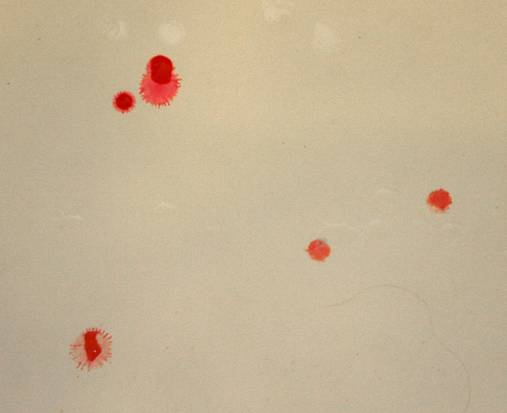 A lead testing kit can show spots where lead is present in bathtubs.
After a lot of expense and help from an expert, they found the problem: their bathtubs.
Dean Lovvorn, a Plano-based lead risk assessor, specializes in finding the source of low-level lead exposure in children. He said the No. 1 source today is still lead-based paint, even though it has been banned since 1978. But he's finding through his work in the Dallas-Fort Worth area that bathtubs are the second most common culprit.
The lead comes from cast iron or steel tubs coated with a porcelain glaze. As the glaze wears down from age and use, the lead in the glaze can leach into bath water. Young children who drink bathwater or put their wet hands or toys in their mouths during bath time are at greatest risk.
There is no safe level of lead exposure in children. Even a small amount can cause damage that lasts a lifetime.
Exposure is measured through a blood test. A blood lead level of less than 5 in children can cause decreased academic achievement and a lowered IQ as well as problem behaviors and attention deficit disorders. Blood lead levels less than 10 in children have been linked to delayed puberty, decreased IQ and decreased hearing.
Tests in August showed Trevor and Kassidy had lead levels of 4.4 and 4.5. They had been taking baths when they stayed overnight at the home while their parents did the remodeling. A separate test also showed lead leaching from the bathtub in their existing Arlington home.
"It was kind of a surprise," said Laura Rudeseal, who is familiar with lead poisoning because of her training as a registered nurse. She said she'd never heard of the dangers from old bathtubs.
Her children only take showers now. The couple hope to eventually replace the tubs in their home to remove any risk from lead.
"It's infuriating to me that it's still an issue," Eric Rudeseal said.
Tamara Rubin knows well the dangers of lead. Two of her sons have brain damage from lead poisoning suffered in 2005 due to unsafe practices by a painting contractor. She has since founded the nonprofit Lead Safe America Foundation and is putting the finishing touches on a documentary, MisLEAD: America's Secret Epidemic, which will be released next year.
She said she often finds bathtubs tainted with lead — they are everywhere. Yet people don't know about the risks.
"It's always tested as a last resort in a family that has an exposed child," she said.
The use of porcelain glazes containing lead is not regulated, although many American companies have voluntarily stopped using them. The Healthy Homes and Lead Safety group, which is based in North Carolina, states that some manufacturers were using lead in the glaze of certain bathtubs as recently as 1995.
Adding to the problem is the number of building supply centers that recycle old bathtubs for installation in newer homes, Rubin said.
Lovvorn's 1992 Plano home has a tub that leaches lead. The 1977 home in Dallas' Lake Highlands area where his daughter and grandchildren live also has a lead-glazed tub.
Officials with the Texas Department of State Health Services say lead found in the glazes of bathtubs is a potential hazard, but it's unclear how much of a hazard.
A home test kit available in the paint section of most hardware stores can detect the presence of lead. Lovvorn is quick to point out that the chemicals in the test kit may permanently stain the bathtub. He recently covered his daughter's tub with pink and red blotches while sampling for lead. It serves as a reminder, he said, to keep the kids out.
National Lead Poisoning Prevention Week, which starts Sunday, aims to raise awareness about lead poisoning and the risks. The Centers for Disease Control and Prevention considers it the most preventable environmental disease among young children.
Rubin said what's most surprising is how uneducated people are about the risks from lead poisoning. Most of the lead hazard information is directed at low-income families, but lead poisoning strikes at every income level, she said.
"Education needs to have a broader base," Rubin said. "That's why I made the film, because I wanted to reach out to the whole country and not just limit it to low-income families."
Many children exposed to lead will not show any obvious symptoms. That's why some health experts recommend that all children be tested.
The state of Texas requires lead testing only for children on Medicaid and those living in targeted neighborhoods with a large number of older homes. But even those children aren't always tested.
"If all children had their blood tested, they would see a big outcry," Lovvorn said.
Pure Water Gazette Fair Use Statement
Source: Dallas Morning News
More About Lead from the
Pure Water Occasional
Lead rarely occurs naturally in water. It gets there from mining operations or industrial processes, but most often it gets into drinking water through plumbing fixtures. Low pH can be a factor, because as the pH of water goes down, its ability to leach metals from pipes and fixtures goes up.
The risk of lead poisoning is highest in children and pregnant women. Children absorb 30-75 percent of the lead they ingest; while adults absorb only about 11 percent. Effects of lead poisoning include brain, kidney and red blood cell deterioration, coma and convulsions, and high blood pressure. Lead-damaged children experience slowed physical growth, hearing problems, and reduced intelligence.
Lead is powerful stuff. While most water contaminants are measured in parts per million, the EPA's maximum contaminant figure for lead is only 15 parts per billion.
The best water treatment for lead is prevention in the form of replacing pipes with very old solder joints (the Safe Drinking Water Act imposed limits on lead in solder in 1986) and fixtures that can leach lead. Raising the pH of acidic water and amendments in total alkalinity levels can dramatically lower lead content as well. Phosphate-based corrosion inhibitors are also effective.
Actual lead removal is done fairly easily in drinking water with any good reverse osmosis unit. There are also cartridge filters with lead-removal properties built into them. KDF, special ion exchange resins, and activated alumina cartridges can all be used to reduce lead in drinking water.
For whole house lead treatment, a standard water softener can be an effective lead remover, but reduced flow rates must be observed. There are also carbon block cartridge style filters, but these restrict service flow considerably.
For more information about lead removal, see the Occasional's Water Treatment Issues page on lead.
This Week's World Water News
Featuring cheery stories about dengue fever, flesh-eating bacteria, breaking levees, rivers ruined by dams and by war, drainage problems, failing infrastructure, caiman infestation, lionfish infestation, jellyfish infestation, and, as always, algae infestation.
Flesh-eating ocean bacteria hospitalizes 32, kills 10 in Florida. New warnings were issued this week, surrounding a flesh-eating bacteria strain found in the ocean, which has already killed several people in Florida.
India battles dengue fever outbreak. An outbreak of dengue fever since February has killed more than 100 people, inundated hospitals with patients and triggered school closures. Experts say this year's early and prolonged monsoon has provided more breeding grounds for disease-carrying mosquitoes.
Russia-Greenpeace furor animated by Arctic oil pollution. An environmental organization with a $350 million war chest, a giant protest vessel, 28 activists and a rubber raft have succeeded in drawing Russian President Vladimir V. Putin into a very public global dispute.
North Dakota pipeline spill prompts calls for better oversight. North Dakota needs to do more to ensure that pipelines can safely carry the rapidly expanding oil production from the Bakken Shale, state officials, transportation experts and environmentalists said after a pipeline leaked 20,600 barrels in a wheat field last week.
When the levees break – again. The levees on the Yuba and Feather Rivers, in rural Northern California, have been in a state of disrepair for at least 50 years, causing significant economic hardship for the area's sizable Sikh American farming community.
Groundwater testing near oil and gas wells: How much data is enough? A Wyoming proposal to test water quality at oil and gas wells before and after drilling is making its way through the rulemaking process. But the rule may not actually be able to answer the question of who's responsible, if contamination occurs.
Oil companies, environmentalists oppose fed rules for removing sunken oil rigs. Oil companies and environmental groups may spar over off-shore drilling, but there's one thing they can agree on: Leaving scuttled rigs on the ocean floor creates a rich environment for coral, endangered species and other marine life.
6 major lakes face serious threat from pollution. Six major lakes face a serious threat from pollution and rapid development, as a directive of Bombay high court at Goa to prepare a detailed plan for their protection has been relegated to the backburner.
Dammed, dirty, drained by war: Can Iraq's Tigris River be restored? Nature Iraq wants to restore the Tigris, which contributed to the birth of agriculture about 7,000 years ago, to its free-flowing, clean former self. The environmental group is swimming upstream.
Cruise lines can do more to reduce environmental footprint, new report says. While many cruise lines are adopting more eco-friendly measures and outfitting new and older ships with advanced technology to reduce vessels' environmental footprints, more needs to be done, according to a report released Wednesday.
How Ho Chi Minh City's filthy canal became a park. Sewers and storm drains don't stir most people's deepest passions. But try creating a modern, economically vibrant city without them. Ho Chi Minh City has spent the past decade building a modern sanitation and flood control system for the 1.2 million people living along its Nhieu Loc-Thi Nghe canal.
China issues decree on urban drainage treatment. Chinese Premier Li Keqiang has signed a decree on urban drainage and sewage treatment, as flooding and water pollution is becoming a bigger problem at a time of rapid urbanization.
Thousands of caimans thrive in Rio's urban sprawl. Oh, the glories of Rio that await spectators and athletes at the 2016 Olympics: those beaches, that music, the dramatic mountains. And then there are a few thousand alligator-like creatures slithering through sewage-like lagoons
.
Officials dive into Pittsburgh's river pollution woes. Earlier this year, competitors in the Pittsburgh Triathlon had something on their minds besides finishing the race: They wondered if they'd get sick from the raw sewage floating in the region's rivers after a heavy rainstorm the night before. Unfortunately, some did.
Drinking recycled effluent 'inevitable' in smarter Australia. It is inevitable that Australians will be drinking recycled effluent in coming decades, the lead author of a scientific report launched on Wednesday says.
Willows opposes proposed chromium-6 standards. Willows residents, business owners and city officials made their concerns known on Friday to the California Department of Health regarding its proposed new maximum contaminate level for chromium-6.
Ohio seeks stream pollution limits to fight algae. Environmental regulators in Ohio want to set limits on the pollution in streams that feeds toxic algae on lakes in the state including Lake Erie, where the blooms threaten drinking water used by millions, northern Ohio's huge tourism industry and the health of fish.
Boulder County's flood-ravaged farms weigh loss of crops, business. A month after historic floodwaters washed over much of Boulder County, local farmers continue to assess the damage to their land and crops, make sense of their losses and determine whether their produce is safe for consumption.
Lionfish infestation in the Atlantic Ocean now a growing epidemic. The clear waters around Bermuda are as picturesque as you can imagine, and the brilliantly colored fish swimming around are like something from a crayon box. But a serious problem lurks behind the beautiful facade: the lionfish.
East Africa: Ethiopian dam plans spark regional tensions. A group of Egyptian academics and experts have declared their opposition to the current plans for the $4.8 billion Grand Ethiopian Renaissance Dam – on which work has started, and which will be Africa's largest hydroelectric power plant when completed.
Jellyfish stings an increasing public health concern, experts say. Small translucent blobs dotted the Waikiki shoreline when Angel Yanagihara set out for a sunrise swim one early July morning in 1997, and while an old woman told her they were box jellyfish that are dangerous, she thought that was silly.
With Great Lakes stuck at historic lows, talk turns to adapting
By Nick Manes and Joe Boomgaard
In 1998, President Bill Clinton was embroiled in the Monica Lewinsky sex scandal, the Detroit Red Wings won their ninth Stanley Cup and Larry Page and Sergey Brin founded Google Inc. in Menlo Park, Calif.
It was also the last year that Lake Michigan water levels were at their long-term average height.
In September, Lake Michigan's average water level was 577.56 feet, or 18 inches below its long-term average for the month, according to data from the U.S. Army Corps of Engineers.
The 14 years of below-average levels on Lake Michigan is "the longest in its period of record," the corps said in its September Great Lakes Water Level Summary. Earlier in January, Lake Michigan dropped to its lowest average level ever recorded.
The implications of lower water levels are numerous for Michigan. The Great Lakes provide much of the state's drinking water and are used for commerce ranging from shipping to fishing, recreational boating and tourism.
"We were really going into a crisis situation come spring," Alan Steinman, director of the Annis Water Resources Institute at Grand Valley State University's Muskegon campus, said about the water levels earlier in the year. "The good news is since April, … we're no longer near that crisis level, but we have to remain vigilant. We can't get complacent because we are still well below the long-term mean."
A mix of evaporating water and minimal ice cover due to warmer temperatures over the winter has contributed to the record-low levels, according to the corps. Heavy rainfall throughout April, which resulted in significant flooding in downtown Grand Rapids, as well as water flowing in from Lake Superior, has helped raise Lake Michigan, Steinman said.
Read the rest of the article on the Pure Water Gazette website.
Adsorption of Water Contaminants: How Filter Carbon Works
According to the Wikipedia, "Adsorption is the adhesion of atoms, ions, or molecules from a gas, liquid, or dissolved solid to a surface. This process creates a film of the adsorbate on the surface of the adsorbent. This process differs from absorption, in which a fluid (the absorbate) permeates or is dissolved by a liquid or solid (the absorbent). Note that adsorption is a surface-based process while absorption involves the whole volume of the material."
Explained more graphically:
This man has adsorbed a pie.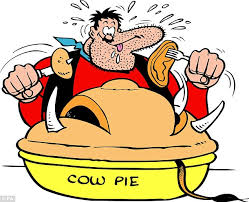 This man is absorbing a pie.
In water treatment, activated carbon is the main adsorbing agent. This is true because filter carbon has an amazing amount of surface area and a strong ability to attract and hold organic chemicals. Most of the surface area is internal.
Enlargement of granular carbon shows countless pores that adsorb contaminants. The surface area of the pores is exceptional. A single pound of activated carbon has more surface area in its pores than 100 football fields.
Carbon's amazing ability to adsorb organic chemicals varies according to the chemical in question and conditions of the water. In general, chemicals of high molecular weight and low solubility are most easily adsorbed. The lower the concentration of the chemical, the higher the adsorption rate by carbon. Also, the fewer the interfering organic compounds present in the water the better. The pH of the water is also significant, with acidic compounds being most readily adsorbed at low pH. And, as with most other aspects of water filtration, rate of flow of the water being treated is extremely important with carbon adsorption. The more residence time the better.
In regard to specific chemicals, one source lists dozens of common chemicals and ranks them according to the likelihood that they will be removed by carbon adsorption. Here are a few of the more common items from the list:
Very High Probability of Adsorption: Atrazine, Malathion, 1, 3-dichlorobenzene, DDT, Lindade.
High Probability of Adsorption: Toluene, styrene, benzene, carbon tetrachloride, vinyl acetate, phenol.
Moderate Probability of Adsorption: Chloroform, vinyl chloride, acetic acid.
Unlikely to be adsorbed by carbon: Isopropyl alcohol, dimethylformaldehyde, propylene.
It should be remembered that although carbon has great chemical reduction capacity because of its ability to attract and hold chemicals on its surface, it acts in other ways as well. Chlorine, for example, is reduced mainly by catalytic reaction with the carbon, not by the "grab and hold" process of adsorption.
Need Chlorine?
Chlorine has its drawbacks, but it is one of the most useful water treatment devices available. Most city water users think of chlorine as the stuff they put in water that makes it taste bad. Most realize its great value, however, as a disinfectant that protects users from waterborne pathogens. For well owners, chlorine can serve the same purpose, as disinfectant, but it is equally useful as an "oxidizer" of problem contaminants like iron, hydrogen sulfide, and manganese.
Treating well water with chlorine involves a variety of products. A common method of introducing chlorine is with a dry-pellet chlorinator, which is similar to a large gum ball machine. The pellet dropper sits on top of the well and releases pellets into the well.
Chlorine is usually injected above ground with a special pump that feeds small amounts of chlorine directly into the water pipe. To give the chlorine time to do its work, a "retention tank" is usually added, and an appropriate filter follows the retention tank to remove the oxidized contaminants.
Pure Water Products stocks complete chlorination supplies, including both Sentry and WellPro dry pellet chlorinators and chlorine pellets, Stenner peristaltic injection pumps and Chemilizer non-electric injection pumps, static mixers, WellMate retention tanks, cartridge-style filters in many varieties and sizes, and a full line of our own brand of Fleck-controlled backwashing filters. We also have Well Sanitizer kits that make single chlorine "shock" treatments easy. Details.