Help build habitat at Patterson Park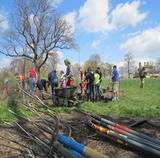 Shopping with Amazon.com?  Please use this link and Chesapeake Audubon will receive .5% of your total purchase amount!
Sunday, July 9, 8:00AM   Leader Hugh Simmons
Oregon Ridge Park: Birding Basics

Are you interested in joining the fun of birdwatching

?
This is one of a series of monthly bird walks for those
new to birding that will focus on developing bird identification skills.  Rather than simply naming the bird we will spend time talking about the characteristics that lead to an identification: family, descriptive anatomy, posture, behavior, voice, habitat, etc.  We will also
discuss topics such as binoculars, field guides, birding apps, clothing
and birding etiquette.   While we will hopefully see a lot of birds the primary goal
will be to spend time understanding each ID rather than to check off as many species as possible. To register contact Hugh Simmons at

lensonnature@gmail.com

or

410-456-0017.
Tuesday, July 11, 8-10AM, Birding by Boat at Pickering Creek Audubon Center, $15.00 per person
Grab your binoculars and your sense of adventure as we spend the morning birding by boat – or, rather, canoes! We'll paddle Pickering Creek and search for birds high in the sky and low on the shores of the Creek.
Appropriate for beginner birders. Some paddling experience is helpful but not required. Canoes, basic instruction, paddles, binoculars, and PFD's
provided.  Please wear shoes securely attached to your feet – no flip flops! Advance registration required call 410-822-4903 to do so.
Wednesday, July 12, 730-1000PM, Movie Night,
City of Trees and 'An Urban Oasis for Migratory Birds' with Patterson Park Audubon, Location:  
Creative Alliance, 3134 Eastern Ave, Baltimore, 21224
'City of Trees' explores the challenges of a D.C.
nonprofit working for environmental justice, green jobs, and urban parks. The film will be preceded by 'An
Urban Oasis for Migratory Birds', an Audubon short,
and followed by a Patterson Park-based panel discussion featuring park partners and moderated by Audubon.
to purchase tickets. Mention "Patterson Park" for
member pricing - $7 (+ $3 at the door).
Wednesday, July 19, 6-730PM, Salamander Search at Pickering Creek Audubon Center, $5.00 per person
Trek through the woods at Pickering Creek Audubon Center on a search for salamanders and other amphibians!  We'll flip logs, peer under cover
boards, and discuss salamander research and monitoring efforts at Pickering Creek.  Come prepared to cover 1-2 miles of trails. Register by calling 410-822-4903.
Looking forward:
July 21 - Bird Explorers for Teen at Patterson Park
July 22 - Bird Walk at Druid Hill
July 26 - Magic of Wetlands at Pickering Creek
July 29 - Saturday Bird Walk at Patterson Park
August 12 - Swan Harbor Farm
August 12 - Butterflies at Pickering Creek
Volunteer  with Chesapeake Audubon!
Patterson Park Audubon 
Saturday August 5
, 9-1030AM,  Habitat Team
We are building bird habitat in Patterson Park and need your help! These native gardens provide food and homes for the park's wildlife, and learning spaces for students. Tools, gloves, water, and snacks provided. Service hours awarded to helpful students. No need to register. Meet at the wetland garden, uphill from the Boat Lake.  Email

baltimore@audubon.org

with questions or for directions.
Pickering Creek Audubon Center: 
Thursday, July 20, 4--7PM, Painting Prep and Picnic at Pickering Volunteer Event
We've got many buildings to take care of at the farm, so put on your painting clothes and come out to Pickering Creek Audubon Center after work this evening for our Paint Party prep day and potluck picnic 4:00 – 7:00 pm. Bring your skills, willing hands, and a dish to share. Call Samantha at 410-822-4903 or
email
spitts@audubon.org
to sign up.
Saturday, July 22, 9:00am - 12:00pm. Paint Party
We'll spend a morning tackling a variety of important painting projects around the farm at Pickering Creek Audubon Center including the people mover, garden shed, and more. Many paint brushes make light work! 
Call Samantha at 410-822-4903 or email
spitts@audubon.org
to sign up.
Congratulations to the 2017 Audubon Photography Awards Winners  

more
Charles County restricts development in Mattawoman watershed. 

more