FALLEN RISES FOR LIONSGATE
HIGH-RISE UP FOR STUDIOCANAL
MIDWEEK CHART UPDATE
BEYOND TAKES TREK TO NEXT LEVEL
ENTERPRISING ANNIVERSARY SET
BUNKER MENTALITY FOR CLOVERFIELD
EONE'S GIANT OF A FILM
A SPECIAL RELEASE
VERNON EXITS METRODOME
TRUST GIVES BIRTH TO NEW TRAILER
RLJ MAKES FIRM COMMITMENT
NOW I WANNA BE YOUR DOGWOOF
SODA SETS STORE IN FOPP…
…AND LOOKS FORWARD TO SHARK WEEK
MUBI PEGS YOUR BADEN
FDA'S EXHIBITIONISM
---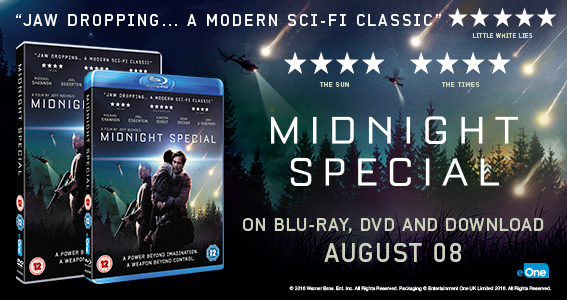 ---
If you can't read this newsletter or see the ads, please click
here
It Was A Good Week For... Lionsgate's London, far from fallen…
It Was A Bad Week For… Illegal download site Kickass Torrents, whose owner was arrested in Poland and may be extradited to the US…
We'll start this week with some sales success stories, as we always love doing when a title has got off to a good start and this week's winner in the Official Charts Company's midweek listing is London Has Fallen, Lionsgate's action sequel set in the capital. At the halfway stage the Gerard Butler starrer had shifted 75,000 units, making it the number one seller for the week so far. And it's kept on going too, meaning it is well placed to match the original Olympus Has Fallen's week one total around the 150,000 mark. Commenting on its success, Lionsgate's Susie Bould said: "We are thrilled with the brilliant numbers on London Has Fallen so far. The fun-filled campaign – including an Action Hero assault course on the South Bank to celebrate the launch, key influencer activity, fantastic in-store set up and a strong traditional marketing campaign – has translated into a great buzz about the film and what is shaping up to be a strong week 1 result."
Also from the Official Charts Company's midweek chart: anyone who's ever read JG Ballard's early works, such as the notorious Crash and High-Rise, will be heartened to see the film adaptation of the latter performing well in its first week on release – it's a new entry in the Official Charts Company's midweeks at number seven. As noted here last week, Studiocanal had full retail support for the title, which stars arguably one of the film world's hottest stars, Tom Hiddleston, and it marks the most successful outing thus far for British director Ben Wheatley. And you've got admire Studiocanal's impressive promotional work for the film this week – it sent out customised Lego sets based on the film, complete with Minifigures of Hiddleston and his co-stars to key media outlets and earned the film acres of publicity. Among the lucky recipients (we're still desperately trying to get our hands on one) were Total Film and Empire…
As for the rest of the midweeks, Kung Fu Panda 3 remains at number two, Allegiant drops one down to three, while The Witch is a new entry at number four, while a double pack of both …Has Fallen films, Olympus and London, is at number five. Finding Nemo is the biggest drafting rise, up to number 10, on the back of Disney's promotional activity, while other new entries are Norm Of The North (at number 15) and The Trust at number 16.
A few big films arrive in cinemas this weekend as the schools break up for the summer. One of the blockbusters arriving is Star Trek Beyond and we were lucky enough to see a preview of the latest outing for Captain James T Kirk and co this week at the Empire in London's Leicester Square. And it really is a return to form for the crew of the Enterprise, it's a lot of fun and smartly references the history of the franchise, timely given that Star Trek is celebrating its 50th anniversary this year. As you'd expect, there's plenty of drafting activity going on, across both physical, through Universal, and digital, from Paramount. In the case of the latter, Paramount has added a while raft of extras to its Trek film catalogue (which now totals 13 including the Star Trek Beyond) available through iTunes. As Paramount's Barney Hands noted: "The goal was to provide digital consumers with a wealth of behind the scenes footage equal to the quality and depth that has previously only been available on physical formats." It's also interesting to see Universal and Paramount, across both digital and its theatrical departments working so closely together on the release, with Amazon offering discounts on physical Trek catalogue titles (20 per cent off selected Trek DVDs and Blu-rays) to anyone who buys cinema tickets via the online giant's ticketing arm. As Universal's Emma Havens further said: "We are really excited about this and being able to work so closely with all the partners on it, it is a great mechanic and will help us to drive a lot of awareness across the whole Star Trek franchise." The distribution deal between the two studios officially started just over a year ago and it's good to see the pair working so closely together on releases such as this.
Oh, and another big Trek release worth keeping an eye out for, ahead of the home entertainment release of Star Trek Beyond is a lavish Blu-ray box set due on September 5, three days before the 50th anniversary of the US transmission of the first ever episode of the programme. The 30-disc features every outing starring the original crew of the Enterprise, taking in the original series, the animated series and the first six feature films in the franchise, as well as a whole raft of extras… More on this closer to the release.
Sticking with Universal and Paramount and Monday July 25 sees a big release from the combined forces as 10 Cloverfield Lane, the kind-of sequel to Cloverfield, arrives on DVD and Blu-ray after its digital release. The film, which arrived almost from nowhere, comes with a strong pedigree, both in terms of box office (it took £5.4 million) and reviews too. Universal said it has "brilliant retail support" for the film, which will be supported by a digital advertising campaign. In a smart piece of marketing, it has partnered with live experience company Escape Rooms to recreate the bunker from the film for a special game for media, competition winners and consumers (paid-for tickets sold out within 30 minutes) and is working across PR and social media channels to highlight the game. It is also working with HMV Pure on the initiative too. Commenting on the release, Universal's Poonam Chudasama said: "Developing new marketing initiatives is always a challenging but exciting process and working on Cloverfield Lane has certainly been exciting! Bringing elements of this film to life has been a hugely creative and immersive experience and one that I have thoroughly enjoyed."
To London's Leicester Square for the much publicised premiere of the latest Steven Spielberg film, his adaptation of Road Dahl's The BFG. You can't have failed to notice the coverage of the event, which earned acres of column inches, press and radio airtime and online chatter, with the legendary director in town to promote the event, alongside many of its homegrown stars, including Mark Rylance, who really does bring Dahl's creation to life. The film is due at cinemas on Friday July 22, with, as noted, the home entertainment release due in Q4. And it really does deserve to be one of the summer's biggies at cinemas and a blockbuster in homes for the winter months. Our junior correspondents, particularly our eight-year-old, loved it, parents too – it's a quintessentially British family film, and all the better for it. eOne's excellent marketing for the film can only further its chances too… Commenting on The BFG, the company's Stephanie Don said: "We're hugely excited about the theatrical release of The BFG. Our campaign is jumpsquifflingly giant in scale, and with the fantastic reviews and audience response from the premiere last week it is destined to become a British classic."
Let's stay with eOne and somewhat different from The BFG is another of our films of the year, Midnight Special. Starring the ever-wonderful Michael Shannon, and directed by collaborator Jeff Nichols, it's a stunningly original and smartly crafted sci-fi film. Commenting on its impending release, eOne's Scott Monahan said: "We're very much looking forward to releasing the critically acclaimed and gripping Midnight Special on Blu-ray, DVD and download August 08. A truly fantastic film from Jeff Nichols, one of today's most exciting and original filmmakers, Midnight Special is an action-packed and mysterious sci-fi road movie that's unlike anything you've seen before. With a perfectly targeted marketing and publicity campaign featuring stunning materials and creative including eye-catching silverboard o-rings, dynamic action-packed AV spots, display formats, social and press advertising Midnight Special is definitely not one to miss."
Metrodome has announced that will be streamlining its senior staff after current md Jezz Vernon leaves the company. Vernon has announced he is exiting at the end of August, with John Ramchandani, who currently oversees the company's Hollywood Classics arm, looking after international rights for a clutch of major studios, taking a broader role across both Metrodome and Hollywood Classics. Ramchandani said: "Metrodome Distribution has an outstanding slate for 2016/17, including recent Cannes award winner Personal Shopper and this is undoubtedly an exciting time to join the team. Over the last 13 years I have seen Metrodome change in line with the ever-evolving industry and I look forward to guiding the company through the next compelling chapter of the UK Film Industry." Vernon himself, who joined the company more than a decade ago after leaving Revolver, said: "'It's been a great joy working with the Metrodome team for the past 11 years – I honestly think they're the best in the business. But it's time to push on into new adventures."
Another week, another Moments Worth Paying For trailer hits the screens and the latest sees the Industry Trust targeting a younger audience than normal. It has partnered with Warner for a special trailer for its forthcoming family animation Storks. Research commissioned by the Trust shows that a third of 11-12-year-olds are downloading or streaming unauthorised content, and it is now aiming to reach them before they reach the topping point, by highlighting the benefits of watching content legally. In keeping with its ongoing strategy, the trailer directs audiences to

findanyfilm.com

, and will further be supported by online and outdoor activity. Commenting on the ads, Warner Bros UK, Ireland and Spain president and md Josh Berger said: "We are proud to be working on another Moments Worth Paying For campaign, and to support once again the Industry Trust in their important educational work. An incredible amount of creative talent has gone into making Storks, and we're confident that this trailer, and the film itself, will delight younger audiences and their parents alike." Trust digital communications manager Sylvia Wan added:
"Young audiences are really important for the UK's film industry as they spend an increasing amount of their time online. We have to drive them away from pirating content and encourage them towards the many legal ways in which they can access creative content. Storks is the perfect title for this. Finding collaborations that work for this younger audience goes hand in hand with our education programmes in the classroom delivered through our strategic partnership with Into Film. We are really thankful to Warner Bros. Pictures UK for enabling us to create such a great animated trailer."
RLJ Entertainment continues to diversify its offering, and after releasing a number of DTV and feature film titles in recent years it is now moving on to the world of classic film releases. And what a title it has picked up to start its latest foray… The company is releasing Alan Parker's classic award-winner The Commitments in a special 25
th
Anniversary DVD edition and – would you believe it – for the first time ever on Blu-ray. An all-new feature, The Commitments – 25 Years Later, featuring interviews with Alan Parker and a number of the film's stars, has been specially made for both SKUs. RLJ md Stuart Shaw said: "This will be the biggest film event of the year for RLJ. The Commitments is a classic in the best sense of the word. Timelessly entertaining, and making its first appearance on Blu-ray, we're looking to ensure these special editions sell right through Q4." Joint head of marketing Gareth Brown added: "Having attended the New York premiere of the film 25 years ago, it's both a pleasure and an honour to take responsibility for this anniversary edition. With a national theatrical tour of the West End musical, the ever-touring band The Stars From The Commitments and a new album from star Bronagh Gallagher near release, this is a great year all round for the film. We have a commitment to The Commitments which will be supported by an extensive marketing plan around its release on September 19. Watch this space."
Acquisitions news now and Dogwoof has added to its slate by picking up Cannes hit Gimme Danger. The eagerly awaited doc (we're sure we're not the only ones who can't wait to see it) charts the career of seminal pre-punk pioneers The Stooges, who blazed a trail but ultimately self-destructed. The film is directed by Jim Jarmusch who said: "No other band in rock'n'roll history has rivalled The Stooges." Dogwoof's Oli Harbottle said: "Jim Jarmusch meets Iggy Pop - it really doesn't get much better than that. We're thrilled that Amazon have entrusted us with the UK release of Gimme Danger, and we look forward to working alongside them to bring the film to audiences later this year."
Diary date: trade body BASE has joined forces with MESA Europe and, as the announcement stated this week, the two organisations have banded together to form "one must attend event". The event, also sponsored by ERA, is due to take place at the Picturehouse Central in the West End of London on September 7 and will offer up the best of both worlds, looking at consumer trends, offer up the thoughts and insights of senior executives, look at new products and technologies and, in its category showcase section, will highlight forthcoming, upfront product. Commenting on the event, BASE chief executive Liz Bales said: "The BASE and MESA integrated event will elevate the Category Showcase and THE Summit to deliver a comprehensive must attend category event for distributors, retailers and the supply chain. Making it easier for all to access a diverse range of leading insights to inspire new thinking on challenges across the category, as well as preview some of the exciting new content coming down the line. We expect the event to be popular across the industry and would advise anyone planning on attending to register their interest now."
Retailer Fopp continues to support key independents from our business with its ongoing promotions and the latest to benefit from its supporter will be Soda. Monday sees the release of the company's thriller Disorder, which is being used as a platform to launch a major promotion in Fopp's stores. Commenting on the promotion, Soda's Louise Rae said: "Our Fopp promotion last year was a huge success, so this year we have made it even bigger with 250 lines available at eye-wincingly great prices across both deep catalogue and newer releases. Alice Winocour's superb thriller Disorder, starring Soda favourite Matthias Schoenaerts, is a natural fit for Fopp and will headline the promotion from its release on Monday."
The promotion comes as Fopp continues to further diversify its range. As we've noted here, the company has moved into the DTV sector too and, after the recent success of Steven Seagal flick Asian Connection it has now turned its attention to another straight to video action hero in the shape of Dolph Lundgren, starring in a shark-laden tale, Shark Lake, due on August 1. The company's Louise Rae said: "Shark Lake has been a lot of fun to work on - as only a film in which Dolph Lundgren punches a shark can be - and our digital agency has created some hilarious online assets to support the release. Some fortuitous scheduling has Dolph himself appearing at next weekend's London Film and Comic Con, where we can only hope that some brave fans will turn up in shark costume."
Mubi has this week unveiled its plans for one of its major acquisitions. Baden Baden, the debut feature length outing from Rachel Lang, will be released at cinemas on September 23, followed by an exclusive appearance on the curated svod service from early October. Commenting on its plans, Mubi marketing director Tania Sutherland said: ""Following the release of Miguel Gomes' acclaimed Arabian Nights trilogy, Mubi continues in its search to find the most thought-provoking films from around the globe; bringing them to cinemas and exclusively to home audiences. 2016 continues to be a great year for the service with a wealth of great titles exclusives still to come. As well as the theatrical release of Mathieu Amalric's The Blue Room on September 9, we are extremely excited to launch Rachel Lang's Baden Baden, which premiered to a wonderful reception at this year's Berlin International Film Festival, on September 23
in UK cinemas before it appears on Mubi later in the month. Mubi's vision continues to be to provide an expertly curated selection of the highest quality films to audiences."
Theatrical trade organisation the FDA has been busy this week, unveiling a new summer exhibition of customers, posters and photographs in the heart of London as its business enters the busy summer period. The exhibition, State Of The Art Cinema, is at the Strand gallery and was opened by Alex Zane at a reception, it will run until later in August. It also includes a cinema made for 25,000 Lego bricks, and every Wednesday there will be free family fun activities. Commenting on the initiative, FDA president Lord Puttnam said: "
State of the Art Cinema is a wonderfully vivid showcase of some of the creative skills required both to make movies and release them to audiences. A great poster catches the eye, tempts the mind and can even touch the heart; I sincerely hope this new collection will delight and inspire visitors of every age, whether in person or online. It's a timely reminder, especially during a summer of high-profile sporting events, that the cinema experience continues to offer a vast array of brilliant entertainment."
Google believes that providing convenient, compelling, legitimate alternatives is one of the best means of fighting piracy. Accordingly, Google has launched a number of initiatives to present legitimate alternatives to users as part of search results, including providing advertisements on queries for movies and music to link users to legitimate means of purchasing content. Google also collaborates with copyright owners and music services to help them understand how to use SEO (search engine optimisation) techniques to get their offerings into search results for "long tail" queries where they may not be appearing today.
The search results for the vast majority of media-related queries show results that include only legitimate sites in the top results pages. This is thanks to both our constant improvements to the algorithms that power Google Search and the efforts of rights holders to prioritise and target their copyright removal notices. Nevertheless, some critics paint a misleading picture by focusing on the results for rare, "long tail" queries, adding terms like "watch" or "free" or "download" to a movie title or performer's name. While the search results for these vanishingly rare queries can include potentially problematic links, it is important to consider how rare those queries are.
Google defends its anti-piracy efforts in its How Google Fights Piracy 2016 report
AT THE MOVIES
The new take on Ghostbusters ended its first week of release at the top of the UK box office charts, earning more than £4.3 million in its opening frame. The latest Ice Age instalment, Collision Course, was a new entry at number two with a touch under £3.8 million. And Secret Cinema's latest outing, Dirty Dancing, has taken just under £1 million at the start of its run…
Pokemon Go is, as they say, all the rage now, so when news started trickling through that a new Pokemon film was on the way, many expected it to be based on the app. The film will, however, be a live action outing (complete with CGI) and will feature instantly recognisable creature Pikachu, albeit in a detective role…
TV news and the good new for Netflix fans is that a second series of Making A Murderer is being readied for airing on the svod service, while Game Of Thrones fans weren't overly happy that the next season, the seventh, will actually be truncated and only feature seven episodes…
TWEET OF THE WEEK
TRAILERS OF THE WEEK
This week's biggie, it\s the Horror Channel FrightFest trailer…
What do we have for entertainment? Magnificent…
More Red Band business from Seth and pals…
To subscribe to The Raygun newsletter, please email info@theraygun.co.uk
with subscribe in the subject matter
To unsubscribe, email info@theraygun.co.uk with unsubscribe in the subject