---
| | |
| --- | --- |
| | February 2019 |
Reduced stress. Increased productivity. Improved well-being.
Forte Organizers helps individuals and families stay organized at home, as well as teaching business people organization skills at work.
There is something to love about Lori's latest Dayton Daily News article.
Overwhelmed by email in your inbox?
Take a few minutes to do this simple tip. Search the word 'unsubscribe' in your mail search feature, then go through and remove yourself from any non-essential mailing lists. That will cut down how much email is coming to your inbox on a daily basis.
With cold and flu season in full swing, it is the perfect time to organize your medicine cabinet.
Start by taking everything out of the cabinet and giving it a good cleaning.
Next, go through all of the medications and separate everything that is expired. It is important to properly dispose of all expired and unused medications to reduce the risk of accidental or intentional misuse.
The FDA recommends disposing of all medications through medication take-back programs or at permanent collection sites. Many communities, including Centerville, host drug disposal days several times a year.
Next, organize your medications by general categories, separating the adult from the children's. Place each category in inexpensive bins or baskets from the dollar store and label for easy identification. Put them back in the clean cabinet and restock any needed medications after your purge.
Now you are all ready for any cold that comes your way!
FREE! Organized for Life
Wednesday, Feb. 6, 6:30 pm-8:00 pm
Beavercreek Library, 3618 Dayton Xenia Rd, Beavercreek, OH 45432
Call (937) 352-4001 to register due to limited space.
Sacred Heart Greeting Card Collection
209 W. Lake AvenueNew Carlisle, OH ,
Office phone: 937-845-3121
Hate throwing away those beautiful Valentines and Greeting Cards?
Sacred Heart Catholic Church collects greeting cards (used or unused) and repurposes them for St. Vincent de Paul. You can drop off your cards in the box in the back of the sanctuary or drop them off in the office.
Lose Your Stuff, Find Yourself...
You will love these insights from Lori's book "Lose Your Stuff, Find Yourself."
"We need to stop wasting time and emotional energy on stuff, and focus more on those we love. Anthony Brandt's quote, 'Other things may change us but we start and end with family,' reminds me not to place so much importance on the stuff I own. Instead, I value time spent with friends and loved ones.
"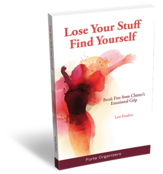 Pick up a copy of Lori's book by using this link:
Amazon.com
Just Hit Reply...
What is one organizing product that you just love and can't live without? A labeler? Hanging file folders? Photo Organizers? Just Hit Reply and let us know!
"Love yourself first and everything else falls into line. You really have to love yourself to get anything done in this world." ~ Lucille Ball