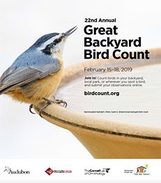 Get ready for the
Great Backyard
 Bird Count
February 15-18 
Shopping with Amazon.com?  Please use this link and Chesapeake Audubon will receive .5% of your total purchase amount!
January 1 (Tuesday), noon-2:30pm,   Leader: Bryan MacKay, Soldiers Delight (Owings Mills area)

Start off the New Year with a 3-mile hike at Soldiers Delight (near Owings Mills). We probably won't see much, but Soldiers Delight is a lovely grasslands and a very pleasant place to hike. We'll start at noon
(and finish by 2:30) for those recovering from the previous night. Contact Bryan MacKay to register and for information and directions

mackay@umbc.edu

,

at least 

 

24 hours in advance.
Saturday, January 12, 10am-12pm, Winter Landscape and Wildlife Photography with Royce Ball and Pickering Creek Audubon Center 
$20 per person
All levels welcome! Join Pickering Creek's "unofficial photographer," Royce Ball for a morning at Pickering Creek Audubon Center practicing new skills with whatever camera you use (Yes, even the camera on your phone!) to capture great moments outdoors. Wander the trails with your camera in hand, looking for new perspectives and new ideas for your nature photography hobby.

Royce Ball has been photographing nature since 2003.  He began with no experience or knowledge of photographic methods, and 15 years later is proud to say he is self-taught through experience. Royce has had his photographs featured in What's Up Annapolis and Eastern Shore magazines, more than two dozen covers of the Talbot Guide, and won two honorable mention awards from the photography portion of Plein Air Easton in 2011.  
REGISTER
 online
or call 410-822-4903.
Saturday, January 26, 9am,  Leader: Colleen Webster, Perryville Community Park (Cecil County)

Meet at Stumps Landing (farthest point east). Scopes encouraged, but leader will have one.  Easy walk on mostly pavement to see Tundra Swans heading north and a variety of winter ducks, Gadwall,
Ring Neck, Wigeon, Scaup, Canvasback, Bufflehead, Hooded Mergansers.   Dress warmly and bring a hot beverage as we survey
the tip of the Chesapeake Bay.   All levels are encouraged to see these big birds in big numbers! Call Colleen (410-459-4577) or email (

cwebster@harford.edu

) to register

and ask questions.
Sunday, January 27, 11:00am,   Leaders: Tim Houghton, Brad Phoebus, Blackwater National Wildlife Refuge

Take a trip with Tim to the Blackwater NWR on the eastern shore. You will search for Tundra Swans, Snow Geese, Brown-headed
Nuthatches, wintering ducks, and other avian treasures. Meet at the Visitors Center. Contact Tim to register and for other questions: 410-510-7504 or (email) timhoughton@comcast.net.  
Volunteer  with Chesapeake Audubon!
Pickering Creek Audubon

Center: 
Pickering Creek has ongoing volunteer opportunities to match your skills and interests.  Please see their website for
details -
click here.
Patterson Park Audubon 
The Patterson Park Audubon Center team needs volunteers to help in their efforts to produce quality programs for children and adults, and to build Baltimore's bird habitat in Patterson Park and beyond. There are lots of ways you could help, both indoors and outdoors, or possibly from your own home. 

Click here for information

.