Mundelein Community Connection (MCC) is a not for profit organization dedicated to the economic development, historic preservation and healthy community spirit of Mundelein's central business district. Working together we provide an atmosphere where new and established businesses can grow and where families find the hometown they always wanted.
A Message from the Executive Director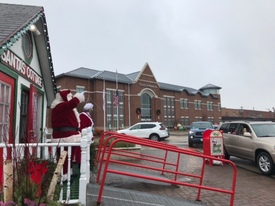 It is great to put 2020 behind us and turn our attention to the year ahead.  In spite of all the frustrations and cancellations in 2020, we ended the year on a high note with two great events.
MCC participated in the Village of Mundelein live Tree Lighting event on December 6
th
.  The Tree Lighting ceremony was a live show streamed on Facebook.  "It was like doing a live Television show" said Mayor Steve Lentz who gave the annual Holiday message; Village Clerk Sol Cabachuela added a Holiday greeting for the Spanish-speaking community; Santa arrived on a fire engine as usual and welcomed kids to see him at Santa's Cottage; there was a reading of "The Night Before Christmas" by Mary Flynn; the Mundelein Pageant Queens flipped the switch to light the Holiday Tree, which was followed by a short recorded fireworks show.  It turned out to be a unique and creative show that was enjoyed by hundreds of people in Mundelein, throughout Lake County and around the country!  A video of the event is available at
www.mundelein.org
.           
MCC closed the year with a very successful "drive-thru" Santa's Cottage on two Saturdays in December.  In spite of less than ideal weather on the first Saturday, this year's Santa Cottage had more visitors than ever before.  Nearly 400 cars stopped by to greet Santa, waved to him from the car, and received a special Holiday goodie-bag.  Hundreds of families took advantage of the newly installed "Santa's Mailbox" to drop a note to Santa.  Eight lucky children received a "Golden Ticket" redeemable for additional prizes.   There was even an FM radio station playing holiday music by local musicians, organized by the Mundelein Arts Commission.  It was a great end to a tough year.
MCC's fiscal year ends soon.   As we start the New Year and begin planning for the year ahead it is time for our annual Membership Drive.  In 2021, we hope to return to a full schedule of events.  The dates may vary from prior years because of public health regulations, but planning is now underway for our annual events:
The Mundelein Craft Beer Festival (typically in June)
Park-on-Park Cruise Nights  (monthly May – September)
Bike Rodeo (in conjunction with Ray's Bike and Mower, usually in June) 
The Mundelein Arts Festival (in partnership with the Mundelein Park and Recreation District)  (September)
The Farmers Market (weekly June – October)
Santa's Cottage (December)
If you are currently a member of MCC, we hope you will renew your membership.  If you are not yet a member, please consider joining. Your membership shows a support for keeping downtown Mundelein a focal point of community programming.   Help support the downtown events that make our town a great place for family-focused, fun, exciting events. 
Click here for a membership form application.
A membership in MCC is a partnership in the growth of downtown. Benefactors and event sponsorships for any of the events listed above are also available.  For more details on sponsorship opportunities and membership please contact Executive Director, Terry Skriba at 847-980-9235.
Farmers Market Manager Search Now Underway
After seven years of exceptional service as the Mundelein Farmers Market Manager, Gary Gunther stepped down at the end of the 2020 season to devout his time to other pursuits.  In order to continue the Farmers Market the MCC Board is now searching for a new Market Manager for 2021. 
The Farmers Market was one event that we were able to hold in 2020 without disruption.  Because the Market is a food-service operation that is set in an outside environment, safety procedures like masking, social distancing, use of hand sanitizer, etc. were relatively easy to implement and a permit could be obtained.   The MCC Board is hopeful that the Market will return in June 2021 and continue its normal run thru September.
The key to the Market's success is having a good Market Manager at the helm.  Because it requires weekly attendance and a good deal of preparatory work, the Market Manager is a paid position.  The Manager provides general supervision over the Market to make sure it functions smoothly.  The manager solicits vendors, answers questions, resolves disputes, and coordinates with the Village of Mundelein.     
Mr. Gunther left a detailed manual on how to run the market, including vendor contacts, timelines, and suggestions for improvements to make the job easier for his successor.  Experienced volunteers are available to help each week with set-up and take down.  For more information, contact MCC Executive Director, Terry Skriba, 847-980-9235 or email 
mundeleincc@tds.net
,
for more information.
Mundelein Craft Beer Festival 2021
The craft beer festival, normally held in early June each year, is MCC's premiere fundraising event.  Attendance usually runs between 1,500 and 2,000 beer-lovers, with over 40 micro-breweries to choose from.  Good music, local food vendors, outdoor games, and plenty of seating, has given the Mundelein Beerfest a great reputation among craft beer vendors and aficionados alike.    
This year, the June date is looking uncertain.  There is still too much uncertainty in the craft beer industry to guarantee a spring event.  Planning which normally begins in January is currently on hold.  We are taking a wait-and-see position for the time being.  We are working closely with our partner Tighthead Brewery of Mundelein.  We will re-evaluate the situation in February.  An alternate date in late August or early September may be possible.  However, as much as we want to hold this event, we also want to maintain our high standards, and follow the proper public-safety protocols to keep everyone safe.  We will do our best.  Stay tuned; and follow
www.tightheadbrewing.com
for more information.
MCC's other signature event is Park-on-Park Cruise Night, held monthly throughout the summer.  Usually, there are five cruise nights May – September.  On a good weather night there will be over 500 pre-1977 classic cars on display, music, food, and lots of car-talk.  All five events were cancelled in 2020, which would have been the event's 20th anniversary. 
Park-on-Park was a partnership with On-the-Road Classics car club, and lead by Pete and Tony Christie.  The car club disbanded at the end of 2020, ending our long and fruitful partnership.  The MCC Board thanks all the Club members, Tony and Pete for all the time and dedication they spent over 20 years to make Park-on-Park the best such event in the Chicago suburbs. 
The MCC Board is planning to assume leadership of the event going forward, maintaining its high standards of management, safety, and community participation.  Unfortunately, because of the continuing public health emergency the May, possibly June dates may need to be adjusted.  We will have to wait and see. 
Around Town (Community News)
This pandemic has shown both the resolve and limitless ability of our restaurants to innovate and find new business avenues as they shift their entire business models. With takeout service as one of the available options during the pandemic, please join Mundelein's "Take Out…Shout Out" by ordering takeout whenever you are able! Let's do everything we can to support our Mundelein restaurants. "Anything we can do to keep our restaurants open is the order of the day. Takeout is their lifeline, it's vital," says Steve Lentz, Mayor.  
Please consider ordering a meal for delivery or pick-up as often as possible! You're helping our restaurants and our restaurant workers throughout Mundelein! Visit
www.mundelein.org
 for a list of restaurants (with email and phone contacts), that are ready to take your order!   Thank you for supporting our local restaurants.
Mundelein to Host Downtown Bicycle Race in July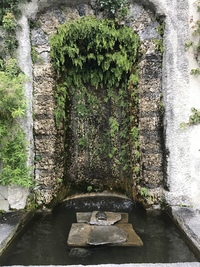 Mundelein Grand Prix Bicycle Race—is in the planning stages for July 19, 2021. Mundelein has been selected as a host site for a day of professional and amateur bicycle races as part of the Intelligentsia Cup. The Intelligentsia Cup is a week-long series of bicycle races occurring across Chicagoland, with each day's races occurring in a different community. It attracts elite racers from across the country and internationally.
Racing will take place from 9 a.m. to 9 p.m. on a closed loop course. Estimates indicate that the event will draw up to 800 racers and more than 1,000 to 2,000 spectators throughout the day! In total, there will be about 10 races over the course of the day, with each race category lasting from 30-90 minutes. This event is much more than a bicycle race; it is designed to be a community festival with many surrounding activities to create a great experience for spectators and families alike. Planning efforts have just begun and many details need to be addressed. Sponsorship opportunities are available! For more information, please contact Taylor Wegrzyn, Planner at 
twegrzyn@mundelein.org
 or 847-949-3238.