**
<><><><>
EFT for Physical & Emotional Healing
Friday June 5
<><><><>
Sunday June 7
12-2 PM - $25
<><><><>
Animal EFT
Sunday June 14
12- 2 PM - $25
<><><><>
EFT for Physical & Emotional Healing
Sunday June 21
12-2 PM - $25
<><><><>
Lose Weight, Gain Confidence with EFT!
Sunday June 28
12-2 PM - $25
<><><><>
to reserve your seat 48 hours in advance!
=============
**
Contact Colleen for a free consultation or to book a session for an hour of surrogate muscle testing, tapping, laughing, fear blasting and SWEET RELIEF!
<><><><>
<><><><>
DISCLAIMER: EFT is gentle acupressure and has produced remarkable results in relieving emotional and physical distress.
USE EFT AT YOUR OWN RISK ON YOURSELF AND OTHERS, INCLUDING ANIMALS.
If you apply this newsletter's techniques to yourself or others, you are agreeing to take full responsibility for any side effects and/or outcomes.
* * *
Thank you for subscribing to my newsletter!
* * *
May you be blessed with perfect health, wealth, joy, peace and love! --Colleen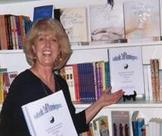 Please forward this newsletter to family and friends who could use the news!
Need help identifying the Core Issues to tap on?
"Heal Your Body A-Z" by Louise Hay lists almost every physical condition known to science and the emotional issues that may be causing them.
*
My Products page has more info on this book and others to help YOU heal your life with the power of EFT and Louise Hay's teachings.
*
Want to jump start your 2009 Summer weight loss program by flushing out the fears that keep the fat where it's at? Maybe you have some hidden food allergies that are sabatoging your slenderizing? Try a private session with Colleen. Her surrogate muscle testing will identify your hidden blocks to success!
*
Click
HERE
for Private Session information
.
Have you used EFT on yourself, pets or family but have not received the results you wanted?
Colleen tells ALL her secrets to EFT success in her E-book!
Click
here
to view the table of contents.
Mega thanks to YOU, my Worldwide Subscribers for inviting me and my EFT Secrets into your inbox!
*** * * * * *

<><><><><><><><><><><><><><><><><><>
Happy Father's Day to Dads Around the World
Celebrating This Month!
<><><><><><><><><><><><><><><><><><>
*
People around the globe have ordered my E-book,
learned my Muscle-Testing Methods and EFT Secrets to help themselves, pets and their loved ones! You can NOW get the E-book and 3 bonus e-books through PayPal, then

download them right away

! Check out the Table of Contents and get details by clicking HERE.
<><><><> June 2009 Braindroppings <><><><>
*
Sigmund Freud, the father of Psychoanalysis said, "I cannot think of any need in childhood as strong as the need for a father's protection."
*
We have such high expectations of our fathers. How could they possibly have lived up to what we, their children, expected of them?
*
I expected a lot more from my father than he could emotionally handle or give. I always knew Dad loved me, but he only told me "I love you" three times in my life, during the last year of his life. That hurt me...a lot...for many years. My dad's dysfunctional childhood scars prevented him from being emotionally available to his family, prevented him from saying, "I love you."
*
Is there any man on Earth who is emotionally and mentally prepared for fatherhood and the expectations of his children? I doubt it. Dads just do the best they can like everyone else, learning on the job, sometimes seen as the hero and sometimes seen as the villain, usually the breadwinner and the disciplinarian.
*
Some people believe that before we are born, WE choose our parents and our family to learn the best lessons for our souls.
*
Yikes!
That means we have no one to blame for our parents except ourselves!
I recall a Wayne Dyer TV special in which he told the audience about the time that he and his teenage daughter had disagreed on his rules. He told her not to blame him, because
she
picked her parents.
Wayne's daughter replied, "Well, I must have been in a hurry!"
If you live in one of the 50 countries that celebrate
Father's Day this month, you'll probably have some strong feelings around that holiday about "Dad" and your relationship with him. Maybe you feel like you were in a hurry, too?
*
Why not give yourself and your father the gift of forgiveness this year, for anything he might have done? Forgiveness is a loving gift to give yourself....and he never has to know.
*
Not forgiving another is like drinking acid each day and hoping it affects the other person.
*
* ><><><> EFT SCRIPT <><><>
Here are some sample Set-up Statements (tapping on the Sore Spot or Karate Chop points) from some of my client sessions on Father Issues. These can help to get you started not only on forgiving your father but anyone else who hurt you in any way:
*
Even though I felt so unsafe and afraid and you did little or nothing to protect or help me, Father, I choose to believe you were doing the best you could at that time and I forgive you.
*
Even though I felt rejected and abandoned when you left me (physically or emotionally or by death), Father, I release all my negative emotions and I allow my heart, mind and body to heal. I choose to know that you DID love me, you just could not say the words out loud to me.
*
Even though I was so afraid that the terrible times between us would never end, I'm tapping away all the anger, resentment, fear, shame and guilt NOW.
*
Even though I've felt like such failure in your eyes, Dad, and you made me feel like I couldn't do anything right, I now release my fears of failure as an adult. I forgive myself for thinking I'm a failure, and someday if not today, I will forgive YOU.
*
--------> Now do a 9-Gamut Routine <------
Next, tap on the face and torso points:
*
(Top of head) I love myself and honor my bravery for being born into this family and surviving into adulthood.
*
(Inner eyebrow) Papa and I had so many tough times that I was afraid would never end, but I'm safe now.
*
(Side of eye) I'm choosing to forgive myself and my dad (step-dad, father-in-law, foster father, adopted father) now as a gift to ME and to him.
*
(Under eye) Dad might have been doing the best he could, maybe only knowing to treat me like his parents treated him. Maybe this made ME a better parent or caregiver by seeing how not to parent, so I choose forgiveness now.
*
(Under nose) Releasing all the anger, guilt, resentment, fear, shame and regrets about things we said and didn't say to each other.
*
(Under lower lip-above chin bone) I'm drinking from the cup of forgiveness not self-poison, choosing to let my precious Self heal on every level, in every dimension.
*
(Collarbones) Tapping away all these hurtful emotions and long-held fears, loving and forgiving myself and someday if not today, forgiving you, Father.
*
(Under Arm) Letting all the fears and resentments fall away so the LOVE, PEACE and JOY can replace them NOW.
*
I hope you "tapped into" your Father's Day gift of forgiveness! I've helped many clients release long-standing fears and other negative emotions about their parents. These gentle souls can now think of the tough times with their families, feel relief and NO negative emotions associated with the incidents or relationship.
*
Are you ready to tackle your "Father Issues"? Or maybe you're a dad who needs help? How about a Gift Certificate for an EFT Session for that special man in your life...or even you?
Email me for more information, to request a free consultation (new clients) or to schedule a session:
Colleen@EmoRescue.com
For the TOP TEN REASONS that people choose Colleen's EFT Coaching, click
HERE
!
*
Keep on tapping away your blocks to joy, peace, love, prosperity and success!
*
P.S. -- I LOVE YOU and MISS YOU, DAD!
<><><><><><><><><><><><><><><><><><>
Please support independent small business! Go to
www.LightworkersGifts.comfor a huge selection of books, CDs, intuitive readers and other services you can access without living in Phoenix, AZ!
*
Wish you could have inspirational DVDs mailed to your home that the whole family can enjoy at a low price? Spiritual Cinema delivers movies that enlighten, inspire, teach and motivate their viewers and offers a FREE trial for new members!
*
Are you ready to open a holistic healing practice
but not sure where to begin or the best way to do it? Check out this
fabulous package
of incredible information for new and experienced business owners, from successful practitioners like yours truly!
Yes, I own it. Yes, I recommend it--I learned many fresh, fascinating holistic business tips!
**
If someone forwarded this newsletter to you, I hope you enjoyed it!
Click
here
to get your own subscription and a free two-volume e-book on how to release panic, stress and fear via EFT. You can easily unsubscribe at any time.
*