SHOP HOURS
Monday: CLOSED
Tuesday: 12 - 6
Wednesday: 12 - 6
Thursday: 12 - 7
Friday: 12 - 6
Saturday: 10 - 6
Sunday: 12 - 4

 

ReBelle will be closed July 2-7 for vacation.

 

 

 

Summer is finally here which has us pulling out those light and soft plant fibers that we have been missing all winter long. Over the next six weeks we will be making a lot of changes and additions around the shop so if you want to keep up with everything that is happening in the shop, now is a good time to follow up on social media.

 

In August, we will be participating in the

I-75 Yarn Crawl

again. We had a really great time last year and heard nothing but good things from those of you who participated last year. The Crawl stretches from Tennessee to Michigan and you can go to as many or as few shops as you like along that route. There are tons of prizes and specials so you won't want to miss out. Passports are only $5, grab yours

here

!

 

As usual, ReBelle will be closing for a week this summer so that we can go on vacation. This year that week will be July 2-7 so plan accordingly.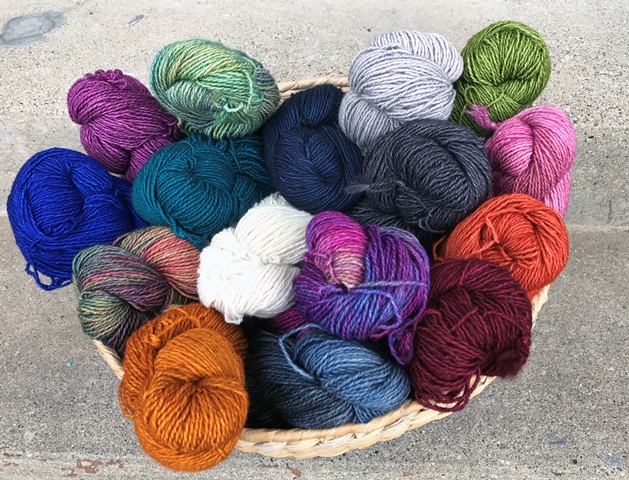 We have ten more colors in Dos Tierras which brings us to 17 colors total!  Dos Tierras combines the finest merino wool from Uruguay with the finest baby alpaca from Peru.  Dos Tierras is cable plied, meaning that 2 two-ply strands are plied together. 
The result is a gorgeous DK weight yarn that's particularly round, not as "hairy" as typical alpaca blends (and therefore less prone to pilling), and as soft as you would expect from Malabrigo.  Dos Tierras is a 50/50 blend with 210 yards per 100g skein. It knits up nicely on a US size 5-6 needle, typically 20-22 sts/4 inches. Dos Tierras is perfect for a cozy sweater, a comfy cowl, shawls, hats, mittens, leg warmers or blankets. I think it's perfect for an oversized sweater like Heavenly or Clarke Pullover, but some other great patterns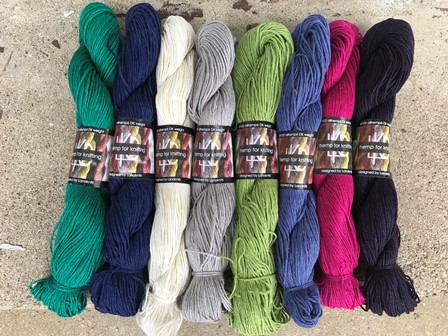 Allhemp6 is one of the yarns that we have carried since the very beginning, we absolutely love it. We decided to freshen up the palette a bit this year so there are some new colors for you to enjoy. If you haven't tried knitting with hemp yet, we highly reccomend starting with this yarn, it is strong and with use it softens over time while still maintaining its strength. It is great for things like towels, scrubbies, and market bags (did we mention that we have a free market bag pattern in the shop for this yarn?) Patterns we like for this yarn include
Sarah's I Love My Denise Market Bag
 (free in shop,) the
Everlasting Bagstopper
, the
Seashore Kerchief
, and
Mossykka
.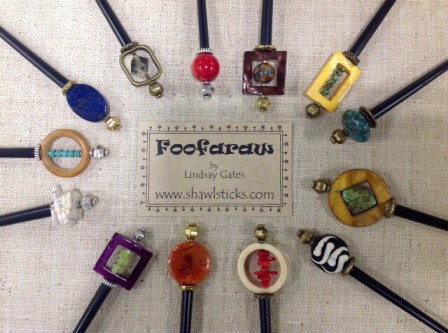 And for those of you who love fancy shawl sticks, we have added some fabulous ones from Foofaraw by Lindsay Gates. 
The yarn of the month for May is Hempathy. Hempathy is a fantastic yarn. It's a blend of hemp, cotton and modal. The cotton and modal add softness, but Hempathy still has the durability and drape of hemp (similar to linen). Hempathy is perfect for shirts and lightweight cardigans as well as skirts, Summer shawls, bags and luxurious face cloths. Some patterns that  
Strafford Tee
,
Vitamin D
(cardigan), 
Lotus Blossom Tank
,
Summer Tank
(kids),
Hip in Hemp
(skirt),
Summer Scarf
, 
Ilene Bag
,
Spa Day Facecloth
. 
Featured Upcoming Classes
 

 




Come spend a fun morning tie-dyeing! We will be dyeing with professional quality dyes for vivid colors. Each participant may bring 3 items to dye (one pound of fabric or less). Suggested items include t-shirts, pants, skirts, bandanas, cloth napkins, socks, lightweight tote bags or plain fabric. We will review basic folding and tying techniques and supply all the materials needed for you to tie and dye your pieces. Recommended for ages 5+, younger children are welcome, but they may need extra help. Materials needed: Light colored or white, clean, fabric or garments made from cotton, linen or rayon.

 

One class $15 for adult/child pair, each additional child $5

Sign up online here.

Saturday, June 24th (4 sessions available)
Glycerine Soapmaking 

($30)




Design and make four bars of soap to take with you at the end of class. You will be experimenting with color, fragrance, texture, embeds and different shapes for your soap. This is a great introduction to the easiest type of soapmaking. We will not be using any harsh chemicals, so this class is appropriate for children who are old enough to work safely with hot liquids.

Saturday, July 15th 2-4pm




 
 

 

 

Wheel Spinning I & II ($40)

 

In the first class you will learn about the basic mechanics and maintenance of a spinning wheel, types of fibers and fiber preparation methods used for spinning, and the fundamentals of spinning a basic yarn.

In the second class we will ply the singles spun after the first class. We will learn about setting the twist and finishing the yarn. We will also go over how to incorporate your handspun yarns into your knitting projects.

You will need to bring a spinning wheel and 2-4 oz of prepared wool fiber (roving, top, rolags, or carded batts.) If you do not own a spinning wheel, there are two available for rental.

 

Sunday, June 18 & 25th 2-4pm