Hello CSA Members,
  Today, Wednesday October 5th is a CSA pick up.  Your share will be available for pick up from 4-7pm at yo
ur chosen pick-up location. 
Just a reminder that today, Wednesday October 5th will be the last eve

ning farmers market.  Members who pick up at market, please remember to pick up your last share of the season out here at the farm on October 12th.
Anne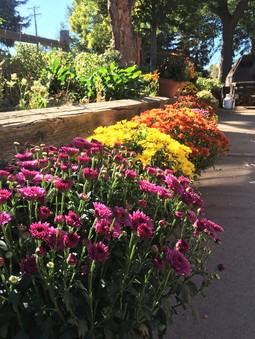 Butternut, Acorn or Spaghetti squash
Siberian Kale
Eggplant
Green Wax Beans
French Breakfast Radishes
Tomatoes
Mixed Peppers
Red Potatoes
Garlic
Fruit share: Peaches, Plums, Apples
Egg Share: pick-up every week
Bread Share: next week!
Coffee Share: next week!
Wine & Cheese share: next week!
Babette's: next week!
Coming next week: tomatoes, greens, winter squash, garlic, radishes, potatoes and more.....
    The Mistral aka big wind has arrived.  It makes you remember flannel as a viable option and to buy more socks (remember socks!)  All a bit of change to one's life as the interns search job postings which require no heavy lifting and piglets now roam pastures at 3 months old.
    The contagious feelings of Autumn (Aspen glow, willow leaves, soup recipes, more soup recipes.)  breeze through the days as temperatures seesaw from morning till evening requiring great patience and dexterity with multiple layers.
    As Georgia remarks, "  I wish the sun wasn't awake yet this bed is too comfortable.)  Ah yes, that re-establishing of our close relationship with our mattress is arriving, plenty of reasons to quiet the debate within our heads as to whether it is too early to get up, yes it is too early but the weeds never sleep.
    Continuing on we don the wool cap and plunge deep into the frosted soil in search of golden carrots and ivory parsnips with which to feast upon.
Enjoy!
Tuscan White Bean and Kale Soup
The chilly temperatures this morning have us in the mood for some soup. This delicous recipe combines kale, potatoes, and white beans for a hearty, warm-up-your-soul type of feel!

French Breakfast Radishes and Toast A classic combination for breakfast. Creamy butter, spicy radishes, and sweet butter lettuce on pumpernickel will be a new breakfast treat!

Lemon and Honey-Glazed Lamb Get fancy tonight with dinner! Tart lemon compliments the sweet honey, for a "sweet and sour" lamb that you'll love.

This traditional Sicilian dish will have you enjoying all the last flavors of summer; eggplant, tomatoes, peppers, and more!
Tuscan White Bean and Kale Soup
2 tablespoons olive oil
2 medium sweet potatoes, cut into ½-inch pieces
1 medium onion
4 ribs celery
3 cloves garlic
½ teaspoon dried rosemary
½ teaspoon dried thyme
½ teaspoon salt
⅛ teaspoon black pepper
2 (15 ounces each) cans cannellini beans, rinsed and drained
4 cups low sodium vegetable broth
1 medium bunch kale, removed from tough stems and chopped (about 4 packed cups)
Directions
Heat olive oil in a large Dutch oven or pot over medium heat. Add the sweet potatoes, onion, and celery and cook, stirring often, for 5 minutes. Add the garlic, rosemary, thyme, salt, and pepper and cook for 30 seconds. Stir in the cannellini beans and broth.
Increase the heat to high and bring to a boil. Cover, reduce heat to a medium simmer, and cook until sweet potatoes are softened, about 8 minutes. Stir in the kale and cook until wilted, about 2 minutes.
Serve!
French Breakfast Radishes on Toast
½ TBS fresh lemon juice
1/8 tsp  sea salt
¼ cup light cream
1 oz finely minced green bunching onions or chives
3 cups butter lettuce
8 French breakfast radishes, thinly sliced
2 Tbs unsalted butter at room temp
Zest of 1 lemon
4  slices pumpernickel bread
Coarse sea salt
Directions
Make dressing:  Combine lemon juice and salt well.  Add half and half and onions and blend well.  Season to taste.
Tear lettuce into bite-sized pieces.
Slice radishes into thin rounds.  Set aside one quarter of the radishes, then cut remaining radishes rounds into thin strips.  Finely chop the radish leaves.  Place radishes and leaves on paper towels to absorb excess moisture.
Combine butter and lemon zest.  Add radish strips and chopped radish leaves and mash everything together.  Season with salt and pepper to taste.
Spread mixture on toasted rye bread slices.  Add radish rounds on top, sprinkle with a bit of sea salt.
Lemon Honey-Glazed Lamb
1 lb green beans or yellow wax beans, cleaned and trimmed
1 Tablespoon olive oil
2 lbs boneless lamb shoulder
1 red onion, sliced thin
2 red bell pepper, sliced thin
2 Tablespoons honey
juice of 1 lemon
¼ cup fresh cilantro, chopped; more for garnish
1 Tablespoon sesame seeds
¼ teaspoon sea salt
¼ teaspoon black pepper
Directions
Bring a large pot of water to a boil. Add the beans and blanch for 2 minutes.
Trim the fat from the lamb and cut the remaining meat into thin strips
Heat olive oil in a skillet over medium high heat. Add the lamb and stir fry until browned on both sides. Set aside.
Add the onions and bell pepper and cook until soft - about 2 minutes.
Add the green beans to onion and bell pepper mixture and cook for an additional 2 minutes.
Return the lamb to the skillet an and add the honey, lemon juice, cilantro, sesame seeds, salt and pepper, combining well.
Cook for an additional 1 minute until honey completely coats the lamb and vegetables.
Serve garnished with cilantro.
Caponata
2 tablespoons olive oil
1 medium eggplant, about 1 pound
1 red bell pepper
1 red onion
4 ripe tomatoes, about 1 pound
2 tablespoons capers, drained
¾ cup green olives, sliced
2 garlic cloves, minced
2 tablespoons red wine vinegar
½ teaspoon kosher salt
1 tablespoon pine nuts, toasted
chopped parsley to garnish
Directions
Chop eggplant, red pepper, and onion into ¾-inch pieces.  
Heat oil in large sauté pan over medium heat.  Add eggplant, pepper, and onions and cook until vegetables just begin to soften, about 5 minutes.  Add garlic and stir for an additional minute.  
Add tomatoes, olives, capers, vinegar, and salt.  Turn heat to low and simmer until vegetables are tender, about 15 minutes.  We enjoy this when the vegetables are not overly soft, but if you prefer a softer caponata, simmer for an additional 5-10 minutes.
Garnish with pine nuts and a generous handful of parsley.  Serve warm or at room temperature with grilled rosemary chicken and some crusty bread.
12th Annual Harvest Celebration & Pig Roast
Mark you calendars - the annual Harvest Celebration & Pig Roast is only a few weeks away! R.S.V.P. below through the regiatration link. Details are as follows:

When: This Sunday, October 9 from 3pm-7pm
Where: Cure Organic Farm Store (corner of 75th Street and Valmont Road)
Why: To thank all of our CSA members, volunteers, family, and friends that help keep the farm going!
 We will supply some great food including our heritage pork, a wonderful veggie stew, salads, and Munson farm sweet corn.
We ask you to bring a side dish to share or dessert.
While this is a free event for our CSA members, we ask that you r.s.v.p. so we know how many people to cook for.
We look forward to celebrating with you!
Eastern Plains co-op has been raising beautiful heritage turkeys for us again this fall.  The turkey's are raised with non-gmo feed, no antibiotics and are free range. Dallas estimates that there will be a nice size range again this year from 10 to 18 pounds.  Cost will be $7.50/pound.
Turkeys will come frozen and will need to be picked up the week before Thanksgiving, on Wednesday, November 16th at the farm store.
Reserve your turkey here!

     As we are only 1 week left from the end of our 2016 CSA summer season, we wanted to remind everyone of some important dates and items to mark on their agenda:
Bread, Coffee, Wine & Cheese, Babettes Shares - One pick-up left!
Wednesday, October 5: Last Wednesday Night Farmer's Market! Members who pick up at the farmers market, please plan on picking up your last share of the season at the farm on Oct. 12th.
Sunday, October 9: Annual Harvest celebration and pig roast
Wednesday, October 12: Last CSA pick-up
Wednesday, October 19: First Winter Share pick-up
December 1st, registration opens for renewing members for 2017 CSA season!
*Another reminder for all Market pick-ups - the last CSA pick-up on Wednesday, October 12 will be at the Cure Organic Farm Store.
"I'm so glad I live in a world where there are Octobers."
- L.M. Montgomery



Cure Organic Farm

7416 Valmont Rd.
Boulder, CO 80301
cureorganicfarm@yahoo.com
www.cureorganicfarm.com