WARNER'S BOLD SHUFFLE
AV' THAT
RECORD ONLINE PRE-SALES
MOON RISES
KICKING BACK
BILL ON TRACK
BASKET CASE
ACQUISITION NEWS
PEAKS, NO TROUGHS
QUOTE OF THE WEEK
RELEASE OF THE WEEK
AT THE MOVIES
SITE OF THE WEEK
EVENTS OF THE WEEK
TRAILERS OF THE WEEK
COMING SOON ON DVD AND AT CINEMAS
---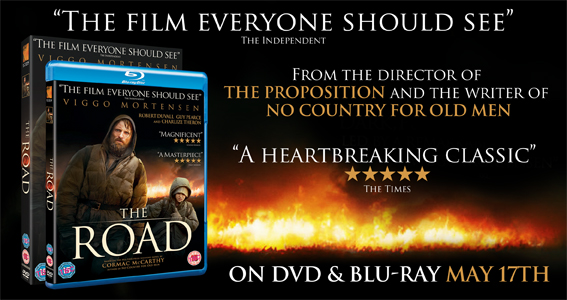 ---
It Was A Good Week For...

Fox and Avatar, which sent the online community mad and got consumers all fired up...
It Was A Bad Week For...

Blockbuster, with reports that it is contemplating filing for bankruptcy in the US and its UK stores may be sold...
Before we move on to the big product news of the week, it's worth taking a look at the innovative move that has seen Warner become the first distributor to effectively merge its theatrical and DVD marketing departments. The move comes as increasing pressure is put on the theatrical to DVD windows and is bold and yet, at the same time, logical. The move links up six arms of Warner's entertainment empure and will create what the major calls a "joined up" 40-strong marketing and PR department. Unveiled by Warner's UK and Ireland president Josh Berger, it will operate under vp and group marketing director Polly Cochrane. It creates four film marketing manager roles, three coming from existing staff – theatrical marketing manager Tom Grievson and video's Francesca Harris and Andrea Gray. All four will report in to both theatrical director of marketing Ashley Wirasinha and new Warner Home Video UK director of marketing Sarah Bird, who has been promoted from head of marketing for film. She will oversee new release and catalogue for film, WHV's creative services team and will also give her P&L responsibility for Tv product, working alongside Warner's director of marketing for TV Allan Stenhouse. On the TV side, Iam Marshall has been promoted to marketing manager for TV, also providing maternity cover for TV marketing controller Hazel Vetere. Further changes see a new post of director of media and marketing partnerships being created for Danni Murray, aimed at leveraging better media buying power and promotional opportunities, and a new director of publicity role for Jayne Trotman. Commenting on the innovative structure, Josn Berger said it marked the moment that "life cycle marketing becomes hard-wired into our company culture". Cochrane added: " Placing a greater emphasis on life cycle marketing than ever before, this restructure will help us to maximise the long term value of Warner Bros' content, both for ourselves and for our partners, by building powerful cross-platform entertainment brands that capture the imagination of their audiences."
Mark the date in your diary: April 26. If you're a retailer, clear your shelves (real or virtual) and if you're another distributor, maybe think about shifting any releases planned for that week, because it's the day that Fox is planning to release Avatar on DVD and Blu-ray in the UK. The title is, of course, the biggest grossing film ever in the UK and worldwide, with almost £90 millon earned in the former and a whopping $2.6 billion on a global level. The Blu-ray and DVD will both be in standard 2D, but it promises to be a flagship for the former. Both formats are foregoing extras and other ephemera to concentrate on the sound and picture quality of the film itself – all available disc space is being used to ensure it looks and sounds better than anything before it. All of which means that it could become a standard bearer and effectively a killer app for the high definition format. No word yet on marketing or, for that matter, any news of a 3D version, although many pundits anticipate that director James Cameron will wait for technology to catch up with his vision, in much the same way he did for the film. A full extras-laden Ultimate edition is expected later in the year, however.
Needless to say, this week saw a good few people going Avatar bonkers. Fox is smartly putting together a limited edition Blu-ray for online pre-orders, containing a series of four artcards and a Survival Guide book. Play.com sent an email out within almost hours of Fox's announcement and Avatar has already taken over its site. HMV fully expects the title to become its biggest pre-seller ever. Head of DVD Rudy Osorio said: "Our record for pre-orders on hmv.com has only recently been claimed by Twilight New Moon, but it's quite likely Avatar will supersede this in the weeks ahead, as we're already seeing huge demand online, which can only grow as all the marketing kicks in." What's more, Blu-ray pre-orders were outstripping DVD...
Before we get to April 26 and Avatar, however, there's a few more big releases to come: next week's aforementioned Twilight New Moon from E1, for example. We haven't been able to move for activity this week as the trade gears itself up for E1's release. First there's the TV spots, then there was the week long promotion on GMTV offering up a car as a top prize and then there was the news that HMV has adapted its logo, turning its iconic Nipper dog into a werewolf, howling at the moon. The activity will feature on all HMV's press advertising and in store. It's only the second time that Nipper has ever changed his look, having been replaced by Gromit three years ago. The retailer's bespoke activity includes three exclusive sleeves and a collector's gift card, as well as paper carrier bags. Some of its stores, including Oxford Street and Piccadilly Circus, will be opening at midnight too. HMV's head of DVD Rudy Osorio said: "The end result for our pre-release advertising is a playful but also striking emblem for the film, which will be seen by a huge audience all over the country. We've already had a few instances where fans have removed New Moon pre-order posters from HMV hoardings, so I feel sure they'll show just as strong an appetite for this one-off Nipper wolf promotion and for the New Moon limited edition gift card." E1's Martin Gough added: "With Twilight being the third largest DVD release of 2009, there is a lot of anticipation for the sequel New Moon. HMV's suitably adapted New Moon logo is an extremely creative way of tapping into the fan interest and we know it'll strike a chord with the film's following."
There are more big films on the way too... The Raygun snuck into a one of London's finest screening rooms at the Soho Hotel for a special screening of Kick-Ass, the forthcoming comic book actioner from Universal, which is due to open theatrically at the end of this month ahead of what is certain to be a hugely lucrative DVD release. All The Raygun can say is believe the hype – it really is everything it's cracked up to be. It's the perfect blend of the commercial and the credible, coming to the market with all the requisite elements – five star reviews in the likes of Empire, a hate campaign in the Daily Mail, a teen friendly cast, Nicolas Cage's finest role for ages and, in writer and director Jane Goldman and Matthew Vaughn respectively, a dash of Brit-friendly talent to go with its American comic book sheen. Better still, it is hugely home entertainment-friendly. It should come with added big box office earning credentials by the time it arrives on DVD later this year. Universal is already planning some exciting elements for its forthcoming DVD release...
---
---
Also on the screening side, keep an eye out for Icon's forthcoming The Killer Inside Me, directed by the multi-talented Michael Winterbottom, one of the finest Brit directing talents around and someone not afraid to try different genres. The Killer Inside Me is based on a book by noir writer supreme Jim Thompson and is everything you'd expect from the man whose novels were the basis for the likes of The Getaway and The Grifters. Like Kick-Ass, it has already attracted notoriety, in this instance for some of its more violent scenes. But the likes of Casey Affleck and Jessica Alba will guarantee strong box office when it opens at cinemas and it's likely to be a DVD winner later this year...
Back in the real world, as it were, the Digital Economy Bill passed through the House Of Lords this week, before heading back to MPs in the Commons. It now looks increasingly like it will pass into law before this summer's general election. Its passage drew fire from scores of Internet warriors, who are threatening to start assorted online campaigns, but these are unlikely to prevent it going on the statute books. The exact wording is still unclear, but this will fall into place as it passes through the Commons in a bid to speed up the process. One of its key amendments, which could see websites that host substantial amounts of copyright infringing content being closed down, remains.
The news came as research suggested that the UK would be the worst hit territory in Europe when it comes to illegal file-sharing. A study carried out by the International Chamber of Commerce, among others, suggested that web piracy could cost 1.2 million jobs and a whopping £215 billion within five years. A quarter of these jobs would be in the UK, where piracy caused more than £1 billion worth of losses in 2008 alone.
It's a sign of the times and a vote of confidence in the growth of Blu-ray that the Office for National Statistics has this week recognised the growth of the new format and put both hardware and, more importantly, Blu-ray discs, into its basket of goods that go to Consumer Prices Index and Retail Prices Index. BD discs via the Internet were already being monitored, but this new move tracks their prices at the tills, as well as adding the hardware. Not that the old format is being dropped – DVD still remains in the basket. Simon Heller said: " It is great to see that Blu-ray is now part of the basket of goods used to determine the CPI and RPI and indicates that Blu-ray is becoming more mainstream in its appeal."
It's been a busy week for LOVEFiLM, which has been inking deals left, right and centre. Chief among these was a deal with the BFI, that will see LOVEFiLM offering up streaming rights to a selection of BFI titles such as Sympathy For The Devil and Distant Voices, Still Lives as part of its subscription offers. It will also see LOVEFiLM managing advertising sales for the BFI's website, the first time the former has looked after another site and the first time the latter has featured ads on its site.
Elsewhere, LOVEFiLM has now inked a major deal with Sony that will see LOVEFiLM members being able to watch thousands of titles streamed direct through their Sony Bravia Internet video TVs, Blu-ray players and home theatre kits. LOVEFiLM chief executive Simon Calver said: "LOVEFiLM has changed the face of entertainment in Europe with our famous online DVD rental service. Now our powerful combination of instantly available digital content and DVD and Blu-ray rental is another huge enhancement of the value, choice and convenience proposition. We expect to roll out the delivery platforms and continue to invest in digital content in the coming months."
Over in the States, it's time for the SXSW festival. Predominantly a music event, it is becoming an increasingly big film event too. One of the key premieres this year is the acclaimed documentary American The Bill Hicks Story, charting the life and times of the legendary US comic. The film is being released theatrically in May via indie Verve Pictures ahead of an autumn DVD release. Commenting on the deal, 2entertain's Stuart Snaith said: "American The Bill Hicks Story is an exciting project for 2entertain and one on which we have been working closely with the director/producers for a number of years. The film gives a unique insight into the world of a great comedy icon, with the story told from the point-of-view of the people who knew him best. A strong publicity and marketing campaign is taking shape to support the theatrical release and there has already been some fantastic feedback from the initial screenings - all of which gives us a fantastic platform from which to launch the DVD in September."
Also on the acquisition front, Scanbox has picked up the rights to the dream team collaboration between Werner Herzog and David Lynch, My Son, My Son What Have Ye done, which also stars Willem Dafoe and Chloe Sevigny. It will be released theatrically ahead of a DVD later in 2010. Commenting on the deal, Steve Jackson, commercial director at Scanbox said: "My Son, My Son What Have Ye Done is a very significant acquisition for us. Herzog and Lynch already have an extensive audience, and with the strong cast and subject matter, we believe we have a great opportunity to cross over to a wide audience. We have major interest very early in this feature, a theatrical schedule is already planned, numerous PR events will be taking place, and I'm certain the general awareness will be significant in the coming months."
Some fascinating coffee break reading this week, courtesy of one of our favourite film magazines, Little White Lies, which has interviewed Twin Peaks producer Mark Frost ahead of the first ever DVD release of the second series of Twin Peaks, on Monday next week (March 22). The release has been eagerly anticipated for months, if not years. The interview is here:
http://www.littlewhitelies.co.uk/interviews/mark-frost/
Commenting on the release Universal Playback's Eleanor Fraser said: "Universal Playback has long understood how keen UK fans have been to see both Twin Peaks Season 2 and the superb Definitive Gold Box Edition available on DVD; and now that time has finally come. While we acknowledge that the delay in releasing the second season in the UK may have proven frustrating for many fans, we feel that releasing these box sets in the UK in time for the show's 20th anniversary is nevertheless perfect timing and will really help reignite a wider interest in what has become one of the most influential and important series in television history."
---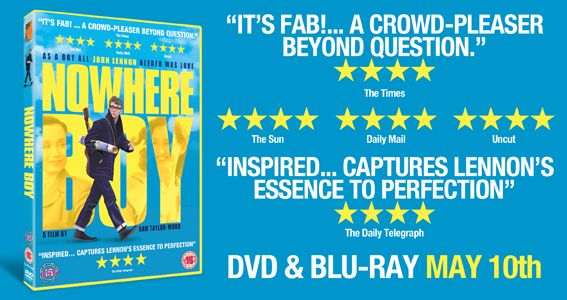 ---
QUOTE OF THE WEEK
"Everything that is put on a disc takes up room – the menus, the extras, the trailers and studio promotions – and we got rid of all of that so we could give this movie the best picture and sound possible. There are details that you can see on the Blu-ray that are just amazing. The way I view the Blu-ray is a chance for people to go back to Pandora." Avatar producer Jon Landau.
RELEASE OF THE WEEK
Icon's Nowhere Boy, thanks to its critical acclaim and raft of awards nominations, will arrive on DVD and Blu-ray on May 10 with awareness built in, but Icon will be doing its best to drive sales of Sam Taylor Wood's biopic of the formative years in Beatle John Lennon's life. "We want to keep the momentum going from its theatrical release," said Icon's Rebecca Burns. This means TV spots, targeting music channels for the slightly older fan, such as VH1 and, for film fans, Film4. Online elements will look advertise on the likes of Last.fm and Q and Time Out's websites. National and possibly regional press will enhance it. There will also be promotional activity on Richer Sounds and Merc Clothing stores, as well as PR activity.
AT THE MOVIES
Impressive bows for both Paramount's Shutter Island and Universal's Green Zone (£2.25 million and £2.10 million respectively) at UK cinemas, but neither could dislodge Tim Burton's Alice In Wonderland from the top slot. His latest outing has now taken approaching £23 million. It also continues its run as US number one, with a total haul of $209 million.
There's still no official word from New Line yet, but Ian McKellen has let the, ahem, small creature out of the bag by this week stating that The Hobbit, two films from Lord Of The Rings supremo Peter Jackson's stable, will start filming in July. He added that casting has started and that director Guillermo del Toro is now living close to Peter Jackson to finish the script. Pundits are predicting the film will be released in the latter part of 2012.
Well, the big news of the week, at least as far as Planet Of The Apes fans are concerned, was news of the latest sequel to the film. Or rather prequel, to be more precise. The script doing the rounds for the planned movie, provisionally entitled Caesar: Planet Of The Apes, mirrors, to a certain extent, the plot of Conquest Of The Planet Of The Apes, one of the hugely popular sci-fi series. It looks at how apes came to rule the earth and ties in neatly with the whole history of the franchise. Reports are now surfacing that Fox has plumped for a director, Rupert Wyatt, whose last outing was The Escapist.
EVENTS OF THE WEEK
We've spent much of the past week at assorted screenings, detailed elsewhere here...
SITE OF THE WEEK
We're off to see this this weekend... Full report next week.
Talking of DreamWorks, this looks excellent:
More slightly unsafe for work material (well, there's a bit of swearing in it, and this is guaranteed to offend someone, somewhere...). Chris Morris' latest outing is here:
OUT NEXT WEEK ON DVD AND BLU-RAY (March 22)
10 Things I Hate About You (WDSHE)
Bad Mothers' Handbook (ITV)
Bangkok Adrenaline (Optimum)
Barbie In A Mermaid Tale (Universal)
The Best Of The Wiggles (HIT)
Beverly Hills 90210 Season 8 (Paramount)
The Blair Witch Project (Lionsgate)
The Clouded Yellow (Eureka)
The COI Collection: Design For Today (BFI)
Dance Of The Dragon (High Fliers)
Darker Than Black Complete Series Box Set (Manga)
Dead Zone Season 6 (Paramount)
The Double Life Of Veronique (Artificial Eye) (Blu-ray)
Dumbo Special Edition (WDSHE)
Emergency Ward 10 Volume 3 (Network)
The First Day Of The Rest Of Your Life (Metrodome)
Fish Tank (Artificial Eye) (Blu-ray)
Fist Of Legend (Cine Asia) (DVD and Blu-ray)
The Gruffalo (E1 Entertainment)
Harry Brown (Lionsgate) (DVD and Blu-ray)
The High Command (Optimum)
Homicide the Complete Series (Fremantle)
How To Rob A Bank (Scanbox)
It's Garry Shandling's Show Season 1 (Fabulous)
I Want Someone To Eat Cheese With (High Fliers)
Katyn (Artificial Eye) (Blu-ray)
King Of Queens Season 7 (Paramount)
MacGyver Season 6 (Paramount)
Melrose Place Season 4 (Paramount)
Mickey Mouse Clubhouse (WDSHE)
A Mind To Kill The Complete Second Series (Network)
Mission: Impossible Season 7 (Paramount)
Mulan Musical Masterpiece Edition (WDSHE)
The Muppets Studio Presents Studio DC Almost Live (WDSHE)
A Nos Amours (Eureka Masters Of Cinema)
Paranormal Activity (Icon) (DVD and Blu-ray)
The Passion Of The Christ (Icon) (Blu-ray)
Saved By The Bell Season 1 (Fabulous Films)
Sous Le Soleil De Satan (Eureka Masters Of cinema)
Star Trek: The Original Series Season 3 (Paramount) (Blu-ray)
The Stendahl Syndrome (Arrow)
Street Hawk The Complete Series (Fabulous Films)
Tank Overhaul (Demand DVD)
Terror At The Opera (Arrow)
Timmy Time: Timmy's Spring Surprise (BBC)
Top Gear The Great Adventures Volume 3 (2entertain) (DVD and Blu-ray)
Twilight: New Moon (E1 Entertainment)
Twin Peaks Season 2 (Universal Playback)
The Valley Of The Bees (Second Run)
Zidane (Artificial Eye) (Blu-ray)
OUT THE FOLLOWING WEEK ON DVD AND BLU-RAY (MARCH 29)
2012 (SPHE) (DVD and Blu-ray)
The Advocates Series 1 (Demand DVD)
Bunny And The Bull (Optimum) (DVD and Blu-ray)

Caprica (Universal Playback)

Catweazle 40

th

Anniversary Edition (Network)

Clive Barker box set (Optimum)

Countryfile's Favourite Places With Julia Bradbury And Matt Baker (Acorn)

Cracks (Optimum) (DVD and Blu-ray)

Doctor Who Myths And Legends (2entertain)

Extreme Prejudice (Optimum)

Fireman Sam – The Great Fire (HIT)

The Good Life Complete Series One (Acorn)

Homicide The Complete Series (Fremantle)

Horrid Henry's Fun Run (Abbey)

The Imaginarium Of Doctor Parnassus (Lionsgate) (DVD and Blu-ray)

Johnny Handsome (Optimum)

Life Of Riley: Series One (Acorn)

My Dream Farm With Monty Don (Acorn)

Mythbusters Jaws special (Demand DVD)

The Night My Number Came Up (Optimum)

The Office An American Workplace Season 4 (Universal Playback)

Peak Practice Series 6 (Network)

Peppa Pig Fire Engine And Other Stories (E1 Entertainment)

Scooby Doo Abracadabra Doo (Warner)

Shaun The Sheep Spring Lamb (2entertain)

Stargate Special Edition (Optimum) (Blu-ray)

Thomas And Friends Triple (HIT)

Unmade Beds (Soda Pictures)

Waybuloo Piplings Love To Play (2entertain)

Whoops Apocalypse The Complete Apocalypse (Network)




OUT THIS WEEK AT CINEMAS
The Bounty Hunter (Sony Pictures)
Dirty Oil (Dogwoof)
Happy Ever Afters (Verve)
House Of The Devil (Metrodome)
I Love You Phillip Morris (E!)
My Last Five Girlfriends (Paramount)
Old Dogs (Disney)
Salvage (Revolver)
The Scouting Book For Boys (Pathe)
Sons Of Cuba (Sons Of Cuba Ltd)
The Spy Next Door (Paramount/Momentum)
Staten Island (Warner)
OUT NEXT WEEK AT CINEMAS (March 26)
The Blind Side (Warner)
Extract (Paramount)
Lion's Den (Axiom)
Lourdes (Artificial Eye)
Nanny McPhee And The Big Bang (Universal)
Nightwatching (Axiom)
No One Knows About Persian Cats (Network)
Perrier's Bounty (Optimum)
Shank (Revolver)
Storm (Soda)
To subscribe to The Raygun newsletter, please email
info@theraygun.co.uk
with subscribe in the subject matter
To unsubscribe, email
info@theraygun.co.uk
with unsubscribe in the subject
line
For editorial or advertising queries, contact
tim@theraygun.co.uk
The Raygun
7 Lightcliffe Road
London N13 5HD