SPECIALS 
February 2011
 -
2nd night Sprecial!!!
Stay two or more nights, First night regular price additional nights 50% off.  New reservatons only. 
Phone 888-314-3664
VISIT OUR SITE
888-314-3664
2942 Lincoln Hwy E
Gordonville, PA 17529
Robert Hall, Innkeeper/Host
Become a FAN on the After Eight Facebook Page, click above.
Follow my Blog, click above.
Mud Sales Begin - Quilters Convention -Markets
 

Now is the time to visit Lancaster Country for the annual Mud Sales.  Beginning the last weekend of February and continuing into April you can participate in a most interesting experience - where you can buy anything from a pig to a quilt - honest! Click on the above image for more information and dates.

 

 

 

March 16 - 19, join the 1,000's of quilters at the AQS 2nd annual Lancaster PA convention.  Attended last year by more than 20,000 persons, this year is sure to be an outstanding event.  Click on the above image for more information.




 

Every Tuesday you can explore five connnecting buildings with a variety of stands. There is also an outside flea market, animal and plant auction and many outside vendors, weather permitting.


 

 

The oldest farmer's market in the country, Central Market is open on Tuesday, Friday and Saturday.  Delve into the history of downtown Lancaster PA.

 

 

Open on Friday and Saturday, only minutes away from the After Eight Bed & Breakfast, a favorite of many guests, whoopie pies, fresh vegetables, meats and much much more.

 

 

 
 

Send Me No Flowers, Who Goes Bare?, John Loves Mary, Home for the Holidays

 

 

Joseph, Behind the Scenes Tour

 

 

Jason Castro,  Gary Allan, Spring Doo Wop Cavalcade, Amy Grant & Michael W. Smith, Michael Flatley's Lord of the Dance, Englebert Humperdinck, Australian Bee Gees Show (tribute band), The Oak Ridge Boys, The Man in Black Show (Tribute to Johnny Cash), A Closer Walk with Patsy Cline, Celtic Woman, Boz Scaggs, Bluegrass Fest, Frankie Valli & the Four Seasons, Jamey Johnson, Gaither Vocal Band, Trace Adkins

 

 

Sugar, The Unsinkable Molly Brown, The Drowsy Chaperone,  The Wizard of Oz, I Love A Piano, Me and My Girl, It's Beginning to Look A Lot Like Christmas.

 

 

The 39 Steps, Sweeney Todd, Michael Archangel, Chitty Chitty Bang Bang

 

**FOR MORE INFOMATION AND SHOW TIMES CLICK ON THE ABOVE THEATER TITLE.

 
 
After Eight Bed & Breakfast Gardens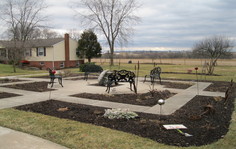 As you see the snow is not melted and gone, the gardens have been cleaned up for the new spring growth, already our bulbs and inching their way from under the ground, soon to be blooming.
Make your plans now for a spectacular spring, this is a great time of the year to visit Lancaster County.  As many of you  already know there is so much to see and do while in the area.  Why not make plans now for your favorite room? I just baked some more cookies, you can always let me know your favorite.  See you soon.
Robert