---
| | |
| --- | --- |
| | January 2019 |
Reduced stress. Increased productivity. Improved well-being.
Forte Organizers helps individuals and families stay organized at home, as well as teaching business people organization skills at work.
Take a look back at Lori's Dayton Daily News article about getting organized in the New Year.
Office Organizing Resolutions...
Make a few resolutions this year to help you get more organized in the workplace. Here are four suggestions to get you started:
I will file paperwork for the last 10 minutes of every workday.

For every new item I bring into my office, I will remove two unused or unneeded items.

I will schedule time in my calendar every week for organizing activities.

I will gather every item in my office that isn't where it belongs and put it in its assigned place.
"6.8 Billion dollars are spent on organizing products every year,
yet 2 out of 3 people
say they are disorganized."
As professional organizers, one of the first mistakes we see people make is purchasing storage containers and organizing products before they sort and purge their room. Excess organizing products then become part of the clutter. If you sort and purge first, you'll quickly be able to determine what organizing products work best in your space.
FREE! Quiz the Wiz
Saturday, Jan. 26, 10:30 am-12:00 pm
Woodbourne Library, 6060 Far Hills Ave, Centerville, OH 45459
Call (937) 435-3700 for details.
Ask the professional organizer questions that specifically relate to your home and office.
In this open style and casual classroom forum, Lori Firsdon wants to hear from you!
Attendees have the opportunity to field questions to Lori and learn her organizational best practices.
Now is the time to get answers to your particular organizing questions. Lori offers up her voice of vast experience while giving you her full attention.
Depart this seminar armed with an array of effective solutions!
Fixit Clinic
Saturday, Jan. 26, 1:00-4:00 p.m.
Washington-Centerville Library, 111 W Spring Valley Pike, Centerville, OH 45458
Call (937) 433-8091 for registration details.
Do you have broken items in your home that you are interested in repairing? Would you rather try to fix it yourself and keep it out of the landfill?
The Fixit Clinic might be for you! It is an all-ages clinic where people work together to repair broken household items. You will learn how to assess and disassemble your item with the hopes of fixing it.
Giftcards4change
Do you have unused gift cards or cards with low balances that you don't need? Donate them to the charity GiftCards4Change. Below is an excerpt from their website that describes the work they do:
"

Your remaining balance Gift Card donation will help feed and clothe children in need, it will provide shelter and assistance programs for the homeless, enhance programs and services to those with disabilities, as well as provide medication aide programs for children and the elderly. We also help domestic violence victims find a safe place to live, and invest extensively in eliminating human trafficking."
Lose Your Stuff, Find Yourself...
In her book, "Lose Your Stuff, Find Yourself," Lori teaches us how to overcome the feelings of being overwhelmed and not knowing where to start on our organizing journey.
"My advice to you is to start somewhere. Pick a spot, the kitchen table, the family room couch or your nightstand, and focus on that one small space until it is done.
"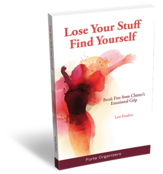 Pick up a copy of Lori's book by using this link:
Amazon.com
Just Hit Reply...
Is organizing on your list of New Year's Resolutions? Just Hit Reply and share your organizing 'Before and After' Pictures. We would love to see the progress you are making!
It is an exciting time for Forte Organizers! We have hired some wonderful new organizers to work with our clients. They all have special skills and areas of expertise that will make them the perfect additions to the Forte Team.
We would like to take this chance to welcome and introduce them to everyone.
Colleen is originally from New York, and has been living in the Dayton area with her husband and three children for four years. Due to her husband's career, they moved seven times before settling down in Ohio. She worked in a corporate setting as a Human Resources consultant prior to focusing on her family and organizing as a profession.
She connects with creative people, and loves organizing craft rooms, artistic spaces, kids' rooms and playrooms. She enjoys the process of helping people downsize their possessions, let go of the excess and simplify their lives.
Aside from organizing, she is passionate about road trips, music, decorating
and volunteering in the community.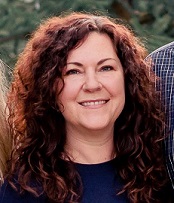 Beginning with colored pencils and beanie babies, organizing has been Kaitlin's hobby as long as she can remember. She grew up in the Dayton-Centerville area and graduated from Sinclair with an Associate's Degree in Nutrition and Dietetics. She is passionate about creating healthy lifestyle habits including diet, daily routines and organized spaces to make life easier to enjoy what matters most in life. She and her husband are new parents to a little boy, plus have two German Shepherds and one diva cat. She understands the daily hassle of dog bones, cat naps and pacifiers.
If you need a little extra motivation on cleaning out your food pantry or kicking old 2018 habits, Kaitlin can help you start fresh this year! Specializing in kitchens and meal prep, she would also love to help you gain a space of your own; from pet areas, your kids' rooms, closets, Mom's craft room or Dad's office space!
Besides organizing she loves spending time with her family, photography, and anything crafty.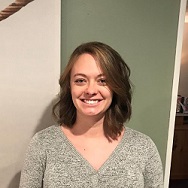 Tracy is originally from the Dayton Area and

recently moved back to Ohio due to her husband's job. Her husband's career in the Military has taken her all over the world. They have moved 12 times in the past 25 years, so she is perfect for those people who need help with moves, especially our Military families! She has two children and a loyal dog.
She has a BA from The Ohio State University and a Masters in Rehabilitation Counseling from Wright State University. She has a background working with people with severe disabilities, as well as, serving as a Diplomatic volunteer at embassies in Budapest and Sarajevo.
She likes to repurpose items and enjoy the challenge of organizing homes in traditional and non-traditional ways. Her hobbies include refinishing old furniture, baking, enjoying the outdoors and helping people.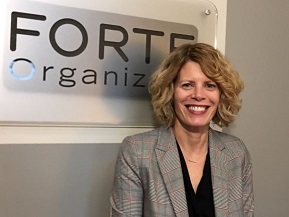 One More Thing...
"New Year- A new chapter, new verse, or just the same old story? Ultimately we write it. The choice is ours."
~ Alex Morritt