President's Message
by Frank O'Leary
Old Men Dream Dreams
Our Journey to the Kleemann
by Gil Dueck
DKGNA Annual Meeting
Hunt Oregon
by MIchael Albert
2020 DKGNA Test Schedule

Join the DKGNA
Will be available on the DKGNA Webpage
Tyler Smith, Vice-President
Michael Albert, Secretary
Marianne O'Leary, Treasurer
Randall Cherry,
Breed Warden
DKGNA Board of Directors
730-244-2949
Jörg Kaltenegger
DKGNA Director of Testing/Director of Judging Development
Jeff Martin
DKGNA Director of Membership Education
250-809-6665
lafrenz@shaw.ca
Tony Dolle
DKGNA Director of Development
615-870-7700
jadolle53@gmail.com
If you wish not to receive this newsletter please email
Newsletter@dkgna.org
to be removed from the list.
President's Message
by Frank O'Leary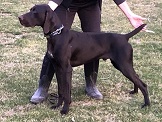 The first week of February, the DKGNA was notified that we are an official member of the JGHV. This completes our application process and allows the DKGNA to conduct both DKV and JGHV test.
The DKGNA First Annual Meeting will be in Lehi, UT April 30th – May 2nd. Details of the event are available in a subsequent article in this publication.
The 2020 DKGNA Testing Season will get underway on March 28th and 29th in Lillington, NC with a Derby/Zuchtschau. April 25th there will be a Derby/Zuchtschau in Walla Walla, WA. As part of the DKGNA Annual Meeting there will be a Derby/Zuchtschau on May 1st. Details of the DKGNA Spring Tests are included in an article in this issue of the newsletter.
Later this month we will be releasing the details of the DKGNA Annual Hunt Oregon Raffle. Again, this year prizes will include the Hunt Oregon Upland Hunting Adventure provided by Hunt Oregon, LLC; the shotgun; and the Quail and Wild Boar Hunt provided by Alger Flats Outfitters. Complete details and raffle tickets will be distributed prior to the end of March. We encourage all DKGNA members to participate in the raffle and to help will of the selling of the tickets. This is our annual fund raiser and enables the DKGNA to fulfill our stated purpose as a club:
Educate all interested persons in the techniques of training, breeding and caring for continental hunting dogs, to conduct tests of continental hunting dogs, and to promote responsible breeding of continental hunting dog breeds;

Foster, improve, promote, and protect the continental hunting dog breeds in North America; and

Promote the interest of wildlife by fostering ethical hunting and the conservation of game through educational programs, the use of properly trained hunting dogs, and other means.
I will be attending the DKV Annual Meeting and JGHV Meeting in Fulda, Germany March 20
th
– 22
nd
. There is a full agenda for the both the DKV & JGHV meetings. The items that were detailed in the last newsletter as part of the DKV Presidents Meeting recap will be present for consideration of the clubs for their up or down vote. There will be a report on both the DKV and JGHV meetings in the April Newsletter.
Enjoy training your young dogs for the Spring Tests,
~~~~~~~~~~~~~~~~~
Our Journey to the Kleemann
by Gil Dueck
At the 2020 Dr. Kleemann Prüfung there will be not less than five dogs owned by members of the DKGNA. In each of the next three newsletters one of the dogs and their owners will be featured.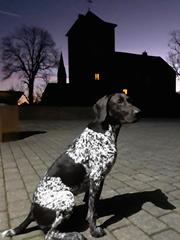 I grew up on a small dairy farm 60 miles East of Vancouver B.C. My earliest memories of hunting were with my father in the fields around our farm for ducks and pheasants. Our dog was a springer-collie cross that loved to flush pheasants but was hard mouthed and a reluctant retriever.
In 1980 I decided to leave teaching and join the expanding family dairy farm. As a farmer I could find a few hours each day to hunt ducks and geese. Pheasants had by then disappeared mostly due to a loss of habitat. I stopped competing in retriever field trials as they became more and more technical and were a poor reflection of my hunting needs. In 2000 I acquired another Golden and this time competed in hunt tests. At this time, I met Barry Kolodychuk who was instrumental in our success (Master Hunter Cert). My farm business was now more established, and this gave me time to hunt upland birds in the Canadian prairies. Here I connected with another dog trainer friend. After hunting together, he commented, 'Stop trying to overly manage your flushing dog. Alberta is big country. If you want to find birds your dog must be allowed to range far and wide. "Go big or go home". I soon had a wide ranging Golden and I did a lot of running whenever I saw him get on a bird. Being somewhat younger I enjoyed the challenge. As 60 approached I found it more difficult to keep up and after several falls from badger holes and uneven ground while running. I worried about injury, especially after breaking a gun stock while falling. Maybe a pointer should be part of my future.
I had always taken a keen interest in breeding cattle and spent a great deal of time studying pedigrees as I searched for the best sires to enhance my herd for both type and milk production. I did some research as I firmed up my decision to buy a GSP. After talking to some dog people, I bought a shorthair with quite a few F.C. in his pedigree and a few German imports. The breeder talked enthusiastically about these, 'German imports'.
It wasn't until the boredom of a beach holiday to Mexico had me surfing the net and I happened upon the Deutsch Kurzhaar Verband site. While looking through the dogs and puppies for sale area, I gradually came to understand the German system of testing. It impressed me that a dog had to qualify by meeting a standard for field work and conformation before a litter could be registered. I next noticed that some of the qualified sires were owned by North Americans. The closest one was in Walla Walla so I couldn't wait to see these German Imports. Further research led me to the Frank & Marianne's vom Trocken Bach site. I was impressed by the depth of pedigree on the females owned by this kennel. When purchasing brood stock for the dairy my first place to look for strength in a pedigree is on the bottom side, the theory being that you can always find good males - it only takes a few to cover a large number of females but strong performing lines of females are much harder to come by. I took the plunge and bought a DK, Kora vom Trocken Bach. Kora was a great DK for our first endeavor. We were able to receive a Prize1 in the Derby. With Barry Kolodychuk as the leader we received a Prize 2 in the Solms, and VGP with 283 points. We had hope for a Prize 1 in the VGP but a hiccup in the search without the duck derailed that dream. The testing program has been a challenge especially the fur and blood tracking components, which neither one of us had never done. I would like to add that our success in completing the VGP would not have been possible without the help of Frank O'Leary and Jeff Martin. Their kind patience and explanations about training and evaluations of our progress helped us address weaknesses and helped us understand the multi-faceted test which at times seemed overwhelming to a first-time participant.
In the spring of 2018, right before the Derby, I purchased Uschka vom Trocken Bach (Maggie KS vom Trocken Bach – "V1" Female at 2018 Kleemann x Uno KS vom Mausberg – "V5" Male at 2014 Kleemann) from Frank & Marianne O'Leary. With me as the leader she received a Prize 1 in the Derby and Susan and I started dreaming of bigger things. When we purchased Uschka Frank had told us he had kept her as a potential breeding female. He felt that with her pedigree and ability in the field she was good enough to aim towards the Kleemann down the road.
We realize that a deep pedigree and high scoring parents is not a guarantee of success, but experience in the dairy business and general observation made us extremely hopeful that we have increased the odds for success
During the winter of 2018 Frank encourage us to continue Uschka's education in Germany with hopes of making it to the Kleemann. We offered vom Trocken Bach a half ownership in Uschka and control of her testing and breeding if he thought she was good enough to continue her education in Germany with the goal being the Kleemann. Frank accepted my offer without hesitation and Uschka was on her way to Germany to continue her education with Stefan Middeke.
The 2019 testing season exceeded our expectations. In August, Uschka was the
~~~~~~~~~~~~~~~~~
DKGNA 2020 Annual Meeting
April 30
th
– May 2
nd
, 2020
The DKGNA will be holding our first Annual Meeting, April 30th – May 2nd, in Lehi, UT. Home 2 Sweet (by Hilton), located at 3051 West, Club House Dr, Lehi, UT 84043, 801-753-5430, will be the Host Hotel. A block of rooms has been reserved, please use the code "DOG" when making your reservation.
The itinerary for the event includes:
Thursday, April 30th:
Host Hotel - Home 2 Sweet (by Hilton), 3051 West, Club House Dr, Lehi, UT 84043, 801-753-5430
6:00 PM - Welcome Reception (Hosted) - Home 2 Sweet Meeting Room
Friday, May 1st:
7:00 AM - Breakfast – Denny's, 1516 N Redwood Rd, Saratoga Springs, UT 84045
8:00 AM – Derby @ Wasatch Wing and Clay, Cedar Fort, UT
12:00 Noon – Lunch @ Chubbys Neighborhood Café - 1284 N Redwood Rd, Saratoga Springs, UT 84045
1:00 PM - Zuchtschau – Fox Hollow Park at Pavilion 2900 Village Pkwy, Saratoga Springs, UT. 84045
5:00 PM – Social Hour (Hosted) - Home 2 Sweet Meeting Room
6:30 PM – Dinner @ Bona Vita Italian Bistro - 1820 W Traverse Pkwy, Lehi, UT 84043
Saturday, May 2nd:
9:00 AM – 11:30 AM General Membership Meeting -
Home 2 Sweet Meeting Room
12:00 – 1:00 PM – Lunch @ numerous opportunities around hotel
1:00 PM – 4:00 PM – Seminars - Home 2 Sweet Meeting Room:
How to fill out Entry Forms
How to fill out Litter Registration forms
Preparing for a Derby and Solms
The different in DK and FCI Registered dogs
General Questions and Answers
5:00 PM - 6:00 PM - Social Hour (no host) - Home 2 Sweet Banquet Room
6:00 PM - Dinner (no host) & Live and Silent Auction - Home 2 Sweet Banquet Room
The members of the Annual Meeting Committee are Tyler Smith 801-420-8076, Randall Cherry 730-244-2949, Tony Dolle 615-870-7700, and Marianne O'Leary 509-520-0819. The committee is asking that DKGNA members procure and/or donate auction items for the live and silent auction on the Saturday. No item is too big or too small. Items will be used as part of a package or a standalone item.
We encourage all members to attend the Annual Meeting!!
Hunt Oregon 2020
by Michael Albert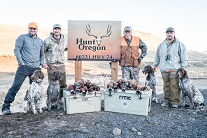 The adventure all started when my dad, Dave Albert, won the Hunt Oregon trip in the 2018 DKGNA raffle. He was excited to have his name picked and was shocked that even though he won second place, the first-place winner skipped on the trip and took the beautiful Beretta shotgun instead. This meant a road trip to Oregon was on the horizon.
Fast forward about a year and the trip was upon us. We planned the trip for after the regular bird season was closed, and since the hunt takes place on a private ranch with dedicated bird preserves, we got the chance to hunt after everyone had already put away their shotguns for the season. Since the trip was reserved for four people, we invited a few of my good friends and fellow DK owners along for the experience. Blake Bailey with his two dogs Chief and Max along with John Heiner with his dog Rey accompanied me and Briar along with my dad.
The trip started early on Saturday morning with the group loading up the truck and trailer with gear and dogs. After about 9 hours of driving, story telling and laughing we arrive at the ranch with Bobby, the hunt organizer, welcoming us with a delicious steak dinner. We put together a plan for the next morning and hit the hay.
Day one hunt begins with a push through a river bottom, two hunters and two dogs one each side. The hunt starts off nice and mellow with about 30 minutes of dog work before the first bird is produced. A beautiful rooster holding tight to the riverbank was presented by Rey. The first shot rang out and down fell the bird into the flowing river. Briar was on it and brought the bird back as she was trained to do. Immediately after we ran into some chukar and down fell two. From there on out it was a steady stream of birds for each hunter. The dogs performed flawlessly on this 4-hour hunt and tallied 7 roosters and two chukar in this short hunt. Next on the agenda was to head back to the lodge for a hearty lunch.
After lunch we went to another river bottom on a different portion of the ranch and had another great hunt. The laughs and heckling could be heard ringing through the river bottom as we steadily moved along. After about 3 miles of walking we produced another 7 roosters and 1 more chukar.
Day two began with a field that led into a narrow river bottom. The field was absolutely loaded with birds and as we traversed the hillside getting into position, we saw dozens of birds lifting ahead of us. As we worked through these fields and river bottoms, the dog work took on a whole new level. The rust had been shaken off, the dogs were
.....
~~~~~~~~~~~~~~~~
2020 DKGNA Testing Season

The Deutsch-Kurzhaar Club North America looks forward to our second year as a member of the DKV and looks forward to becoming a trusted and vibrant promoter of the Deutsch-Kurzhaar in North America.
The DKGNA Board of Directors continues to work hard to position the club for success. It is our hope that the DKGNA will be a model club where DK enthusiasts can work together to educate all interested persons in the techniques of training, breeding and caring for Deutsch-Kurzhaar dogs; to conduct tests; to promote responsible breeding of DK's; foster, improve, promote, and protect the DK's in North America; and promote the interest of wildlife by fostering ethical hunting and the conservation of game through educational programs, the use of properly trained hunting dogs, and other means.
In an effort to promote youth participation in the DKGNA the Board of Directors has established a special category for members 17 years of age and under. These Youth members will pay half of the regular dues fees and be non-voting member same as family members.
To become a member of the DKGNA please complete the membership application form by clicking – Membership Application. This fillable form will work in you Internet Explorer or Chrome browser, it will not work in Fire Fox. You can submit electronically and you will be billed and can submit payment through PayPal. You can also print your application, enclose a check, and mail the package to the address on the application.
~~~~~~~~~~~~~~~~
Age is a question of mind over matter. If you don't mind, it doesn't matter.
LeRoy "Satchel" Paige
~~~~~~~~~~~~~~~~
Reproduction of any contents by permission only