St George Base Station (SGU1 and SGU2)
Update Information
If you know anyone who should be on this notification list, they can use this link: [

https://signup.ymlp.com/xguqjwsugmgw

] to signup or signoff this list. If you would like be removed from the list, there is an unsubscribe link at the bottom of this email.
SGU1 is fine and will continue to run for as long as possible
1st let us be clear: SGU1 (the existing base station) is still operational and our intent is to keep it going as long as we possibly can. We have a spare antenna and a spare receiver, there are no known issues with the current station's hardware--hopefully it will run with no interruptions for at least another few years and with some luck for much longer.
However, SGU1 suffers from these problems:
The receiver is 8 years old and service and parts are no longer available. It could die any moment.

The antenna is GPS + GLO only, does not have an absolute calibration and is 15+ years old.

The receiver does not track L2C, L5, GLO L3, Galileo or BeiDou.

A microwave path has been deployed directly over the top of SGU1 by an emergency services organization and we don't want to fight with them over moving their microwave dish and FCC licensed path.

SGU1's antenna mount interferes with the building's membrane roof and is not NGS approved.
This is the SGU1 antenna: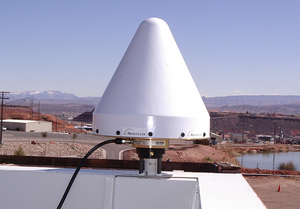 SGU2: Planning for the future, adding redundancy and available today:
So that we don't end up waiting to replace SGU1 until after it fails we have deployed a replacement CORS on the opposite side of the building. The new CORS, SGU2 has these advantages:
New, full GNSS receiver, tracks all available navigation satellites and signals

New, full GNSS antenna with IGS Absolute Type-Mean (Geo++ robotic) Calibration

Mount is external to the roof and should be more stable than the existing mount. Does not interfere with roof membrane system.

New antenna location is clear of current microwave paths

Since the SGU2 and SGU1 are both running simultaneously we hope to record substantial overlapping observation sets (2+ years) so that we can transfer the SGU1 position and observed velocity to the new antenna

Redundancy: two systems available all the time if one fails, the other should work (we are using two internet switches to provide further redundancy)

Both DIP (Direct IP) and NTRIP connections are available for SGU2

A standard Trimble RT-27 stream is available by DIP for other networks to use as needed.
The value of full GNSS signals cannot be overstated, as I write this note SGU1 is tracking 18 satellites while SGU2 is tracking 32 satellites! Adding L2C and L5 allows for quicker fixing, more stable results and extend operation under canopy. If you have a 'modern' GNSS rover you will see substantial operation improvements.
SGU2 should be considered to be a 'Beta' service at this time. We have observed horizontal positions that match SGU1 within 0.01 feet and elevations matching to 0.02 feet. After we record several months of observation data we may want to tweak the broadcast position, however we expect the change to be less than 0.02 feet X, Y or Z.
Over the next month we plan to run several additional comparative tests, especially looking at elevation stability between SGU1 and SGU2, time-to-fix under canopy, measurement stability with longer (15 mile) baselines: we will let you know what we find.
This is the SGU2 antenna:

SGU1 and SGU2 Background
Both SGU1 and SGU2 are available at no cost to anyone who wants to use them.
The City of St George provides the location, internet, power, maintenance for this service. (If you happen to see Dustin Hollis from St George City IT, please thank him for helping us get the new CORS online!)
These CORS sites are used by multiple city agencies, multiple cities, many surveyors, contractors, engineers, autonomous vehicle navigation companies and is the basis for most GPS/GNSS positions run through NGS OPUS in southwestern Utah. In addition, SGU1 is used by several mid-continent CORS networks to model the ionosphere for the western edge of their networks.
SGU1 is part of the NGS National CORS infrastructure. Because SGU1's reference position is exactly the same as the NGS posted positon for the NGS CORS station, RTK shots based on SGU1 should exactly match OPUS solutions that are collected in the St George area.
It is our goal that SGU2 produces exactly the same position that SGU1 would so users can switch between them with no discernable change in rover position.
Eventually we will switch the NGS connection from SGU1 to SGU2. This decision will probably be driven by the failure of SGU1 receiver and backup receiver at some future time.
If you have any suggestions, would like to contribute equipment or have complaints, please let us know.
Radio Update Notes
The antenna and antenna cable on Utah Hill (west of Ivins) have been replaced. I believe that the effective broadcast power has been increased from ½ watt to 35 watts. You may find that the Utah Hill (453.400 MHz) signal is much stronger now and reaches into canyons and over hills where it could not previously.
If you have any anecdotal evidence/experience, please share it with us.
The Utah Hill Repeater antennas: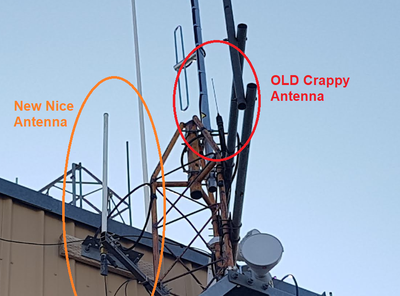 We also discovered that the base antenna mount had been removed from the swamp coolers on the utility building when the coolers were replaced in May. The base antenna has been repositioned and appears to be 'back to normal'.
Currently the 3 radios are currently broadcasting corrections from SGU1. If SGU2 is reliable, we may consider switching the radios to SGU2 at a future date. We don't expect to visit this decision for at least 6 months.
BETA: Connecting to SGU2 (the New CORS)
SGU2 DIP (Direct IP Connections)
IP Address: 209.33.248.86
Port 2105: DIP RTCM3.2 (MSM)
Port 2107: DIP sCMRx (scrambled CMRx, NOT CMRx!)
Port 2108: RTCM3 (not MSM)
Port 2109: DIP RT27 (all signals, all options, all ephemeris)
If you have a CHC or iGage Trimble OEM based receiver (but not a Trimble receiver), then sCMRx port is probably the best choice, RTCM3.2 (MSM) should have identical performance.
If you have any other modern GNSS receiver (like an R10, R8s, Novatel/Leica) the RTCM3.2 (MSM) port is probably the best.
If you have an older receiver then RTCM3 may be the best. The CMR+ port is GPS+GLONASS only and does not have L2C/L5/L3 corrections.
User: user
Password: user
IP Address: 209.33.248.86
Port 2101: RTCM3.2 (MSM)
Antenna Type: "CHCC220GR CHCD"
Position: 37 6 47.51383 N 113 34 14.00969 W 896.048 m Ellipsoid Height
Connecting to SGU1 (the older CORS)
Radio Protocol TrimTalk450
Over the air baud rate 4800
Main (center of town) 453.500 Mhz
West (Utah Hill) 453.400 Mhz
East (Washington City) 453.250 Mhz
DIP (Direct IP Connections)
IP Address: 209.33.248.89
Port 7205: RTCM2.3 (GPS corrections, no GLONASS only)