This & That from October 2020

             a publication of StudioKat Designs




 
The Inaugural Issue
Issue #1
So... why are we adding a 2nd Newsletter to our repetoire?
It all started with a quote by Sylvia Plath that I stumbled across last month and I've been pondering it ever since...
"I want you to know that I am both happy and sad
and I'm still trying to figure out how that could be."
When we all went into this thing in March, I tried to remain as positive as possible. But then Spring turned to Summer, and the Summer to Fall (at least in my part of the world). And nothing really got better! Quite the opposite, in fact.
Bottomline

--2020 hasn't been good for us! That's all there is to it. Yet of course we endure, because life is still good even when it doesn't seem that way. All this to say I decided to regroup a little... add a little diversity to my routine, and hence... this new format, which will be totally different than Kat Bytes and will publish at the end of the month (instead of mid-month like Kat Bytes which of course we will continue doing!)
So... I hope you like the new format! Do let us know what you enjoyed or didnt like about it! All in all its been a very pleasant diversion for me at a time when I really needed it. And with that in mind...If you're struggling this year, please know that you are part of a

very

large club. None of us want to be in this club, but here we are. I encourage you to do whatever you need to do to care for yourself during this time. We need you to stay around! You don't need to pretend to feel positive if you don't. Just hang in there, because this too shall pass—eventually.
Meanwhile...here's what we've been reading & doing of late!
Building Rapport While Wearing a Mask-
  We all know how important non-verbal communication is right? But we've kinda lost all of those non-verbal cues since we've been wearing masks, right? Click HERE to learn how to communicate effectively & build rapport while still doing your part to keep everyone safe.
 

I have my own Emoji! --

I

've been having a bit of fun with some personal emoji's I had made of myself (did I mention I've been looking for some fun lately?). I use 'em on Instagram and here. Sometimes I think they look like me, & something I don't. But what do YOU think?

 
Show Cancellations

- 

And the beat goes on folks! Just in case you haven't heard, here are the retail shows where we will NOT be vending in 2021 due to Covid-19 ... so far!
We've still hoping for MAQF in February 2021

(but not holding our breath!)



 

I'm gonna bite the bullet & grow out my hair- And by that I do NOT mean that I'm growing it longer! I know, I know, I shouldve done this during the lockdown but the fact is I'm sick & tired of coloring my hair (I've been doing so since my late 30's) & constantly fighting the regrowth. I didn't know it would be THIS complicated, but stay tuned for future updates (and pictures)!


 
Think Like a Norwegian!-
Are you like me & dreading a long winter w/Covid-19 restrictions? Studies show people living in the Arctic Circle are armed with a mindset that helps combat the long 'polar night' & it might come in handy for us all… Click HERE to check it out!
An Election Day Special

- in honor of our democracy, surely we can all agree to use the discount code VOTE20 to get a whopping 25% of the Bangle Buddie pattern! But don't delay, because unlike the vote-counting, this discount offer will end at 12 midnight on Election night, 11/3/20. Click HERE to get started!

 
(Coupon code cannot be used in combination with any other discount offer.)

One week of online school in a comic strip-
I can only imagine how hard it is to be working AND doing online school with children. Here's one Mom's take on it in a humorous, sad AND touching comic strip! Click HERE to read!
| | | |
| --- | --- | --- |
| A new pattern release is COMING SOON!- Barring anything unforeseen, we'll be releasing our new pattern, the ErgoMatic in two short weeks our next Kat BytesNewsletter. As usual, it'll be complete with a discount coupon so do stay tuned for that! For a closer look at the sample at right, just Click on the Picture or go HERE to read our latest blogpost! |   | |
Have a fun & safe Halloween & remember to bring your little fur buddies INSIDE.

I'll look for you next month around the 15th for Kat Bytes & again at month's end with this new format, Kat Bits (when I promise to not be so verbose!)

  And don't forget to set your clocks BACK tomorrow night

!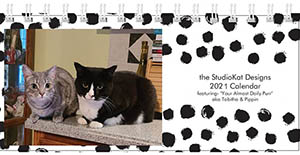 There's still time to pick up a 2021 SKD Desk Calendar featuring my studio buddies, aka "Your Almost Daily Purr" Click HERE to get YOUR copy b4 they're sold out!
StudioKat Designs, Inc
137 S. Hemingway Ct
Advance, NC  27006
866-409-8634 (tollfree)      info@studiokatdesigns.com