Newsletter Headline Here...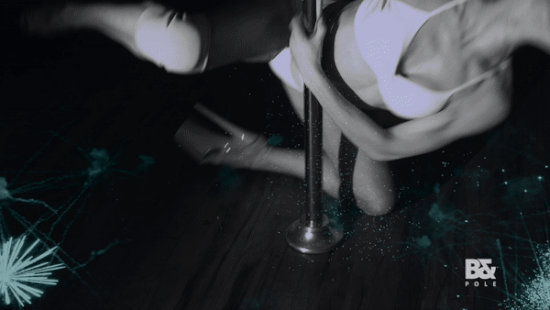 🚨
 

10 YEAR ANNIVERSARY SALE

🚨
LAST CHANCE TO SAVE UP TO 50% OFF!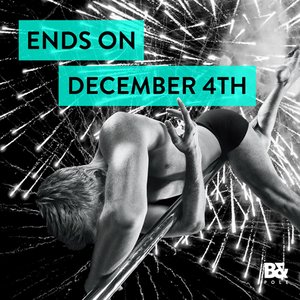 EXPRESS 3 DAY TRAINCATION 
 50% OFF 1 YEAR OF B&P ONLINE 
We're celebrating 10 years of Body & Pole with OUR BIGGEST DEALS EVER! Save up to 50% off! Deals end on Wednesday, December 4th at 11:59 PM.
NO PURCHASE RESTRICTIONS, BUY AS MANY AS YOU LIKE!
Expiration dates apply. See website for full details.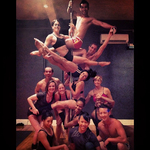 #10YEARSOFBP

 ... HAVE YOU JOINED US ON IG TO CELEBRATE, YET?
Through the end of the year, we are seeking and sharing time-capsule'esque footage, photos, and memories of your time at Body & Pole from 2009-2019!!! We wanna hear from you... what are your favorite memories or moments over the years? Tag us
@bodyandpole
, and use our official hashtag
#10YEARSOFBP
and we may share it with the beloved Body & Pole community!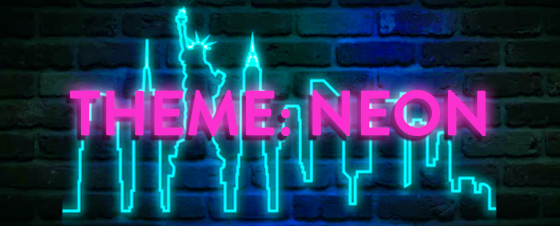 2020 SHOWCASE
FEBRUARY - MARCH 2020
THE STUDENT SHOWCASE
IS MARCH 21, 2019
JOIN A GROUP PERFORMANCE
YOUR 2020 GROUP CHOREOGRAPHERS:

Sam Doblick, Donna Carnow, Fran Sperling, and Brenna Bradbury


When you a join a group piece, you'll work with a choreographer who will fully develop your piece, from concept to choreography to costumes. Perfect for those who want to perform, but aren't interested in creating their own piece!
CREATE A SOLO PERFORMANCE
YOUR 2020 SOLO COACHES:
Dalijah Franklin, Magnus Labbe, Elena Delgado, and Summer Lacy
When you join a solo series, you'll work one-on-one with a coach who will help you develop a piece; from coaching on concept, to structure, to finding the nuances within it. Perfect for those interested in competing, or who have some ideas and flows up their sleeve, but need help putting it together!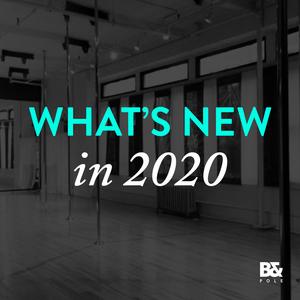 REMINDER:
NEW PRICING IN 2020
Speaking of 10 years of Body & Pole, we've recently signed our lease for another 10 years! This is a huge WIN for pole & aerial in NYC! New programming and changes in our pricing structure will begin at the start of 2020.
You can preview out all the changes now, just click the link below.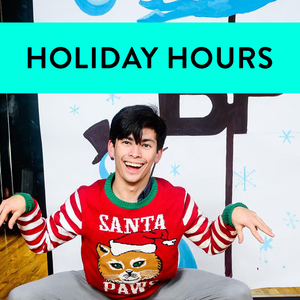 HOLIDAY HOURS
Please check our schedule for our holiday closings and modified schedules:
Christmas Eve MODIFIED SCHEDULE
Christmas Day CLOSED 
New Year's Eve MODIFIED SCHEDULE
New Year's Day CLOSED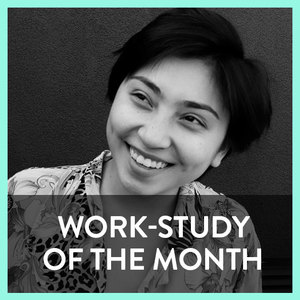 NOVEMBER 2019
Our work-study of the month for November was Shelby! The survey is in, everyone at the studio praises the ongoing helpfulness, sweetness, and positive attitude of this amazing lady. To show our appreciation, Shelby will receive a free private lesson with the instructor of her choice! Thank you for everything you do!
OUR WORK-STUDY GRADUATING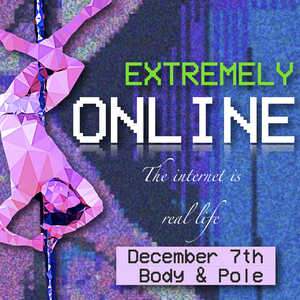 THE INTERNET IS REAL LIFE
SATURDAY, DECEMBER 7TH
7:30 PM
$25 ADVANCED TICKETS
Extremely Online is an inaugural production from graduating Body & Pole work-studies Emily Lea Berry and Jaymeson Metz. The internet is real life, and for one night at Body & Pole, set your devices to airplane mode and join us as a cast of 14 performers explores how the World Wide Web inspires, infects, and infuses with our lives. Prepare yourself for a collective visual experience in 8 acts, including a conspiring contortion act with Kira Fath, a rebranding from Alex the Pole Twink, and the debut of a dance film choreographed by Donna Carnow.
COMING SOON TO THE WALL @BODY & POLE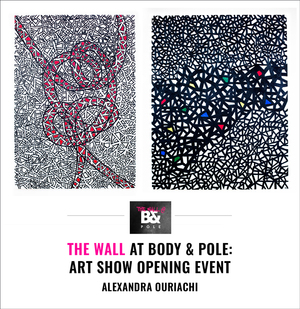 THE WALL AT BODY & POLE ART OPENING EVENT
ALEXANDRA OURIACHI
Featuring the works of Alexandra Ouriachi, come and enjoy live pole and aerial performances inspired by the early 1920s, jazz music, an open bar, and more!
Alexandra's style is inspired by neoplasticism, in particular Mondrian, but also Miró and her North African roots. The works displayed on 
The Wall @Body & Pole
 will 
represent her interpretation of a woman and the woman's body. 
🔥 B&P PLUS: THE HEAT IS ON 🔥

DECEMBER 2019
THE HEAT IS ON!
Coming up in December, we're keeping you hot and sweaty inside, no matter what the weather forecast is out there!
Sign up for limited-run classes like
STAR POWER
,
Pole Pirouette Clinic
,
Floor-eo
,
How to get what you really want for X-mas
,
Flip, Clack, and Clock
, AND MORE!
elevatED TEACHER TRAININGS
**OFFER EXTENDED**
ONE MORE CHANCE TO SAVE BIG FOR BLACK FRIDAY!
SAVE $249 ON YOUR NEXT TRAINING, USE CODE

BF2019

AT CHECKOUT
Pole Level 1 | 2020
Body & Pole (New York, NY)
January 6 - 8, 2020

Sweetwater Studio (Bronx, NY)

February 14 - 16, 2020
Body & Pole (New York, NY)


September 14 - 16, 2020
Pole Level 2 | 2020
Body & Pole (New York, NY)


March 23 - 25, 2020



Body & Pole (New York, NY)


November 2 - 4, 2020
Flexibility | 2020
Body & Pole (New York, NY)


June 15 - 17, 2020
Ever thought about teaching, or just want to take your training to the next level with a deeper understanding of body mechanics and movement exploration? Join us for one of our upcoming 2020 elevatED Teacher Trainings in New York!
Irmingard was featured in the short film
"Vicky's Not Here"
, which will premiere this month at the Los Angeles International Short Film Festival | @irmingardmayer photo: @vickys_not_here
Jeni is teaching a Liquid Heels Certification in Flirt Fitness Grand Rapids, MI December 7-8 | @liquidmotionct 
Jeni and AccroBrandon are performing a duo performance in
Let Them Eat Cake
on December 19 | @liquidmotionct @accrobrandon 
photo: @kateigh.and.ben.photo
We are honored to help you own your unknown.
- The Team at Body & Pole
Body & Pole, 115 West 27th Street NY, NY 10001