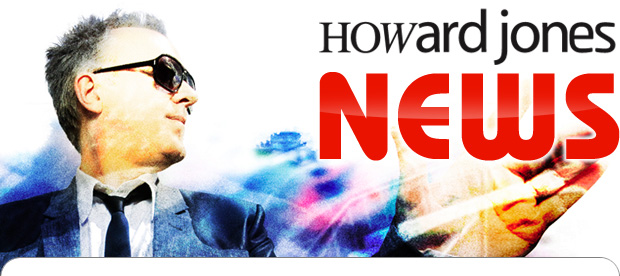 Welcome to the Official Howard Jones Newsletter | 3rd June 2011

Hello everyone!
Just a note to let you know what I have been up to.
I hope you are healthy and happy.
Overseeing the mastering of the 12"box set has been fun, and I am very pleased to hear the great feedback on the sound of them. RB has done a fab job making the tracks sound as good as they can be.
The DVD of the O2 HL/DIA gig is pretty much ready to go. I'm thrilled with the way it has turned out. Despite a few cameras going down on the night, the edit looks great and the mix is really excellent. Only one rescue needed which was on 'Hunt the Self' which I got wrong on the night and Robbie took the flack for, however with some careful editing by the wonderful Sean Vincent, we managed to make it fabulous. The mix is vintage Robbie B and I can't believe how amazing Jonathan's performance is on this gig. There are some very informative interviews with the band, and great documentary footage with Stephen Tayler and Rupert Hine, including the whole of the open soundcheck. Far more work has gone into the DVD than anything else this year and I'm really pleased with more original packaging and design from Ian Walden.
Work has started on finding all the tapes for the last 3 WEA albums and Glenn has been coming up with great ideas for the bonus tracks. We will do the same box idea for this, except there will be 3 albums and 2 bonus c.d.'s.... Once we locate the multitrack of The Prisoner and Everlasting Love we are going to do new mixes of them to add to the collection........
There are a stack of gigs coming up for the 2nd half of the year, so I start today prepping and re-learning the 1st 2 albums and integrating the new Roland JP80 into the setup. Robbie and Jonathan will be touring with me of course, as we visit Sweden, the Phillipines, the UK, and America, and Canada..........We are also busy chopping up the videos so that they can run seamlessly with Ableton....... I've been writing some choral pieces for the Glorious Life Chorus which I guess you won't be able to hear unless you join the choir! .......
The rework H.J. project has gone really well so far, with some absolutely great and unusual remixes of Automaton. We are just deciding what stems to release next, probably something from ROTH.
So things are busy and active in Hojo world. I thank you for your unflagging support of what I do, I hope we are supplying enough things to keep you interested! and I sincerely wish you a great 2nd half of the year. See you on tour somewhere....
love
Howard
June 1st 2011

'Tour Dates Update'

We are please to announce more tour dates in North America and a complete list of current confirmed dates.
24th June 2011

Roma Vintage
Via di Porta San Sebastiano 2, Roma, Italia
Howard on stage at 1am

Italy

1st July 2011

UK

9th July 2011

USA

10th July 2011

USA

31st July 2011

UK

20th Aug 2011

UK

1st Sept 2011

Sweden

3rd Sept 2011

USA

12th Oct 2011

USA

13th Oct 2011

USA

14th Oct 2011

USA

15th Oct 2011

USA

18th Oct 2011

USA

19th Oct 2011

USA

20th Oct 2011

USA

22nd Oct 2011

USA

23rd Oct 2011

USA

25th Oct 2011

Canada

26th Oct 2011

Canada

27th Oct 2011

USA
The tour will feature Jonathan Atkinson on Drums and Percussion, Robbie Bronnimann on Electronics and Howard Jones on Keyboards.
For those of you unfamilliar with Jonathan, here is a little about him..
As a freelance drummer and programmer based in London, Jonathan has toured with many artists, including:
Paul Young, Peter André, Boy George, Alexander O'Neal, Midge Ure, Rick Astley, Gloria Gaynor, Belinda Carlisle, The Supremes, Nik Kershaw, The Pointer Sisters, Kim Wilde, Kajagoogoo, The Three Degrees, Michael Ball, Howard Jones, Bananarama,Tony Hadley, Errol Brown, Tavares, Go West, ABC, Five Star, Cutting Crew, Johnny Hates Jazz ,Nick Heyward, The Weather Girls, Curiosity Killed The Cat, China Crisis, The Emotions, Kid Creole and the Coconuts,The Real Thing, Sinitta, Shalamar, Boney M, Altered Images, Evelyn 'Champagne' King, Toyah, Limahl, Bucks Fizz, and Sony artist The Alice Band for whom he was musical director.

His recording credits include several projects for Beatles' producer Sir George Martin (including tracks for Celine Dion, and Phil Collins). He has also recorded tracks for Grammy nominated producer Chris Sheldon, BBC's Doctor Who (Album, Concerts and TV series), Howard Jones (Ordinary Heroes Album '09), Robbie Bronnimann(Sugababes),Japanese Megastar Kaela Kimura (Japanese #1 Album Feb'07) ,Universal artist Hayley Westenra (fastest selling UK debut artist), Sir Willard White (top 20 classical album), Kim Ritchie (twice US #1 singer songwriter), The Alice Band (top 5 UK radio hit), Andrew Lloyd Webber, Kajagoogoo (Gone To The Moon Album '09), Music for the Millenium Dome, Music for Millenium Remembrance Day, cult rock band Velvet Jones, tracks for Toyah, T'Pau, Swing Out Sister, BBC Proms-Dr Who at The Royal Albert Hall.......and Keith Harris and Orville.

Jonathan has also played on many soundtrack recordings, including ads for McDonalds, Marks and Spencer, and Argos, also the movies Lucky Star, and the award winning animated short film Pilgrim.

He composed, produced and played on the music for hit Channel 5 TV series Roobarb and Custard Too, ITV series Fluffy Gardens, and RTÉ series Ballybraddan.

His West End theatre credits include Bombay Dreams (where Jonathan wrote  and programmed the drum parts used in the West End and on Broadway),and Dirty Dancing. He has also worked on Billy Elliot, Legally Blonde, Sister Act, Mama Mia, Spamalot, Whistle Down the Wind, The Producers, Hairspray, Joseph, Disney's Beauty and the Beast, Saturday Night Fever, The Witches of Eastwick, Footloose, Jesus Christ Superstar and Tell Me On A Sunday.

He has also appeared on TV backing many artists including Bette Midler, Kim Wilde, UB40,The Alice Band, T'Pau, Ute Lemper, and Billy Gilman.

Since 1997, The Howard Jones website has been your hub for up to the minute information about Howard and his activities.
For many years, HoJo Talk has been and continues to be the number 1 networking community for Howard's supporters to communicate with each other and discuss his music.
Subscribers can receive email discussion about Howard and his music, direct to their inboxes on their mail accounts.


To Subscribe to HoJo-Talk, send a blank email to:
hojo-talk-subscribe@yahoogroups.com
Once you have validated your subscription you can join in with the email discussions direct from your mail box to :
hojo-talk@yahoogroups.com
Should you wish to unsubscribe, simply send an email to:
hojo-talk-unsubscribe@yahoogroups.com
and follow the instruction on the email reply.