What is The International Association of Public Transport (UTIP)?
UITP is recognised worldwide for achieving a global network of all public transport authorities and operators of sustainable forms of mobility. It was founded under the impulse of King Leopold II in 1885 to promote the Belgian rail transport industry.
It presently has 1.900 members in 100 countries. Its headquaters are in Brussels (see photo) and it maintains 13 offices around the globe. It is THE worldwide think-thank in urban and regional sustainable mobility.

Its aims are:

- Advocacy: it engages with decision makers & key international organisations to promote sustainable mobility solutions.
- Knowledge: it inspires excellence and innovation by generating cutting-edge knowledge and expertise.
- Networking: it brings people together to exchange ideas, share best practice, forge partnerships, and offers training to its members' staff.

Its latest General Secretaries
On the photo, see Mohamed Mezghani (2018- ), Alain Flausch (2011-2017), Hans Rat (1999-2011) and Pierre Laconte (1984-1999).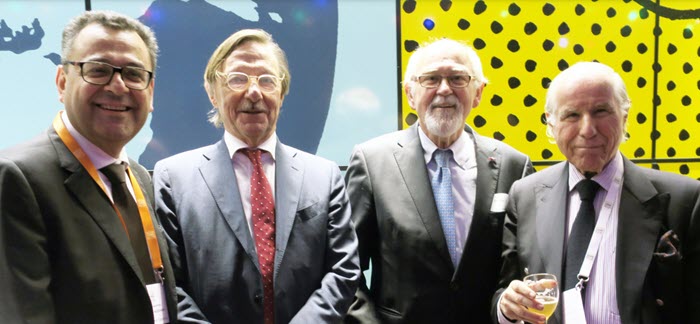 The 2023 UITP Global Public Transport Barcelona Summit: 85 sessions, 300 speakers and 800 exhibitors
The programme covered all public transport modes. Bringing together experts and stakeholders from across the world, this is the place for you to learn about the latest ideas and insights on sustainable urban mobility. The keynote speaker was
Mariana MAZZUCATO
, Professor in the Economics of Innovation and Public Value at University College London, Author of influencial books on public policies.
Her latest book title: "How the Consulting Industry Weakens our Businesses, Infantilizes our Governments and Warps our Economies".
On the photo, see Mohamed Mezghani (UITP General Secretary) and Prof. Mariana Mazzucato.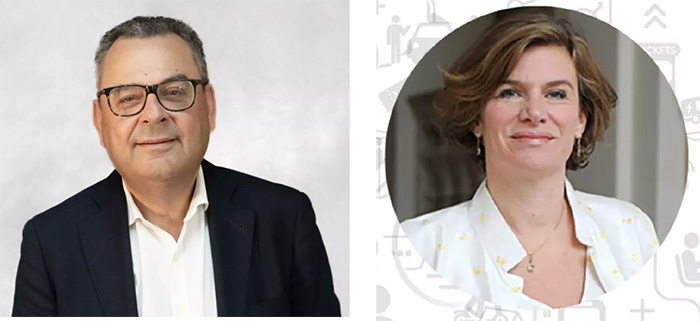 Uniting Leaders for Public Transport: the Barcelona Declaration*
On Tuesday, 6 June 2023, during the Executive Forum, CEOs from the main public transport industry worldwide unanimously endorsed the UITP Barcelona Declaration, underscoring their belief in the crucial role of public transport in society. Russia was deleted from its membership.
*
Read The UITP Barcelona 6 June 2023 Declaration