IN THIS NEWS LETTER 
Participants
Check in
Training possibilities
Welcome ceremony
Time schedule
Victory ceremony
Closing banquet
Especially for the Dutch participations
Thanks to our sponsors and suppliers
LOCATIONS
11Stedenhal
Fryslânplein 1
8914 BZ  Leeuwarden
WestCord WTC Hotel Leeuwarden
Heliconweg 52
8914 AT  Leeuwarden
PROGRAM
Thursday, 7th March
14:00-17:00 Check in
16:00-17:15 Official training
Friday, 8th March
09:00-15:00 Check in
16:00-17:15 Official training
17:45-19:00 Welcome Cerem.
19:30-20:00 TL Meeting
20:00-20:30 Drawing
Saturday, 9th March
08:30-09:30 WU L / M65+
10:00-12:30 1st Day L/M65+
12:45-13:15 WU M30-60
13:30-17:15
1st Day
M30-60
Sunday, 10th March
07:30-08:30
WU L / M65+
09:00-11:30 2nd
 Day L/M65+
11:45-12:15
WU M30-60
12:30-16:15 2nd
 Day 
M30-60
17:00-18:00 Victory ceremony
19:30-20:00 Reception 
20:00-23:00 Closing banquet 
EXTRA TICKETS WELCOME DRINK AND CLOSING BANQUET
Extra tickets for your partner or coach for the welcome ceremony and closing banquet?
Costs: 30 Euros  
BOOK YOUR ACCOMMODATION
The official MSG2019 hotels are:
WestCord WTC Hotel Leeuwarden
Next to the ice rink!
Alibi Hostel
A former prison, in the city centre of Leeuwarden!
For the special rates for these hotels, see the
Announcement
. 
If you want to make use of the rates, do not wait too long with booking!
SWINGING WITH OUR 'HOUSE BAND':
DIK D'R NEFFE
Also during MSG2019 this band will playing in breaks and after the races!
So the public will be entertained all day!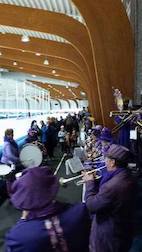 PARTNERS MSG2019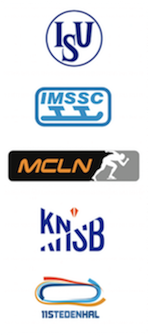 It is a great honour for us to organise the 11th Masters' International Sprint Games and to welcome you at the MSG2019 on 9th and 10th March, 2019 in the 11Stedenhal in Leeuwarden, the Netherlands!
We will do everything to make it a great event and are looking forward to see you all in Leeuwarden.
The Organisation Committee:
Joke Wittenberg, Tjeerd Smies, Bram de Vries, Leen van den  Heuvel, Gerdien Meijer, Marja Oenema, Lisette Schoppink, Trudi de Vries and Monique Vergeer
In the MSG2019 will participate:
220 masters skaters
54 Ladies and 166 Men in 22 age groups:

L30: 6 / M30: 5
L35: 4 / M35: 7
L40: 4 / M40: 8
L45: 8 / M45: 13
L50: 11 / M50: 25
L55: 10 / M55: 20
L60: 7 / M60: 26
L65: 3 / M65: 25
L70: 1 / M70: 18
M75: 11
M80: 6
M85: 1
M90: 1

skaters from 14 different countries: Australia, Belgium, Canada, Finland, Great Brittain, Germany, Japan, Kazachstan, Norway, Russia, Sweden, Switserland, USA and... the Netherlands!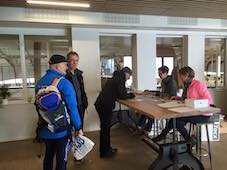 All competitors have to check in at the latest on Friday 8th March 15:00!
This check in will be upstairs in the 11Stedenhal and is possible on:
Thursday 7th: from 14:00 to 17:00
Friday 8th: from 09:00 to 15:00 
At this check in you will get your goodybag and your tickets for the welcome ceremony and closing banquet.
If you really are not able to check in on these days yourself, you must inform the Organisation Committee by email, phone, SMS or WhatsApp (+31 6 51 32 75 94), specifying first and last name, at the latest 24 hours before the drawing of the competition (so that will be at the latest on Thursday 7th March before 20:00).
Training possibilities...
Official MSG2019 Training
Thursday 7th March: 16:00-17:15
Friday 8th March: 16:00-17:15
Club training
Next to that, the local speed skating clubs of the 11Stedenhal will open their training hours this week for participants of MSG2019. These sessions are
 on: 
Monday 4th March: 18.55-19.55
Tuesday 5th March: 18.55-19.55
Wednesday 6th March: 18.25-19.55
If you want to make use of (one of) these sessions, you can just mention at the rink that you are participant of MSG2019 and then you can enter without costs. Just be aware of the other (club) skaters and remember that you are a guest on their training hour. We are very pleased that it is possible to make use of this training hours!
Other possibilities

Further you can use the 'normal' skating times from the rink.
Here
you can check the opening times for each day. This is 7 Euros per training.
On Friday 7th March, we will officially welcome you at 17.45 to the MSG2019 with a welcome ceremony which is all about Dutch traditions. 
You can get free drinks and small traditional Dutch snacks at our "Holland Market" on the inner area of the 400m track. There will also be a real Dutch clogmaker who will show you how wooden clogs are made by hand. Of course there will also be a possibility to order a pair of personalised clogs.
During your visit through the Holland Market, there will be a presentation about the history of the Dutch tradition "kortebaan schaatsen" (short distance skating). And above all, there will be a real live demonstration from this old Dutch "kortebaan" races, with several old Dutch speed skating champions like 
Lieuwe de Boer (bronze medal Olympics 1980) and "King of the kortebaan" Piet de Boer (11x Dutch champion on the kortebaan and Frisian Skater of the century).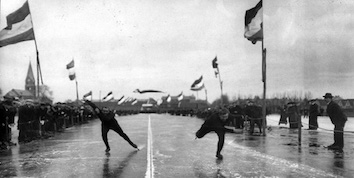 The welcome ceremony will end at 19:00.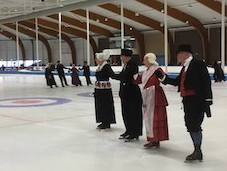 The Victory ceremony will take place as soon as possible after the final races on Sunday (± 17:00) on the inner area of the 11Stedenhal.
While waiting for this ceremony, there will be real Dutch 'Snert' (pea soup) for all participants and in the meantime a group of traditional Dutch 'pair' skaters will give us a demonstration of this skating tradition.
From 19:30 to 20:00 you will be welcomed in the hall of the WestCord WTC Hotel Leeuwarden, where we want to propose a toast all together before we go to table for the closing banquet.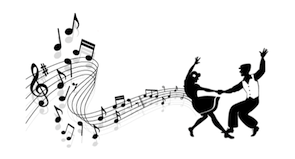 Drinks are not included during the banquet, they must be paid cash.
During the closing banquet we will have swinging music by the cover band "Ronald en ik". 
At 23:00 the closing banquet will be ended.
Especially for the Dutch participants...
Deelnemers
Door diverse afmeldingen zijn de deelnemerslijsten voor Nederlandse uitgebreid. De nieuwste versies vind je hier.
Extra tickets
Let op: als je extra tickets wilt voor de welkomstreceptie en het slotbanket voor bijvoorbeeld je partner, bestel die dan vóór 22 februari via msg2019@schaatscircuit.nl.
Coaching
Monique Vergeer-van den Heuvel zal tijdens de MSG2019 als hoofdcoach en teamleider van de Nederlandse delegatie fungeren. Voor informatie en vragen tijdens de WK's kun je bij haar terecht en zij zal ook de teamleadersmeeting namens Nederland bijwonen.
Wil je gebruik maken van een eigen coach tijdens de MSG2019, zorg er dan voor dat hij of zij tijdig een accreditatie heeft aangevraagd en stuur een bericht naar Monique voor wie hij of zij de coaching zal doen. Een coach die zich niet tijdig heeft aangemeld, zal niet het ijs op kunnen. Lees hier de voorwaarden voor je coach.