Do You Want to Build a Snowman with Mary?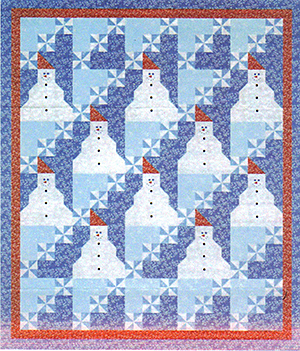 It's the perfect time of year for it. A 3 part class that Mary will make right along with you, Monday February 2, 16, and 23rd.
Mary is teaching a Quilter's Shawl on February 9 and 12th, an evening class only, a perfect wrap for those chilly evenings.
I begin a new Beginner's Piecing Academy on Monday February 16, afternoon or evening.
On the 28th, I will be teaching Victorious,
a Deb Tucker pattern. It uses the V Block and Square 2 rulers. This would be an easy quilt to make larger if you would like to. This is a 2 part class, the second class is on Saturday, March 21.
Mary is teaching Yankee Doodle Dandy
on Saturday, March 7, a two part class, second part is on Saturday, March 21. Easy stars popping off a checkered background, you choose the size you wish to make.
On Saturday, March 14, I am teaching Broken Stars.
I have taught other star patterns using this same method and quilter's have found it very easy. It's all half square triangles, a great advanced beginner quilt. Mine is not scrappy, you will receive fabric requirements for scrappy and not. 2 part class, second class on Saturday, March 28.
Mary is teaching Shenandoah Stars
on Monday, March 16, day class only. A striking quilt from The Simple Triangle book. Octagons appear, but are actually triangles, a definite MUST SEE!!!
I begin an Intermediate class on Monday, March 16,
afternoon or evening. This is a great class for learning Y seams, varying sized blocks, quarter square triangles, and machine appliqué. This is a 7 part class on 7 consecutive Mondays.
Mary is teaching Checkerboard Galaxy
on Monday, March 23, this is a 3 part class offered in the evenings only. There are thousands of stars in the galaxy, but with this quilt you'll really be sleeping under the stars.
On March 28, Mary is teaching Beginning Applique.