RELEASE OF THE WEEK – ALICE CREED
SITE OF THE WEEK – STUDIO CANAL COLLECTION

If you can't read this newsletter or see the ads, please click here
---
---
It Was A Good Week For... Momentum, enjoying a strong run of success…


It Was A Bad Week For… Apologies for those expecting Te Raygun newsletter yesterday, technical difficulties and other reasons held us up…

So, it's official. Summer's over and the autumn has started. The schools are back, the nights are drawing in, there's some decent new programming on the telly (see below) and everything seems to have upped a gear – it's certainly getting busy. And there are loads of big, big releases on the way.

Some people will certainly be glad to see the back of summer, and that's not just football fans. The World Cup may have been disappointing to many football supporters, but it's also been highlighted as a key contributing factor to the trading figures announced this week by HMV. The retailer had already forewarned the City and its shareholders, and everyone in our business should know the effect of the tournament on trade by now, but the update, which showed total sales across HMV UK and Ireland down almost 14 per cent and like for like sales down closer to 15 per cent for the first three months of its financial year, brought that fact into focus. HMV is far from panicking, as ceo Simon Fox said both its ongoing strategy and plans for Q4 were shaping up well. In the former it has further expanded its product mix, taking in fashion and technology (as reported here on the Raygun) and in the latter Fox welcomed the "stronger product line-up" due in the run-up to Christmas. The retailer said its market share on music and games was satisfactory, although it added there had been some "dilution" in the video sector due to competitor discounting.

In stores at HMV, meanwhile, the retailer this week unveiled some gorgeous point of sale for the release of Revolver's Banksy film Exit Through The Gift Shop. Stores in both London And Bristol (the graffiti artist's home town) featured original works from Banksy and innovative point of sale (an old oil drum in one, metal bin in the other). For images from the Oxford Street store see our website here. What happens next is unclear – HMV has deployed extra security to prevent light-fingered fans from stealing the unconventional artist's original works, which could be worth a small fortune, but their destination after the first week of sales is not known (can we just put in a bid now?). HMV's head of display Mark Robinson said: "We knew a representative was meant to be coming in overnight to install a large poster display for the DVD of Exit Through The Gift Shop in readiness for its release on Monday, but we certainly didn't expect to find a full-blown Banksy waiting for us when the shutter went up in the morning. As you'd expect, it's a pretty striking and provocative image, and it's been attracting large crowds of passers-by, many of whom have probably never seen a Banksy 'in-the-flesh' before, which is why we have felt the need to step up security around it."
---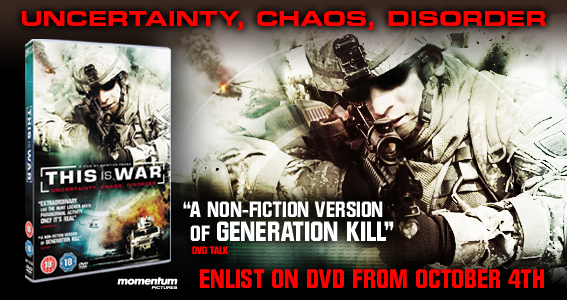 ---
And now the summer blockbuster season is drawing to a close, many of the Q4 home entertainment release dates for the big theatrical hits of the warmer months are now being unveiled. One of the first out of the block last week was Inception (£33 millon and counting), one of the more cerebral theatrical outings, due on December 6. In keeping with a film of its size and stature, it is being released in a welter of different versions, taking in triple play, DVD, digital and a gorgeous limited edition briefcase feature the triple play version of Christopher Nolan's much talked about film, as well as artcards and assorted goodies, including a spinning top. The title is now available for pre-order. Marketing manager Tom Grievson said: "Inception is now the third biggest theatrical release this year – and must be one of the most anticipated films to watch over and over at home this year. To celebrate this we are giving fans the chance to own something special with the launch of a limited edition Blu-ray Inception case SKU. Due to huge demand we've included a very cool replica of the totem used by Cobb (Leonardo DiCaprio) in the film within the case." See it on our website.

Also on the website this week – more from our ongoing series of HMV-approved My Inspiration features, where industry types pick the DVD (or other product) that made them enter the entertainment business or somehow shaped their career. This week Scanbox's Ken Law and Clear Vision's Paul Archer make their choices. Also: our weekly round up of the weekend's home entertainment related press coverage, and loads of other assorted bits and bobs. Check it here. And to get involved with our My Inspiration feature, email us at this address.

Back to release dates, and December 6 is set to be a pretty big day, as eOne this week announced that it had scheduled the latest instalment in The Twilight Saga, Eclipse, for the same Monday. This is also now up for pre-order, in single and two disc DVD and single disc Blu-ray editions, as well as a steelbook-encased collection of all three films in the series so far. It's the first Q4 release for the 4 million plus unit selling franchise and its box office outperformed the previous release, giving it further potential. eOne's Martin Gough said: "The great thing about Eclipse is that it's the third in a very successful franchise so we know what we're doing with it. It is more competitive in Q4 [and on December 6], but the audience for those films is different. We're speaking to all parties and retailers to ensure we get great in-store set-up. We'll first motivate the dedicated and vocal fanbase online through social networks and then roll out. We had a hugely successful campaign for New Moon and we're looking to better that for Eclipse with significant investment across all media."
---
---
Pre-orders are, of course, increasingly important. One supplier keen to drive pre-release interest in its titles is ITV Studios Home Entertainment. As part of its forthcoming slate, the company is readying a second Loose Women DVD release, following on from last year's debut title, which sold some 70,000 units and picked up a BVA award for marketing. And it's started its PR campaign for the title, Loose Women In New York, nice and early. This week's Best magazine featured a whopping five page feature on the filming of the release and featured the Loose Women going all Sex And The City in the Big Apple. ITV's Kate Walker said: "We are hoping to build significant pre-orders from the daily Loose Women viewers this year online and expect this piece will really help drive interest." See one of the pages here.

Returning to eOne now, and it's been another busy week for the distributor. As well as readying itself for Eclipse, the company has also announced a deal with UCA, which will see its titles the Universal and Sony joint venture. eOne's catalogue titles will be joining the two studios' older releases in assorted box sets and multipacks. The first will see the likes of eOne's Knowing joining SPHE's Moon and District 9 in a box and will arrive in Q4. eOne Home Entertainment director Jon Bourdillon said: "We're thrilled to be working with UCA, which has already established itself as the leader in finding innovative ways to deliver multipack content to its consumers." UCA's Darren Mason said: "We are delighted to have the opportunity to access the amazing eOne catalogue, for inclusion in our substantial box set range, and look forward to releasing even stronger combinations that will continue to excite and entertain UK DVD consumers."

Meanwhile, more from eOne (we said it had been busy) and the company is busy preparing itself for its huge StreetDance 3D launch event. We've covered this extensively already here, but just a reminder, the event takes place at the HMV Forum on September 27 (and chimes with the retailer's statements made at its conference this summer whereby ceo Simon Fox said the company's venues could host DVD launches, premieres and events). Tickets available here http://www.hmvtickets.com/events/1464.

StreetDance stars, of course, graduates of the X-Factor/Britain's Got Talent axis, and on a similar note, there's big news from the 2 entertain camp this week, with the company unveiling a new signing for Q4. Spelbound, winners of the last competition with their amazing gymnastic routines, have inked a deal with the company and the troupe's first DVD, due on, surprise surprise, December 6. It will feature a specially commissioned performance from the group, whose victory was watched by a TV audience of more than 15 million people. 2 entertain's Nancy Twynam said: "Spelbound's mind-boggling performance on Britain's Got Talent left even Simon Cowell speechless so we're delighted that they've signed with us to release their debut DVD."

---
---
For those that haven't seen the billboards dominating the landscape, the extensive trailers, or press ads and publicity onslaught, Shane Meadows' This Is England 86 started its four week run on Channel 4 this week, with 4DVD's release of the entire series slated for October 11 release. The reviews are in – "a beautifully observed, bittersweet treat" The Guardian; "the best drama on British television this year" The Observer – and the viewing figures look impressive too (at 3 million viewers it is Channel 4's biggest ever drama launch). We at The Raygun have seen next week's episode and – guess what? – it gets better. 4DVD is now getting ready for its release. The marketing will include trails after broadcast, press ads in Metro on a national scale, Shortlist and regional newspapers, as well as a radio promotion on XFM and an online campaign across Facebook, The Guardian and Last FM. 4DVD's Karla Berry said: "The TV series retains all the sense of humour and iconic style of Shane Meadow's best film work, and if you've seen the film then you'll know what to expect – gritty drama, humour and surprising moments of warmth."

Channel 4 will next week be launching the new series of another of its big guns for the small screen, again ahead of 4DVD's planned home entertainment release. Inbetweeners returns for its third outing on the channel on Monday night. Again, 4DVD's release will follow transmission. Marketing for the series will take in television, online, print and outdoor on London underground and national rail sites, with trails after transmission too. 4DVD's Karla Berry said: "We've sold over 1m units, so series 3 and the box set are a huge opportunity for us. Fans won't be disappointed as the writers have done a fantastic job at keeping the high standard of the first two series – it's as hilarious as ever."
---
---
Congratulations to former video industry executive Simon Hewlett, newly promoted to the role of executive vice president at Universal Pictures International. Hewlett, who made his name at Fox on the video side initially, will oversee all of Universal's international theatrical releases.

We'll end nearly almost as we started, with some financial news. And as LOVEFiLM gears itself up for a major flotation (according to some of this weekend's business pages, at any rate), the company has announced two high profile additions to its board. It has appointed two non-executive directors, Kristian Segerstråle in the UK and Roland Steindorf from Germany. The former was co-founder and ceo of social gaming company Playfish, recently sold to Electronic Arts, while the latter specialises in mobile gaming. LOVEFiLM chairman Charles Gurassa said: "We welcome Kristian and Roland to the LOVEFiLM board. They join a remarkable group of talented business leaders steering the growth of this exciting European subscription entertainment business. Together Kristian and Roland bring tremendous knowledge of the gaming, mobile and digital media sectors at a time when LOVEFiLM is rapidly advancing its digital services to televisions, PCs and handheld devices."
---
RELEASE OF THE WEEK

Brit star Gemma Arterton's stock has soared this week, after her numerous appearances promoting Momentum's Tamara Drewe (see above) and winning a gong in the GQ awards, so Icon's October 4 release of the Cinema NX title The Disappearance Of Alice Creed now carries even more weight. Icon will be aiming to entice the film fans who will have seen or heard about it on its theatrical release, as well as pulling in a wider audience too. This means a TV campaign that will take in Channel 4 and key satellite/digital stations. There'll be an online campaign taking in 30 second pre-rolls and display advertising, and, of course, the ubiquitous social networking sites. Furthermore, the title will also be advertised at Vue cinemas, giving it an even higher profile among film fans with a 30 second spot airing during late September and early October. Icon's Chris Warrington said: "It's a very good film, it's not just a British thriller, it's a very effective, exciting, taut, well-executed thriller." Obviously Arterton's presence and increased profile will help no end too (and we at The Raygun suspect the fact that this is one of her more, er, revealing performances could also boost word of mouth too…).

AT THE MOVIES
Optimum enjoyed one of its biggest ever openings with the debut of The Last Exorcism last weekend, the film took £1.1 million in its first three days, outdoing Dinner For Schmucks' total, which was just shy of £1 million. The only other new entry was The Switch, which took just over £660,000. In the US, George Clooney ruled the roost with a near $20 million haul for The American, while the Grindhouse spin-off Machete bowed with more than $14 million. The Drew Barrymore starrer Going The Distance took more than $8.5 million in its first weekend.

Universal and sister company NBC are putting together an ambitious three film and TV series plan based on Stephen King's mammoth seven book The Dark Tower series. King's bold fantasy tales have sold more than 30 million copies worldwide, so it's not necessarily an unknown quantity, but what is unusual is the scale and scope of the filming plans. The deal will see the films and TV series being produced by Akiva Goldsman, Brian Grazer and Ron Howard – the latter will direct the first film and series.

The X-Men, Fantastic Four and, er, Ronald Reagan? The producing team behind those first two superhero films are said to be working on a biopic of the US president who, while having hero status for many, is equally loathed elsewhere. Mark Joseph and Ralph Winter are developing the film which will start with the 1981 attempted assassination and then track his life both before and after the event. Whatever next? Oliver Stone making a film about George Bush? Oh, hang on…

We love Danny McBride, the US comic who's stolen the show in a few films (Tropic Thunder, Land Of The Lost), starred in his own (The Foot Fist Way) and starred in his own HBO series (Eastbound And Down), so we're always excited to hear about what he's up to. And his next project, Olympic Sized A*shole, has such a strong title that we reckon it can't be anything but excellent. The plot vaguely resembles Eastbound in that a sports hero returns to his hometown, only this time McBride is the guy who gets revenge after his girlfriend sleeps with the titular athlete. We reckon they may have to do something about that title though, if only to prevent us from constantly asterisking out the offending word…
---
---
SITE OF THE WEEK
Optimum is issuing a new batch of titles under its Studio Canal Collection banner next week and to mark the event, it has collaborated with The Guardian to create an editorial-friendly microsite to highlight the batch of gorgeously packaged titles. As Optimum's Nick Tay said: "Rather than solely promote this new set using traditional advertising we wanted to make a concerted marketing push to elevate the identity of the Collection and position the series as a highly desirable, premium quality film brand. We wanted to target a much wider, culturally aware and affluent market that would respond to the titles in the Collection and after the great success of our Gainsbourg microsite with the Guardian earlier this year, we asked them to build a Studio Canal Collection site that would showcase the qualities of the titles on a much richer and informative platform." See it here

TRAILERS OF THE WEEK
We're genuinely excited about this, thanks, in no small part, to a certain Mr Will Ferrell…
http://trailers.apple.com/trailers/dreamworks/megamind/

A romcom in which a baby's parents needlessly die to help the plot along
http://trailers.apple.com/trailers/wb/lifeasweknowit/

We've written about this extensively already, here's a clip of genius or madman Joaquin Phoenix…
http://trailers.apple.com/trailers/magnolia/imstillhere/

Your humble writer started his career on the Barking And Dagenham Post, so this resonates in oh so many ways…
http://www.paramountpicturesintl.com/intl/uk/madeindagenham/
To subscribe to The Raygun newsletter, please email
info@theraygun.co.uk
with subscribe in the subject matter
To unsubscribe, email
info@theraygun.co.uk
with unsubscribe in the subject
For editorial or advertising queries, contact
tim@theraygun.co.uk