---
The Spirit of Art -
Sensory Winery and Gallery
Sensory is open Fridays through Mondays, 11 am - 5 pm
10599 Route 20, Ripley, NY
This juried show features fine art from 19 local artists, including Grape Arbor staff member and photographer Tajana. Visit The Event Facebook Page for details.
---
GRAPE ARBOR FOODIE CLUB REVIEW
---
Casual Fine Dining in Downtown Erie Features Tapas Style Dining

Cloud 9 Wine Bar Satisfies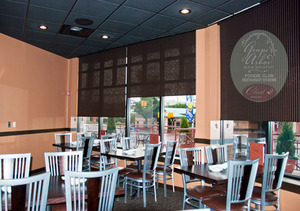 On the corner of 10th and French Streets, Bertrand (of Bertrand's Bistro, also in Erie) has created the self-titled "upscale casual eating and drinking" establishment, to fill a need in Erie. Unlike his cozy French-American dining on Perry Square, Cloud 9 has a more "bar-centric" approach with modern and upscale furnishings.
The menu consisted primarily of Tapas (shared plates) and ala carte items that worked equally well as shared plates. There were also six full entree items available from 5-10 pm. The Ala carte offerings included Poutines, Pizza, Tartines, Burgers, Veggies and Salads, and Starch Sides. Entrees included pasta, fish, shellfish, chicken, pork, and beef. We opted for the tapas experience and ordered several items which we all shared.

The wine and beer list represented a wide assortment of choices, including many local beverages, of which we took part. We ordered 6 Mile Winery's Hard Cider, Cloud 9 Cosmo, and a glass of Malbec. The wine was poured using a very interesting aerator that was rather entertaining to watch. All were very enjoyable and we would order them again.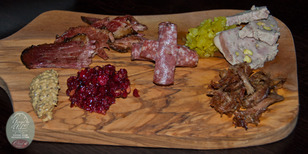 We began with Charcuterie (smoked meat plate) made with a daily choice of items. Our selection included crispy duck, rabbit pate, pastrami, salami, cranberry chutney, mustard and a pepper relish. All of the items were very tasty and had some wonderful textures. We also ordered a very flavorful spring salad featuring strawberries, feta cheese, spicy cashews, aparagus, and a caper-tarragon vinaigrette.This paired wonderfully with the meat platter.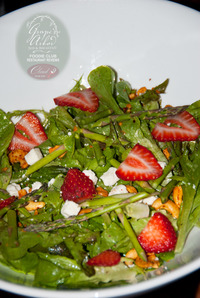 We ordered the Duck Wings (with medium jalepeno sauce) and found them delightful. They had a small amount of heat, but not too much. There were several choices of sauce, should jalepeno not be to your taste.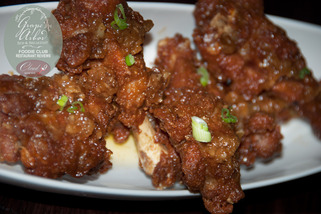 Then came their daily soup selection, Corn Soup. The soup was prepared with sophistication and had a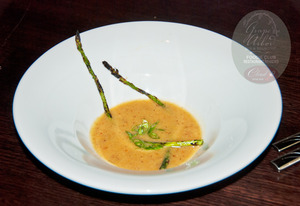 very enjoyable depth of flavor, with several sprigs of sauteed asparagus. Then we were treated to a complimentary tasting of the chef's Bortsch. It was chilled and rather refreshing with a small dollup of sour creme on top.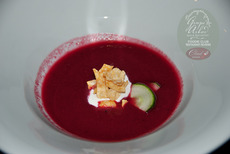 We also tried the Lobster Poutine...Canadian comfort food from North of the border. Large lobster pieces, a well-crafted cheddar sauce, cheese curd and green onions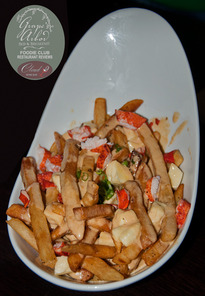 smothered a pile of really good french fries for a gourmet munchies treat. I have been dreaming of going back to order this again and again. I know this is a high-end version of French fries and gravy, but it was really, really good and should not be overlooked. Equally addicting was the Slider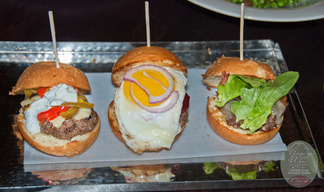 Sampler Plate with one of each of their burgers. This included a Cheeseburger (topped with bacon and cheddar cheese), Aussie Burger (topped with grilled pineapple, pickled beets, red onion, sunny side up egg and hot chile mayo) and Lamb Burger (topped with pepper comfit, gruyere and dill cucumber sauce). These paired perfectly with the Lobster Poutine.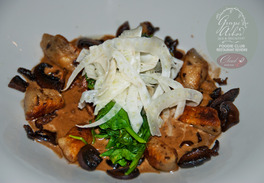 Then came the Pork Belly with burnt pineapple, shaved fennel, green tomato pickle and a sweet balsamic sauce. This was very unique and enjoyable.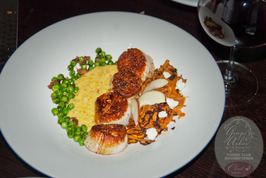 The only item we ordered off the entree list was the Scallop offering sweet potato hash browns, burnt corn cream, sour apple and garlic roasted peas. The scallops were cooked to perfection and the sides served with it were very well paired as the complimented each other quite wonderfully.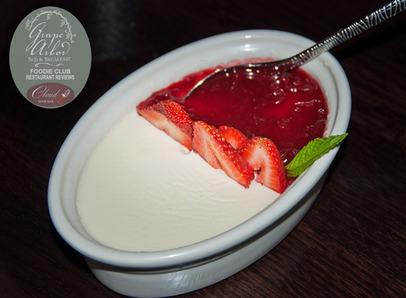 We barely had room for dessert, but we had to do our job and we prevailed.
Each day they have daily dessert specials and we ordered a really really tasty Custard with fruit side. The custard was perfectly executed, smooth, and full of flavor.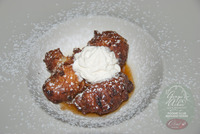 We also tried a Creme Filled Beignet. This was the only less than stellar item of the evening as it was overcooked, a bit dense and oily.
Cloud 9 WINE BAR
25 East 10th Street, Erie, PA
(814) 870-9007
---
UNTIL NEXT TIME, THANKS FOR READING
AND WE HOPE TO SEE YOU SOON.
GRAPE ARBOR BED AND BREAKFAST
51 E. Main Street
North East, Pennsylvania (PA) 16428
Telephone: 814-725-0048
TOLL FREE: 1-866-725-0048
Email: grapearborbandb@aol.com
Website: www.grapearborbandb.com
We Welcome You to Follow us on Twitter (@grapearborbandb)
"Like" us on Facebook
And join our circle on Google+


Visit Grape Arbor Bed and Breakfast's profile on Pinterest.