9 October 2023 - AGM plus Paul Prictor will tell us about his motorcycle tour of Mongolia

SkillShare

2 Sep 2023 meeting at the Dandy Highwayman Cafe Cherhill.  9.30 am for 10 am start

Bike Ride-Outs on the 3rd Saturday of every even numbered month and the 3rd Sunday of every odd numbered Month. Email will be sent out to Bikers and added to the Forum.
Next ride out Saturday 19 August.  Details will be forthcoming via email to all bike members.
Do you have a topic you would like discussed, or know of an interesting speaker?  Please contact speaker at
speakers@wiltshireroadar.co.uk
Congratulations to the following members who have passed their Advanced Tests recently:
David Burns - Bike - Silver - Tutor Peter Genet

Please welcome the following to the Group

:
David Hoole- Bike

Kevin Felstad - Bike

Don't forget that we have a range of clothing available to purchase. We also offer a range of books, such as Roadcraft, Motorcycle Roadcraft and the Highway Code, and these are available at discounted prices.

For more information visit the Merchandise page of our web site 
We are always looking for more articles, ideas and news for the newsletter. Have you been somewhere interesting recently that would make a good story? If you attend any group events then take a camera and send us your pictures!

Please forward all contributions to
newsletter@wiltshireroadar.co.u
k
We're on
Facebook
and
Twitter!
Please come along to the AGM on Monday 9 October.  This is an essential part of our governance and we must ensure the Committee are kept honest in all we do.  It is also your chance to make suggestions and help us to run the Group better.  We need to hear what it is you want from the Group or we will continue to carry on just coaching people to pass their RoSPA advanced tests and providing monthly rides out for the bikers. 
If you cannot make it please let the Secretary know and provide a proxy vote for someone – the Secretary can do this as I will be away (apologies in advance) and he has my proxy vote.  As an added interest, Paul Prictor will be telling us stories form his motorcycle trip to Mongolia. 
Thanks to Phill Coulbourne the Forum is back up and running on the website.  You will have to re-register I am afraid but please do so.  We will develop its use in the future (we used it to coordinate this month's ride out (see the report below)).  It is a useful addition to our communication and for highlighting relevant information.  Please be patient with the authorisation of your account as we have one person doing this and they are currently on holiday.
I mention this every year to no avail but please do come and join the committee as we need some fresh members and some are looking to move on as they have been serving for many years.  No qualifications needed just an interest in advanced driving and riding and the ability to help run the Group.  If you want to understand what it entails then come and join us at a committee meeting; every third Wednesday of the month, normally at the Fox and Hounds pub in Wroughton.  The Secretary or I can give you the details if you want a chat prior to attending- we are a friendly bunch!
Stay safe everyone and enjoy what is left of the  summer (I blinked and missed it!)
Booking a Retest

Please be aware you need to book your 3 yearly retest directly with  RoSPA via their website.  Sadly we cannot book it for you as it is all done electronically.  You may also need to check when you re-test is due if you have not been paying your subscriptions to RoADAR as they will not remind you.  
Tutors will be happy to conduct a refresh should you wish one prior to a re test.
Have you been up to anything to do with Riding or Driving lately? If so, then please let us know as we would love to include it here; photos would be great too!
The Benefits of Volunteering

I am a volunteer marshal for the British Superbike championship.  We do not get paid (we do get free camping and meal vouchers for each event), but one of the benefits is how close we get to the action.  I was on Church corner at Thruxton earlier this month.  The general public cannot watch the racing at this point so it was great to see a section of the track normally only available to those who watch on Eurosport.  It is a very exciting corner and has the reputation as the fastest corner in the championship – bikes come round at about 150 – 160 miles per hour.
The flag point for the corner is on the inside and I was stood within 10 feet of the riders as they came past.  Watching the riders control their 250 bhp and 180 kg superbikes at this speed and this close was exciting and educational in equal measures.  I can only describe it as visceral; seeing the different styles of the riders, how they position their bodies to help steer the bike and the amount of wheelspin from a slick was amazing.  you will have to take my word for it as we are not allowed to take phtographs when bikes are on the circuit.
Church Corner from the Marshalls safety position - the flag point is by the white van (which was not there on nace day!)
These experiences more than make up for the long hours on windy and wet marshal posts.  We had the added benefit of no one crashing at the corner as it normally goes horribly wrong at this speed so we were grateful not to be picking up riders and bits of bike!
Splashing around Gloucestershire – the fords ride out
Mark Sealey organinsed an excellent ride out which incorporated a number of fords in the Cotswolds.  We spent the day riding around some minor roads and splashing through fords, thankfully in lovely weather.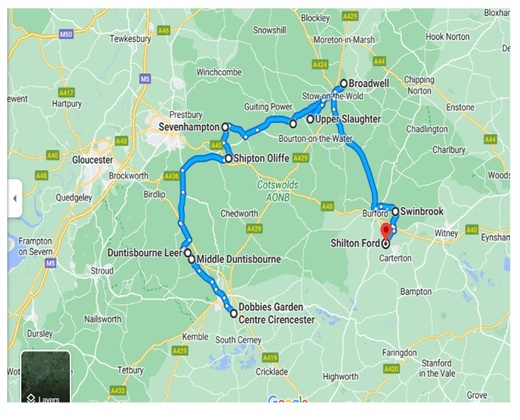 Mark warned us about the risk of algae forming on the river crossings and advised us to take the route normally taken by car tyres to ensure we avoided the green slippery stuff.  With this warning ringing in our ears 7 bikes and 8 people set off on the adventure.  We travelled through some lovely Cotswolds villages, with some very expensive looking houses, enjoying the challenge of the fords.  3 self-inflicted near misses did occur due to taking the wrong track through the ford and being a little too generous with the throttle; thankfully all were well controlled and we completed the day without incident.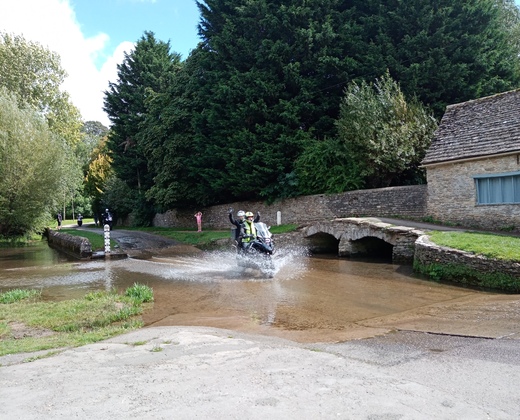 The Genets at the final ford
Marks navigation was excellent and the only u-turns we did were due to roads or fords being closed.  Given the minor roads we were traversing it was not a shock to encounter lots of horses and walkers.  What was great was the mutual respect given by all to ensure we were all able to enjoy the lovely countryside on a rare hot and sunny day.  It was also nice to see how well we were welcomed at the fords, many had families having picnics and the younger children loved seeing the bikes going through the fords.  I think most of us reverted to childhood as we did enjoy riding through the water, prize for the biggest splash goes to Winston who seemed to be having the most fun.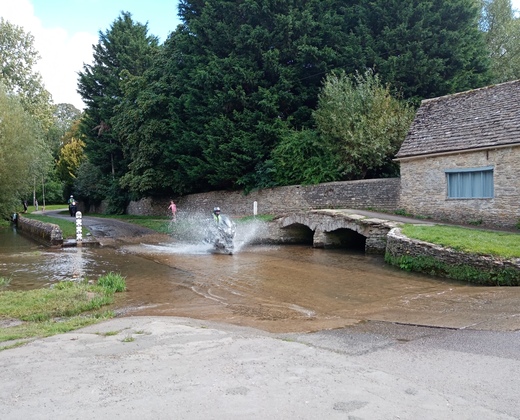 We stopped for lunch at the Old Prison Café in Northleach.  A café many of us have  previously ridden past as it is not far from home.  Well worth a stop as the food and the location are great.
Thanks Mark for a brillliant ride out.
August was largely a quiet month at the race team. We even had time to go to Poland for a friend's wedding. At the previous round in July my exhaust started falling apart, so I was interested to see how the new one Darren had installed would fare. We also updated the camshaft for a stage 2 item and Darren installed his "special recipe" ECU to manage the fuelling.
Scroll forward to the August Bank Holiday on Monday 28th, back to Castle Combe for the "Combe Countdown" event.
We were scheduled for 2 Hot Hatch races. My team mate Steve Waight  who has raced car 887 had bought his own race car from Darren my team manager. Darren had built the car from the ground up and Steve couldn't resist.  This meant that both my spare cars were free. As it happened I had an enquiry from Ben Pemberton to use one of the cars, and we set him up in 265, the Cooper. Car 265 is a good starter car as it is well set up, but not overly powerful. Ben acquired his race licence recently, and although he had tested a Puma Cup car, he hadn't raced before. Ordinarily I prefer drivers to do a test of some kind to sample the car and learn the track. Ben has done track days at Combe, and the Puma was tested there too. With similar power to weight as the Mini we though he'd be OK just to jump in.
Race day was a busy one. Our little team have evolved to running customer satellite cars, with Steve Waight joining Olly Kingston in their own cars, alongside me and Ben in my cars. Darren had drafted in extra help to cope with the 4 of us. We had 2 cars to get to scrutineering at 07:30, and Ben needed to attend the new driver's briefing at the same time.
After all the I's were dotted and the T's crossed we had qualifying at 08:30. The weather for the day was dry and warm, but small showers were a possibility.
We set out to qualify, but the session was red-flagged due to a nasty shunt at Quarry. The interrupted session made it tricky to find a decent flow, we spent 10 minutes in the pits while they cleaned the debris off the track. I got times close to, but not better than my PB. I managed to score 2nd in both races, just behind quick George and a place or two ahead of Olly. Steve and Tim in the other R53 Minis were not far behind, with Ben near the back, having safely got his mandatory 3 laps in to qualify. Ben was the only non-supercharged Mini, so was in class C, while the other five of us are competitors in the R53 Supercharged Mini class.
We had a 20 minute grid walk where the fans could wander up and down looking at the cars where we had lined them up in race start positions. There is usually a grid walk at lunch time, and this time we had the honour in Hot Hatch.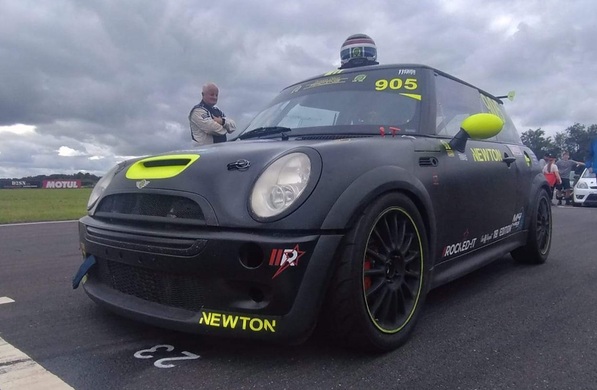 At the first race start I got a nice start but was pushed to the left edge of the track at Folly by another car. As we all converged on Quarry I noticed Olly trying to lunge past me on the inside. He misjudged it and locked his brakes, clattering into another car and they both got turned round.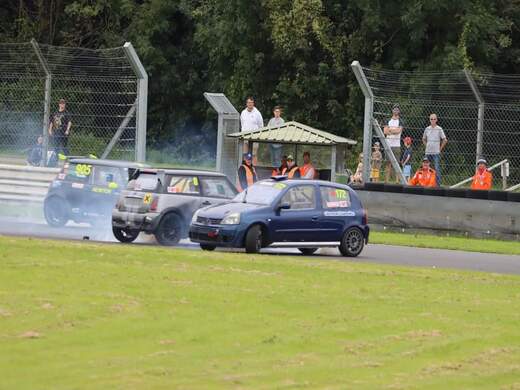 S

tupidly I expected a safety car to clean up the mess and relaxed, which let George put some distance into me. I quickly woke up and set off after him, and sure enough there was no safety car, as the two spun cars got away under their own steam. I held on to George, but with a 4 or 5 second gap that I couldn't bridge. I got back to my 1:19 personal best while I chased him. Whilst pushing to close the gap I started pushing track limits a touch, but eased off when I got a warning flag reminding me to behave. It's only the second time I'have a warning, the other time being Snetterton in 2020. During the race I lapped Ben who was running well in car 265. We gave him a target time of around 1:30 for his first event. He had done 1:35's in qualifying, but we felt he could find more pace as he settled in. I also managed to lap Tim who was feeling a bit under the weather, and I got Steve too, as he had lost time due to a couple of spins in his new car. A solid second was a good result, and I was pleased with it. Olly recovered to a strong third, although he had another tangle with another car at Quarry later in the race.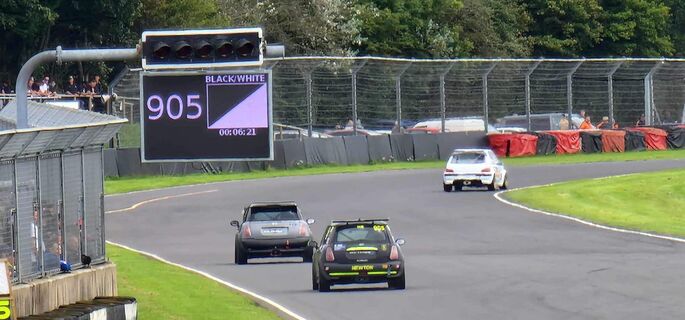 During the pause to the second race at 16:45 I had time to think about the season so far. We are not officially scoring points, but unofficially we use the same system as the Saloon Championship. Hopefully we will be confirmed as an official championship in the future, but for now we are one in all but name. I came into this event 16 points ahead of Olly, with 33 on the table. After race 1 I was 17 points ahead with just 22 left. George was trailing in 4th at the start of the day,due to DNF's and skipping a round due to injury. Even though he was quicker than us he had a lot of ground to make up.
Race 2 got under way a few minutes late due to slippages in the schedule from other races having dramas. I had 2 cars between Olly and me, and I was right up behind George. I got another good start and settled in behind George on the run to Quarry. I hung on to him for a couple of laps but then a faster Clio levered his way past me and opened some space between us. Another one got round me a lap or so later. On around lap 4 or 5 I saw Steve rolling to a halt at Post 5 after the Esses. There was some smoke or steam coming from the car. It turned out to be a broken driveshaft, with which I am all too familiar after last year. Sadly it also ruptured an oil line while it flailed around.
Shortly after this there was another collision, which necessitated a safety car, but it was just for one lap while they got the cars going. The conclusion of the race was fairly routine, with me lapping Ben and getting Tim on the line on the last lap. The safety car interlude had split the pack and put George out of reach once again. Although, with the upgrades to the car, and improvements in my driving, I am much closer to his times at this part of the year than I was at the start of the year. I have one more chance to beat his times this year in October.
We chatted and waited for the trophy presentations at 18:15. Ben had brought car 265 home second of the two cars in class C, but second is second and he collected two trophies on his race debut. Olly scored two third places in class E, I got two seconds and George got the two wins. 
However, in the points standings, George and Olly are now tied for second, with me the class champion as I have an 18 point lead with just 11 points left!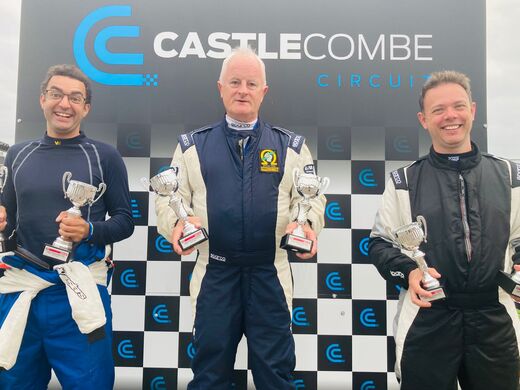 A huge amount of credit goes to Darren and the team. The car has been repaired and well set up, with a few natural developments made to bring it closer to the standard of the other cars on the grid. She's lost a bit of weight, had her geometry done correctly, and a decent suspension package has been installed. The latest performance upgrades have helped too. There are a couple of items for the cars planned for over the winter too.
We have 5 weeks before the last round. Steve's car should be back up and running, and we are hoping to field 265 or 887 as well. 
Gary Franks
Here's a link to the circuit's you tube montage.
---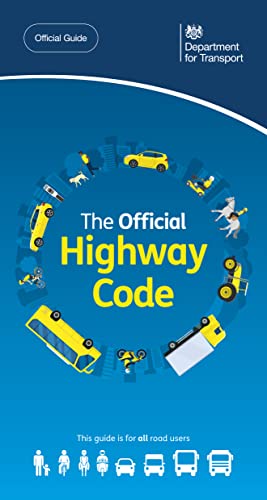 The Stationery Office  has launched a new Highway Code app.  
The app is for all road users and makes it even easier - and more fun - to keep up to date with the rules of the road. 
What's new?
Instant access to the very latest version of the Official Highway Code while on the move, on tablets and mobile devices

Quizzes and timed challenge features, that help users check their knowledge of the Highway Code and track their progress.

A voice over option enabling users to listen as well as read.
The app costs £3.99 and is available to download on both Android and iOS platforms.
Castle Combe Bike Night 30 August

Two Committee members attended the Castle Combe Bike night on Wed 30 August.  A much better turn out than the inaugural meeting in July as it was not pouring with rain.  I would estimate there were nearly 1000  bikes and riders attending.
We were there to raise awareness of the advanced riding training opportunities and whilst we did not sign anyone up we did chat to a few people and met up with some friends.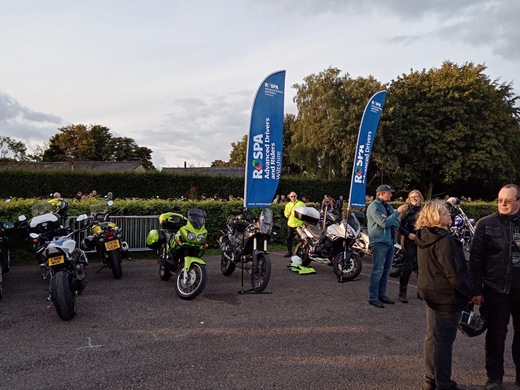 We will continue to attend these as it will raise awareness of our offer.  We do need to consider a way of being more "attractive" to the biking public as many are not aware of what we do.  We will keep chipping away.  If you are interested in bikes it is well worth attending as there was an eclectic mix of bikes (and bikers) there; we finally spotted one electric bike!  The queue for the café was huge so if you do go along (I suspect the next one will be next year) bring a flask and a snack to save spending all your time waiting to get a brew!  Keep your eye on facebook but we will advertise these in the future via the Forum and the newsletter.
Due to GDPR we are required to remove an individual's details from our Group database when they are no longer required by us.  We remove a lapsed member's details if they have not paid a subscription by the 31 Dec following the AGM (3 months after the subscriptions are due).  If a member has forgotten to pay their subs and pays after 31 Dec we will require a joining form to be completed so we can replace them on the database.
It all seems a bit strange, but we do not want to get on the wrong side of the Government's Information Commissioner.  We understand if members forget or are late with their subscriptions, but please help us to keep our database accurate and compliant.
This is, of course, separate to those of you who maintain a membership with RoADAR HQ.
Promotional activities
If you have any ideas for events, then please get in touch with the committee using the committee email address :
Look forward to hearing and discussing your ideas.
A generic set of slides has been created for use if you are asked about Wiltshire RoADAR and have the opportunity to present. This could be at a local club, workplace etc. Please send a mail to committee@wiltshireroadar.co.uk  
and the slides will be sent over to you.
We also have flyers and business cards so ask for these via the same means.
Call for Bikers from Severn Freewheelers

Many of you will be aware of Severn Freewheelers, the blood bike charity that provides its free service to the NHS and specifically the Great Western Trust (GWH)  at Swindon. Partly as a result of the Trust's response to COVID and the service being better understood by the Trust, the workload now means we have two bikes serving the area. Last year we undertook over 2000 jobs for the Swindon Trust. Overall Severn Freewheelers did over 7000 tasks.
This is a request primarily seeking riders to help support our operation going forward. Naturally over time people fall away as their circumstances change, they move away or indeed decide this is no longer for them.
The service runs 1900hrs to 0700hrs weekdays and 24 hrs at weekends and public holidays. A typical duty is Wednesday evening till Saturday evening or Saturday until the Wednesday. You would keep the bike at home until you handover to the next rider. The bikes are the latest BMW RTs.
A new rider needs to have undertaken his or her advanced test in the last three years and is required to be retested every three years. In addition, there would be a check ride undertaken on joining and further periodic check rides with a nominated assessor. Managing the risks within the operation is a core value of the charity. There are of course other roles as coordinators and fund raisers and riders are expected to contribute beyond simply riding which is vital to maintain the service. From a response basis, riders need to live within 25 miles of the Great Western Hospital. Training is provided for all new members.
If this is of interest, please feel free to get in touch.
Media coordinator - Help us to broaden our reach

To help promote the group we have a variety of online media platforms, Facebook, YouTube, Instagram and Twitter. To help make the most out of the opportunities that these outlets provide, we could use some help from someone who has experience of using such tools. Drop me a line at secretary@wiltshireroadar.co.uk  if you would be interested in helping promote our group.
These are available from the Group Secretary if any member wishes to see them. If you are interested in reading the minutes, then please send a mail to the Group Secretary whom will promptly forward them onto you.
Test results 
Reminder to let the Membership Secretary and your tutor know when you have taken your Advanced Driving/Riding Test and result. This is so our database is kept up to date; there is no need or pressure at all to have the result published on the website or in this newsletter if you wish to keep your result confidential.  
If you have read this far, thanks! If you have any feedback or suggestions about content for your newsletter, then drop us a line at newsletter@wiltshireroadar.co.uk   If you can't leave constructive feedback though, then we don't want to hear from you!