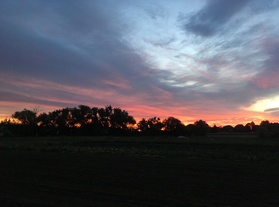 Hello CSA Members,
  Today, Wednesday September 21st is a CSA pick up.  Your share will be available for pick up from 4-7pm at your chosen pick-up location. 
Tomatoes
Peppers
Cherry Tomatoes
Munsons Sweet Corn
Leeks (Farm pick-up)
Scallions (Market pick-up)
Kale (Farm pick-up)
Bok Choi (Market pick-up)
Eggplant
Carrots
Fruit share: Peaches, Plums, Apples
Egg Share: pick-up every week
Bread Share: next week
Coffee Share: next week
Wine & Cheese share: next week
Babette's: next week
Coming next week: tomatoes, greens, winter squash, onions, potatoes and more.....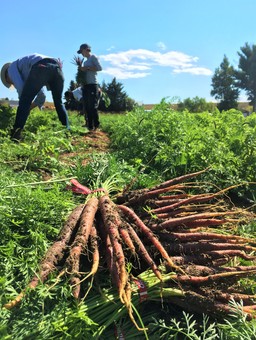 Do you feel it? Summer sneaking away and fall easing its way in.  The fields are still abundant with summer's tomatoes, cucumbers, peppers and eggplant but the cool evening loving crops of leeks, potatoes, beets and carrots are thriving once again as well.
   This week's harvest has us once again back into harvesting the first succession of fall carrots. Watermelon radish, turnips and beets are all on the horizion. The pumpkins acorss the road at Munson's are glowing orange.  As the favorite summer crops finish up for the season we are preparing to plant cover crops to regenerate a bit of the soil through out the winter; and so the cycle continues.
Honey Wasabi Carrots
1 lb carrots
1 tbsp honey
2 tsp wasabi paste
1 tbsp sherry cooking wine (or rice wine vinegar)
Directions
Preheat oven to 425 degrees F.
Toss the carrots in a light drizzle of olive oil, and roast on a baking sheet lined with parchment paper for 25-30 minutes, or until tender.
Mix together the honey, wasabi and sherry and brush lightly over the roasted carrots. Enjoy!
Prosciutto Leek Quiche with a Sunflower Kernel Crust

Crust
1 cup spelt or whole wheat pastry flour
¼ cup sunflower kernels
¼ tsp kosher salt
4 tbsp unsalted butter, chilled and cut into small cubes
1 tsp apple cider vinegar
2-3 tbsp ice water
1 egg white mixed with 1 tsp water

Quiche
1 tbsp unsalted butter
1 leek, halved lengthwise and thinly sliced, white and light green parts only
1 tbsp white wine
3 eggs
½ cup heavy whipping cream
¼ cup milk
1 tbsp all-purpose flour
½ tsp kosher salt
⅛ tsp ground black pepper
4 ounces gruyere cheese, grated
3 oz. prosciutto, chopped
fresh parsley, for garnish
Directions
Crust
In the bowl of a food processor fitted with a metal blade, add the flour, sunflower kernels, and salt. Process until sunflower kernels are finely ground. Add the butter and pulse until the mixture resembles coarse crumbs.
With the food processor running, gradually add the vinegar and water. Process just until mixture begins to clump together. Transfer mixture to a lightly floured surface and finish kneading by hand. Form dough into a disk and wrap with plastic wrap. Chill about 30 minutes.
Preheat oven to 400.
On a lightly floured surface, roll dough into a rectangle slightly larger than tart pan. Carefully transfer to pan and trim edges to fit. Chill dough in refrigerator for another 30 minutes.
Prick the bottom and sides of crust with a fork. Line dough with parchment paper and fill with pie weights or dried beans. Bake for 15 minutes. Remove pie weights and parchment paper. Lightly brush crust with egg white and bake for another 3 minutes. (While brushing the egg white is not completely necessary, it helps with moisture-proofing the crust.) Cool before filling.

Quiche
Reduce oven temperature to 375.
Melt butter in a skillet over medium high heat. Add leeks and sauté until leeks soften, about 5-7 minutes. Add wine and cook for an additional minute. Remove from heat and set aside to cool.
In a mixing bowl, whisk together the eggs, cream, milk, flour, salt, and pepper.
Layer half the cheese, half the leeks, and half the prosciutto in the crust. Repeat layers and then slowly pour the egg mixture over. Bake until quiche is set and top begins to turn golden, about 25-35 minutes. Garnish with freshly ground black pepper and chopped fresh parsley.
Crispy Corn and Tapioca Fritters
1 Cup soaked Sabudana (Tapioca Pearls)
2 Potatoes, boiled and peeled
1/2 Cup Corns, boiled
2 Green Chili, finely chopped
1 Onion, finely chopped
1 Teaspoon Cumin Powder
1 Teaspoon Coriander Powder
1/2 Teaspoon Paprika
Salt to taste
Oil for frying
Directions
Ready sabudana the night before by soaking them in water overnight.
Mash potatoes in a bowl and add drained sabudana, boiled corns, green chili, onion, cumin powder, coriander powder paprika powder, chopped onion and salt. Mix well and make even sized patties
Heat oil in a pan for frying.
Once the oil is hot, flatten each ball slightly and fry till golden brown.
Serve these hot with some tomato and ginger chutney.
Autumn Kale Salad
2 cups of curly kale or dinosaur kale, finely chopped
1 large golden shallot, finely chopped
1/2 cup of fresh heirloom beetroot, finely julienned
1 granny smith apple, julienned
Juice from half a lemon
125 grams of golden raisins
1/3 cup of pumpkin seeds, toasted
Directions
In a small bowl add the julienned apple and the lemon juice and gently combine (the lemon juice will help to keep the apple from turning brown). In a large salad bowl add all of the ingredients, including the apple, and combine well. Serve you Autumn kale salad with a drizzle of maple apple dressing.
This salad is really lovely as a small side salad with roasted root vegetables.
Maple Apple Dressing
2 tblsp. of olive oil
2 tblsp. of fresh orange juice
1 tblsp. of apple cidre vinegar
2 teaspoons of maple syrup
Pinch of sea salt
Pinch of ground black pepper
Directions
Combine all ingredients in a glass jar, put the lid n tight and vigorously shake until the ingredients are well combined. Use to dress your kale salad with. Can be stored for up to 5 days in the fridge.
We still have 18 spots available
in our 2016 Winter Share CSA!
Registration will end next week on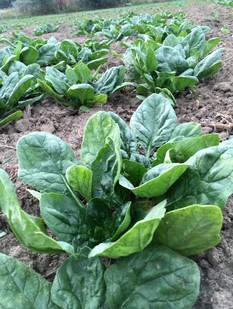 In case you've missed it here are the details:
Winter Share will begin on Wednesday, October 19, 2016 and continue for 8 weeks through December 7, 2016.
Pick-up will be Wednesdays from 3:00-6:30 at the Farm Store
The cost of the share is $200 ($25 per week)
Egg shares, Kim & Jake's gluten free bread share and the wine & cheese share are also available through Winter Share.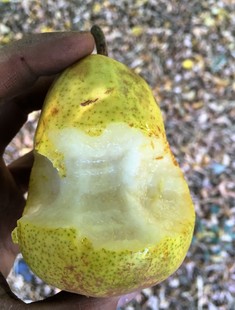 Winter Share offers both salad greens as well as cooking greens each week.  Other root crops like potatoes, carrots, beets, turnips, parsnips, radishes, leeks, onions, garlic and more.  Winter squashes and apples or pears are also included each week.

12th Annual Harvest Celebration & Pig Roast
Mark you calendars - the annual Harvest Celebration & Pig Roast is only a few weeks away! Details are as follows:
When: Sunday, October 9 from 3pm-7pm
Where: Cure Organic Farm Store (corner of 75th Street and Valmont Road)
Why: To thank all of our CSA members, volunteers, family, and friends that help keep the farm going!
 We will supply some great food including our heritage pork, a wonderful veggie stew, salads, and Munson farm sweet corn.
We ask you to bring a side dish to share or dessert.
While this is a free event for our CSA members, we ask that you r.s.v.p. so we know how many people to cook for. We will begin r.s.v.p's next week right herer in the newsletter.
We look forward to celebrating with you!
Eastern Plains co-op has been raising beautiful heritage turkeys for us again this fall.  The turkey's are raised with non-gmo feed, no antibiotics and are free range. Dallas estimates that there will be a nice size range again this year from 10 to 18 pounds.  Cost will be $7.50/pound.
Turkeys will come frozen and will need to be picked up the week before Thanksgiving, on Wednesday, November 16th at the farm store.
We will begin taking orders for turkeys next week, right here in the newsletter.
     Ladies and Gentlemen - the time is here! Stock up your pantries now with all the great vegetables and fruits of the summer season. There's nothing that beats the winter blues better than cracking open a jar of sweet peaches, or a perfect tomato sauce. Currently this is our selection of produce available for canning:
Red Field Tomatoes 20# case for $30 ($1.50/lb)
Heirloom Tomatoes 10# cases or more for $30 ($3/lb)
Heirloom Tomato Seconds 10# cases or more for $20 ($2/lb)
Free Stone Peaches 18# case for $45 ($2.50/lb)
Plums 20# case for $55 ($2.75/lb)
Early Apples 20# case for $40 ($2/lb)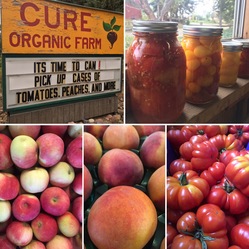 If you are interested in ordering cases of any of the items above, please email us at:
cureorganicfarm@yahoo.com
Please include the item and quantity desired in the subject line (for example 20# case Red Field Tomatoes - YUM!).
     As we are only 3 weeks left from the end of our 2016 CSA summer season, we wanted to remind everyone of some important dates and items to mark on their agenda:
Bread, Coffee, Wine & Cheese, Babettes Shares - One pick-up left!
Wednesday, October 5: Last Wednesday Night Farmer's Market! Members who pick up at the farmers market, please plan on picking up your last share of the season at the farm on Oct. 12th.
Sunday, October 9: Annual Harvest celebration and pig roast
Wednesday, October 12: Last CSA pick-up
Wednesday, October 19: First Winter Share pick-up
    *Another reminder for all Market pick-ups - the last CSA pick-up on Wednesday, October 12 will be at the Cure Organic Farm Store.
More details about the Annual Pig Roast are on their way!
Geese appear high over us,
pass, and the sky closes. Abandon,
as in love or sleep, holds
them to their way, clear
in the ancient faith: what we need
is here. And we pray, not
for new earth or heaven, but to be
quiet in heart, and in eye,
clear. What we need is here.
     - Wendell Berry



Cure Organic Farm

7416 Valmont Rd.
Boulder, CO 80301
cureorganicfarm@yahoo.com
www.cureorganicfarm.com