Dear neighbors, family and friends,
Happy Friday and Happy 25th Anniversary to me – on this date 25 years today, I moved to Hoboken! What an incredible adventure it has been since then, when at 26, I lived in a 4th floor walk-up on Monroe St. between 1st and Newark and worked a zillion hours a week at an Investment Bank in New York. And now, at the age of 51, with a few more gray hairs and still working many hours per week only now for Hoboken, I wiIl be hosting a
Campaign Kick-off Event
for re-election to a second term on
Hoboken's City Council as the 2nd Ward representative
. Please
RSVP here
(FB event) or
email me
.
Whether you live in the 2nd Ward or elsewhere, please come out on what looks to be
a gorgeous summer evening
to help me celebrate these milestones. Drinks and snacks are on me including my single favorite summertime drink -
Pimm's and Lemonade
. And I have a special guest who will be introducing me that night…
J
As you probably know, in order to get on the ballot, I need to have nominating petitions signed by 1% of the registered voters in the 2nd Ward. Last time it required 63 but I was able to get almost 300. And this time the 2nd Ward grew so much I need 75! If you are a registered voter in the 2nd ward (click
HERE
to see boundaries), I would be so honored to have a nominating petition from you – it just requires a signature and an address.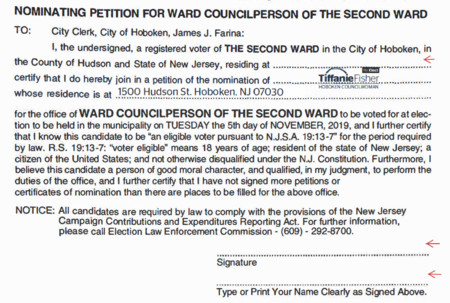 If you would like to help me get on the ballot, I can bring one to you or you can print the attached and sign and I will come to you to pick up! Here are some important links to help you with your voter registration if you need to make any changes:
Special Improvement District
After 2 1/2 hours of discussion at the City Council meeting,
the City Council passed an ordinance to establish a city wide Special Improvement District
to be called Hoboken Business Alliance. This is a historic step for Hoboken and resets the trajectory of our business community and local economy. You know how you hear about all of the improvements going on with businesses in Jersey City? They are all through SID's. I have been working for over 2 years on this and am so proud of all those involved who helped get it to this point. Some familiar faces were appointed to be the incorporating officers for the new SID – Armando Luis (La Isla and Sparrow Wine), Eugene Flinn (Amanda's, Elysian Café and Alfalfa), and Donna Garban (Little City Books) and will be leading voices in this initiative.
Maybe More Open Space & Historic Preservation
Future of EScooters on the Waterfront Walkway
The City Council passed on first reading the ordinance that I sponsored to
ban EScooters from our waterfront walkway
. This measure will require City Council approval on second reading in August and approval by the mayor before it can go into effect. For those unaware, OJO scooters – the ones you sit down on – have announced a self-ban of their scooters on our waterfront walkway.
Earlier Sunday Morning Cocktails
Clinton St. Bike Lane PILOT
This was pulled from the agenda by Councilman Russo, the Chair of the Parking and Transportation committee, to bring back to committee before re-introduction at the next meeting.
Plastic Bag Ban means All Plastic Bags (and also Styrofoam Containers)
You know those extra thick plastic bags certain retailers are handing out saying they are "reusable". Well, soon to be no more. The council voted unanimously in favor to include
all plastic carry out bags in the ban
. Additionally, the ban has been expanded to also include the use and sale of certain single service Expanded Polystyrene (Styrofoam) containers and what is commonly known as packing peanuts.
Nothing specific other than we expect that the Mayor will be presenting a settlement proposal to the City Council soon. His office is in process of setting up some meetings with residents and the City Council to discuss in more detail. As you know, I have previously taken the position that I have a conflict that keeps me from voting on any proposed settlement given the outcome may affect my view. There are certain circumstances that may actually allow me to vote given that when I originally ran for office, I ran and was elected on a platform that included fighting against the proposed Monarch. I won't know until early fall, but will let everyone know. That said, just know that I have and will continue to advocate - both as your neighbor and your elected representative - for a completed public waterfront including the Monarch site and the former Union Dry Dock site.
Special Council Meeting Thursday July 18th at 7pm
Our City Council meeting was long on Wednesday night and we did not get a chance to vote on certain pieces of legislation so we are having a special meeting next Thursday at 7pm to do so. These include, among others, a resolution on Car Free Sundays on Sinatra Drive, updating our Ethics Ordinance Chapter 29 to Prohibit Politicking on Public Property (including Nixle…), and amendments to the Northwest and Western Edge Redevelopment Plans.
Peter Cunningham Not Running for Re-Election
Today I was saddened to read that Councilman Peter Cunningham has decided not to run for re-election. To say that this is a loss for Hoboken is an understatement. He leaves big shoes to fill. If you havent yet read, I would encourage you to read
his email
he sent this morning. Councilwoman Giattino and I put out this statement earlier today that reflects our sentiment.
Councilwomen Giattino and Fisher React to Cunningham Decision Not to Seek New Term, Praise Longtime Colleague
HOBOKEN, NJ -- Hoboken 5th Ward City Council member Peter Cunningham has announced that he will not be seeking re-election this November following three terms on the City Council. Councilwomen Tiffanie Fisher and Jen Giattino, both longtime colleagues and friends of Councilman Cunningham, praised him as a strong, independent voice on the council who has advocated for efficiency, competence and transparency in city government.
"I first met Peter in 2009, when he was organizing the uptown farmers market and he was the first person to encourage me to run for city council in 2011," said Councilwoman Jen Giattino. Peter was a true reformer, who was the mastermind behind getting the city's finances in order. No matter the issue, Peter has always done what he believed was best for the city. It will be a great loss for Hoboken to no longer have his independent voice on the city council."
Not only was Councilman Cunningham the first to suggest Giattino run in 2011, but he also joined others including then Mayor Dawn Zimmer to encourage Fisher to run in 2015.
"Peter has been the sage, the voice of reason on all decisions we have made on the Council," said Councilwoman Tiffanie Fisher. "At the core of his decision making, and what I respect most about his leadership, is his commitment to always doing what was best for Hoboken and his 5th Ward neighbors. Peter's judgment and independent voice have had positive impacts on our community and will be missed. I will work hard to continue his legacy of reform, good government and unconditional commitment to Hoboken. I am grateful for his continuing friendship and support and wish he and his family all the best."
The silver lining of this is that I am hopeful that others within our community who may want to get more involved but didn't see a pathway will see this as an opportunity to run for office. If you are that person or you know anyone who lives in the 5th ward, let me know! Right now there is only one person running and democracy demands that we have choices!