---
| | |
| --- | --- |
| | May 2018 |
Reduced stress. Increased productivity. Improved well-being.
Forte Organizers helps individuals and families stay organized at home, as well as teaching business people organization skills at work.
Spring flowers bring new life, while Lori's Dayton Daily News articles bring new life to our organizing:
According to Forbes.com, a Harris poll found "

Twenty-four percent of workers admitted they spend at least an hour a day on personal email, texts and personal calls." According to the survey, some of the biggest time wasters were using social media, talking on cell phones, and texting. All of these distractions can cause you to become disorganized at work.
Since phones can be so distracting, turn off the Notifications for your Apps while you are in the work place. The notification alone can be just as distracting as actually taking a phone call or answering a text. You really don't need to know if your Aunt Betty posted a picture of her cat on Instragram while you are at work, now do you?
You want to do your part and recycle, but it can be confusing sometimes! Here are some guidelines about what Numbers to look out for on the bottom of your recyclables for a few of the surrounding counties.
Montgomery County: Recycles numbers 1-6
Greene County: Recycles numbers 1-2
Miami County: Recycles numbers 1-2
Warren County: Springboro/Waste Management numbers 1-6
*Since there are several different haulers in Warren County, a good rule of thumb is to recycle any plastic or glass container with a "neck."
If the wrong number item sneaks into the recycling machines, it can shut down the whole operation for the day. Do your part by recycling responsibly. Each county and town has different rules about recycling based on what equipment their hauler has. If you still have questions, contact your hauler directly for specifics on what to recycle and how.
Keep in mind that most recycling groups request the following:
Recycle newspapers, magazines, cardboard and any paper products not soiled by food or liquids.

Rinse containers before recycling.

Remove caps and lids before recycling
FREE!
Attack the Stack: Organizing Your Paperwork
Thursday, May 3, 6:30 p.m.-8:00 p.m.
Winters-Bellbrook Library,
57 W Franklin St, Bellbrook, OH 45305
Call (937) 352-4004 to register. Space is limited.
FREE!
Mindful Home Organizing: Take the First Step
Saturday, May 5, 10:30 a.m.-12:00 p.m.
Washington-Centerville Library,
111 W Spring Valley Pike, Centerville, OH 45458
Registration is now required, call (937) 433-8091 or click this link to register online
FREE!
Senior Solitions: Organize Your Home Sweet Home
Tuesday, May 8, 10:30 a.m.-12:00 p.m.
Miami Twp Library,
2718 Lyons Rd, Miamisburg, OH 45342
Call (937) 463-2665
for details.
Mindful Home Organizing: Take the First Step
Wednesday, May 9, 6:30 p.m.-8:00 p.m.
Kettering Recreation Center,
2900 Glengarry Dr, Kettering, OH 45420
Registration is required. Call the Rec Center at (937) 296-2587 to register.
$30-35 fee based on residency.
FREE!
Who's In Charge...You or Your Stuff?
Thursay, May 10, 6:00 p.m.-7:30 p.m.
Morrisson-Reeves Library,
80 N 6th St, Richmond, IN 47374
Call
(765) 966-8291
for details.
FREE!
Senior Solutions: Organize Your Home Sweet Home
Tuesday, May 22, 6:30 p.m.-8:00 p.m.
Kettering-Moraine Library,

3496 Far Hills Ave, Dayton, OH 45429
Call (937) 463-2665
for details.
Miami County FREE Paper Shredding
Saturday, May 12, 8:00 a.m.-12:00 p.m.
Old Miami Co. Garage, 603 Harrison St., Troy, OH 45373
If you loved Lori's new book, Lose Stuff, Find Yourself,

we would like to ask you for a favor and please

leave a review. The more reviews we have, the greater chances that someone who really needs her book will find it

.

Just click on the title of her book above and then click the "Customer Reviews" next to her 5-star rating.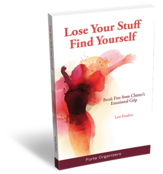 Thank you to all of the people who have taken the time to review her book already! We appreciate you taking the time, and love reading all of your wonderful comments.
"God could not be everywhere, and therefore he made mothers." ~ Jewish Proverb
Happy Mother's Day! May your day be filled with happiness and love. Take some time to relax and enjoy your special day.