Actions to support Bradley Manning
Events in 17 cities Sept. 16-19 to demand freedom for accused Wikileaks whistle-blower 22-year-old intelligence analyst Army PFC Bradley Manning. "Blowing the whistle on war crimes is not a crime!"
Watch the Oakland forum live! Thurs., 9/16, 7pm-9pm PST / 10pm-12am EST at michaelmoore.com. Featuring Daniel Ellsberg, Col. Ann Wright (ret.), and Ray McGovern.
No "Free Bradley" event near you?
Grab a couple of friends, a marker, poster board, and a camera to have your hometown represented. (link only)
Donate to Bradley's defense | Order materials
"He's aware of all the people who are rallying to his support. So his spirits are relatively good."
– Bradley's attorney David Coombs
---
International days of action to support Bradley Manning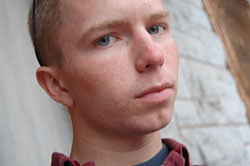 Bradley Manning, a 22-year-old Army intelligence analyst, faces decades in prison for allegedly sharing a video of a US helicopter attack that killed 11 civilians and wounded two children in Baghdad, Iraq with the Wikileaks website.
The Army covered up the evidence and declared the war crime "justified". Now they claim that exposing the massacre is criminal. The military also suspects Bradley Manning of having shared documentation of similar events in Afghanistan.
We stand with Bradley Manning!
Featured event: Oakland, California
Thurs. 9/16, 7pm. Benefit featuring Daniel Ellsberg, Col. Ann Wright (ret.), Ray McGovern, with a screening of "Collateral Murder" at the Humanist Hall. Presented by Courage to Resist with live webcast co-hosted by michaelmoore.com


Byron Bay, New South Wales, Australia. Fri. 9/17, 7pm. Forum, music, poetry at the Byron Community Center.
Cambridge, Massachusetts. Sun. 9/19, 4pm. Rally at MIT.
Corvallis, Oregon. Fri. 9/17. 5pm. Rally at the County Courthouse.
Keene, New Hampshire (and state-wide). Sat. 9/18, 11am. Vigil at the town commons.
Knoxville, Tennessee. Thurs. 9/16. Vigil at Univ. of Tenn.
Los Angeles, California. Sun. 9/19, 1pm. Rally at the Santa Monica Pier.
Minneapolis, Minnesota. Fri. 9/17, 4:30pm. Rally at Mayday Bookstore.
New York City, New York. Thurs. 9/16, 7pm. Forum featuring Ethan McCord at St. Mary's Church.
Norfolk, Virginia. Fri. 11:30am. 9/17, Vigil at City Hall.
Oklahoma City, Oklahoma. Fri. 9/17, 5pm. Rally downtown.
Quantico, Virginia. Sun. 9/19, 11:30am. Rally at the Municipal Park.
San Diego, California. Sun. 9/19, Noon. Rally at Horton Plaza.
San Francisco, California. Sat. 9/18, 2pm. Rally at the SF War Memorial Building, march to Union Square.
Seattle/Fort Lewis, Washington. Sat. 9/18, 2pm. Rally at Fort Lewis.
Spokane, Washington. Thurs. 9/16, Noon. Rally downtown.
Toronto, Ontario, Canada. Sun. 9/19, Noon. Vigil at the US Embassy.
Blowing the whistle on war crimes is not a crime! Free Bradley Manning!
---
Please click here to forward this to a friend who might also be interested in supporting GI resisters.