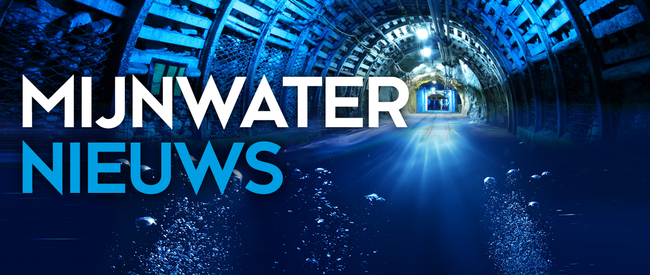 MIJNWATER NEWS: ISSUE 11
Mijnwater News keeps you up to date with everything going on with Mijnwater BV: all developments, innovation, activities and work in the field. The newsletter also includes information about sustainability in the region and beyond. If you have any other business relations who this information could benefit, then feel free to e-mail it to them. Anyone can register for Mijnwater News via the button on the home page of

www.mijnwater.com

.
HeatNet visit by Plymouth City Council (UK)

Mijnwater partner of the OPZuid project

BZK programme manager takes a look round

Life4HeatRecovery proposal granted!

How's things with the Maankwartier South connection?

Plug-and-play concept

Expansion in Heerlerheide!

Mijnwater at trade shows and symposia

Year of transformation: from geothermal mine to goldmine?
Visit by HeatNet partner Plymouth City Council

At the beginning of February, Plymouth City Council (UK) and their technical advisers paid a knowledge-sharing visit to Heerlen. Together with Mijnwater, PCC is a partner in the Interreg HeatNet NWE project. In addition to discussing a wide range of theoretical matters, there was also time for a tour of the network and the Maankwartier power station. Theory in practice – that's how we do things in Heerlen! Their reaction spoke volumes:
"
Great to meet you last week, thanks so much for hosting us and giving such an excellent and comprehensive tour of what you have achieved.
It's a great system with lots of excellent concepts and detailed engineering solutions, I am most impressed. I'm even more impressed that an old hand like me can always learn something new, I came away with lots of food for thought. Much appreciated.
Once again, thanks for a really stimulating workshop, site tour and discussions. We all much appreciated your time and knowledge."
Phil Jones, Plymouth City Council
Mijnwater partner of the OPZuid project

Since January, Mijnwater B.V. has been a partner of the OPZuid project 'Scaling Up of the Geothermal Heating and Cooling Smart Grid in South Limburg'.
The goal of the project is to expand Mijnwater's current number of connections by 150,000m2.
More information >>
Ministry of the Interior and Kingdom relations visits Mijnwater

On Friday 9 February 2018, the programme manager of the 'Aardgasloze Wijken' ('Natural Gas Free Neighbourhoods') visited a number of sustainable energy projects in Limburg within the scope of the national Construction Agenda, an initiative of the Ministry of the Interior and Kingdom Relations (BZK), Bouwend Nederland and Uneto VNI. Director of Mijnwater BV Louis Hiddes gave a presentation about the technology behind Mijnwater BV's geothermal smart grid and the implications of this fifth generation of 'District Heating en Cooling'. His talk highlighted that in Heerlen, we have already weaned entire districts off natural gas and onto mine
water energy.
The new district in Heerlen – the Maankwartier district – is an excellent example of this. The working visit was rounded off in our power station, where the guests were pleasantly surprised and highly impressed by the set-up of our energy system and ambitions to further expand it in Parkstad Limburg.
Life4HeatRecovery proposal granted!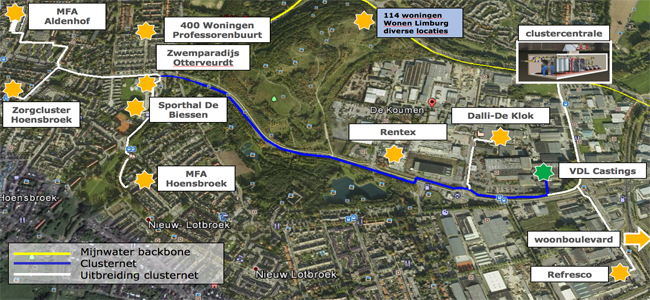 On the Friday of this year's Carnaval (9 February), we received the wonderful news that the 'Life4HeatRecovery' proposal has been accepted by the European Commission. As a partner in this project, Mijnwater BV will receive a

subsidy of €667,000 for the connection of low-temperature residual industrial heat to our network: enough energy to get another 400 households off the gas network.
We will soon initiate discussions with energy experts at nearby businesses to further expand this new capacity. An important factor for businesses is the obligation to carry out all measures within a five-year payback period, as well as the Minister's intention to strictly enforce this obligation. Thanks to Mijnwater, a substantial proportion of the business sector can 'quit' gas.
Fellow partners in this project include Warmtebedrijf Rotterdam, and partners in Stuttgart and EURAC Bolzano (Italy) are also participating in this project.
How's things with the Maankwartier South connection?

The Brabant-based welding company BLB has laid the pipelines for the apartments in Maankwartier South, bringing these houses one step closer to minewater energy. As BLB prepared and prefabricated the materials at their own premises, the welders on site only had a limited number of duties to perform. In week 10, we will start the assembly of the pipelines in section D, which will be conducted by the firm CSbv (specialist in installation engineering, welding, infra, transport and logistics). As a result, firms such as the housing association Weller can be linked to the network and Maankwartier North and South can be connected. This connection will mean the Maankwartier South district will also have access to mine-water energy.

We are currently developing a plug-and-play concept that enables simplified connection of systems that boost the sustainability of existing housing. A number of sessions have been conducted in order to realise this goal, and the demo house created by housing association Weller was particularly eye-catching. This demo house, which is part of the Heerlerheide expansion, gave rise to inspirational ideas for further development of the process. Mathijs van Dijk (Welldesign) and Arnoud Scheltma (MA Vormgevers) have been brought into this process to help shape the concept's industrial design.
Expansion in Heerlerheide!

Mijnwater BV is extremely happy to announce that the housing association Weller has approved the project to connect three complexes in Heerlerheide (Heerlen) to minewater energy. This involves 153 terraced houses, 96 back-to-back houses and 60 porch-access apartments.
Mijnwater at trade shows and symposia

Mijnwater BV is always on the move. The first smart grid solution to tackle the issue of sustainability at both the national and international levels is located in Heerlen. To publicize this solution, the Mijnwater BV team regularly attends trade shows and symposia/lectures or conducts excursions to the connection points and cluster cellars in Heerlen. Events in 2018:
Interreg Pi-Lab London, 28 February 2018.

Visit of Minister Kasja Ollongren (BZK) to the Maankwartier power station, 5 March 2018.

HeatNet NWE meeting, Kortrijk, 8-9 March 2018.

Energy Storage Expo, Düsseldorf, 13-15 March 2018.
Limburg Unlimited, MECC Maastricht, 28-29 March 2018.

STORM Project Management Board, Genk, 27-28 March 2018.

Innovation Expo, RDM Congress Centre, Rotterdam, 4 October 2018.
Year of transformation: from geothermal mine to goldmine?

2018 is the year of the transformation. The mine-water concept is slowly but surely expanding into municipal, provincial and national plans. The technology is receiving more and more praise and support from parties in both the Netherlands and abroad. In 2017, we connected buildings such as the Shared Services Centre and the South Limburg Municipal Health Service to minewater energy, as well as a new Maankwartier district (Maankwartier Noord). The hotel and the buildings in the south of this beautiful new district are next in line. This means that Heerlen has become even more sustainable as an ever-increasing number of households are weaned off natural gas. And we certainly won't be stopping there.
We're currently set to expand our pipeline network to include residual industrial heat, enabling us to provide even more buildings and households with sustainable energy. Boosting the sustainability of existing housing is a complex task, requiring a comprehensive approach in order to meet demand. Cooperation is therefore of vital importance. Together with Parkstad Limburg and housing associations, we are developing a plan of action to connect 11,000 existing rental and owner-occupied properties to minewater energy.
Interest in our technology is being expressed from all sectors and all regions: businesses, education, and government bodies all want to learn from us. And we are more than happy to share our knowledge to enable Parkstad Limburg, South Limburg, the Netherlands and even Europe to benefit from both the fourth and the fifth generation of 'District Heating and Cooling', whilst of course taking cultural heritage into account. Our contribution to a variety of European collaboration projects such as Interreg, HeatNet NWE, Horizon 2020 and Celsius Smart Cities not only helps achieve the desired goals such as energy conservation, reduction of natural-gas consumption and CO2 reduction, but also enables us to scale up to a level that creates a win-win-win situation for energy firms, housing associations and residents.
2018 may have only just got under way, but the transformation is already in full swing. The much-desired goal of 'quitting gas' is perfectly feasible provided we throw our collective weight behind minewater technology. Only then can we make an essential contribution – within a relatively short space of time – to boosting the sustainability of urban areas in Europe, the Netherlands, and Heerlen in particular: the place where it all began in 2005. Together, we can transform our geothermal mines into goldmines!

Mijnwater BV was founded in 2013 and has since become a fully fledged sustainable-energy provider. The heart of the mine-water system is an enormous system of disused mines, which enable both hot and cold water to be sourced and stored.
Mijnwater BV also operates other energy-exchange systems that are not directly connected to the underground minewater buffers.
The company has since connected various huge building complexes in Heerlen to the minewater network. 270 homes, a number of office blocks, schools, nurseries, a sports hall and two supermarkets are now enjoying the sustainable comfort provided by minewater energy. These and future connections enable Mijnwater BV to make a valuable contribution to Parkstad Limburg's ambition of achieving a 65% reduction in CO2 emissions by 2030.