Welcome to the regular newsletter - we will use it to keep you up to date about everything that's happening. You can always sign up here:
Newsletter subscription
, where you will also find the archive of old editions.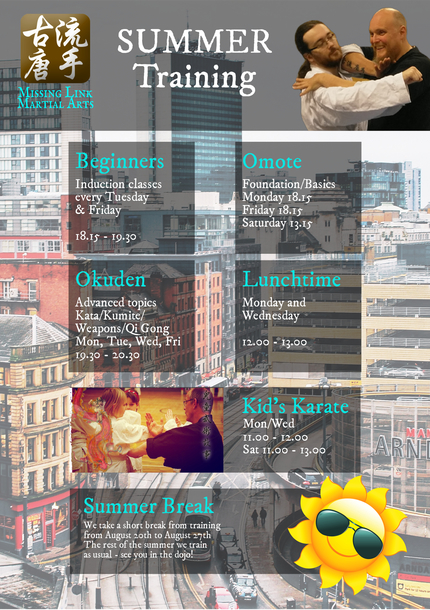 Overview of our Summer Training. You can see, we aim to give you the full training experience in the summer as well, although many are on holiday. We do have a one week break in the end of August, though (see above). 
Besides that only three lessons have to be cancelled, because Heero Sensei is teaching in Germany. These are: 
Saturday, 11th:
- Lunchtime Adults & Qi Gong 
- No Home Ed Class and no lunchtime lesson. Sorry. :(
- Evening classes as normal with Arto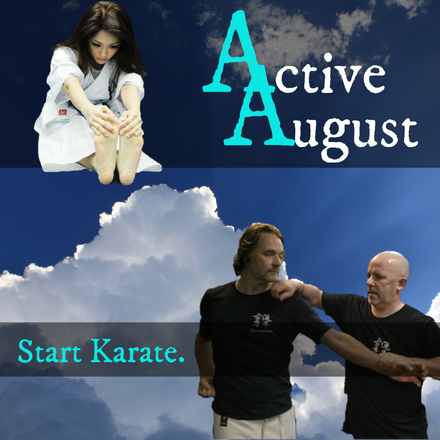 We are pushing for growth
The new Syllabus, announced in the last newsletter, is ready, and the new cycle has started. We are looking into Heian Sandan in this cycle, and into a lot of other exciting techniques. The weekly schedule has changed a little bit as well, but really very minor. Find the new schedule attached, because this version here is probably too small: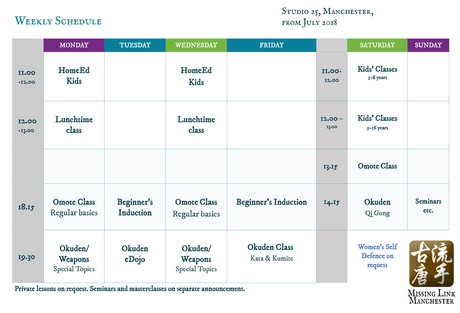 For August and September we run a new promotion: ActiveAugust offers two months of training for £29, which is ridiculously cheap, and we apologize to all of you members who are paying proper membership fees so we can offer all the training that we do. If you have friends or family you would like to drag into training, give them this link: http://missinglink-martialarts.uk/summer2018.html