Welcome to the fifth RopeMarks newsletter.
The new year is already in full swing and it is throwing more opportunities than we can handle, we are making hard decisions at the moment.
We would like to thank everyone that provided feedback on our previous newsletter, this is highly appreciated. Do you have feedback? Want to contact us?
In this newsletter we will briefly describe what we have been up to since our last newsletter and about interesting upcoming events where you can meet, greet and talk to us.
We found ourselves getting the limited availability over a wonderful natural light attic with beautiful beams. Opportunity will knock only once, so we collected the gorgeous blond DutchBlueBird, a photographer and a lot of rope. We executed a (even if I say so myself) kickass teppou zuri and equally impressive 5-transition kata ending in a sakasa zuri. The results will be on Club RopeMarks soon, here's a preview to wet your appetite:

p: Archserious | m: DutchBlueBird | r: RopeMarks
We are having a blond month where shoots are concerned. This time we lured the gorgeous Nicky into our ropes and into our rubber and restraints, it was good... she cleaned in latex, she was restrained in heavy rubber, she was bound in rope... she squirmed, she wiggled, she looked stunning... we will do this again. The results will be on Club RubberRestrained soon, Here are two stills from the video we shot: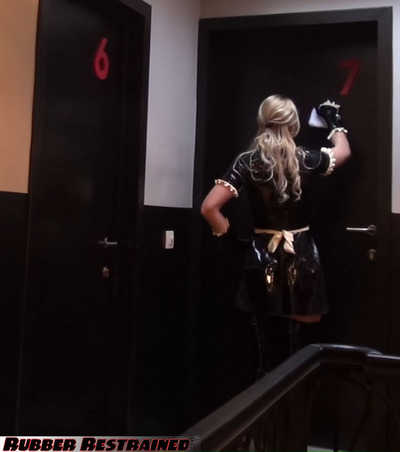 v: RubberRestrained | m: Nicky Alica | r: RopeMarks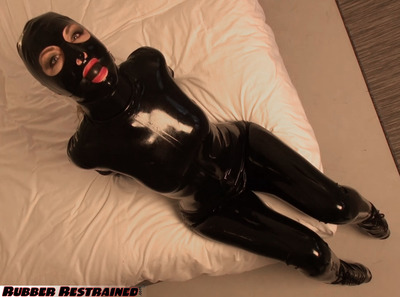 v: RubberRestrained | m: Nicky Alica | r: RopeMarks
The year started with the Netherlands based, international Fetish extravaganza, party called "Unleashed", RopeMarks opened the party with the first show on the first party of the new year; and we made it count: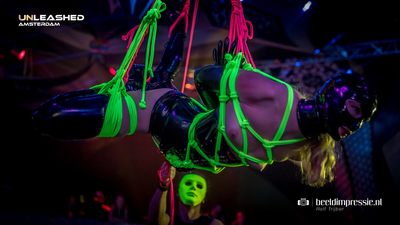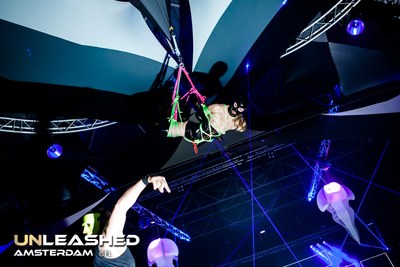 p: FL, Rolf Trijber | m: DutchBlueBird | r: RopeMarks
The past month we have been teaching quite a lot, from absolute beginners to aerial artists wanting to extend their repetoire with RopeMarks Ryu rope-skills.
The most notable teaching were the RopeMarks Ryu masterclasses ("the gloves are off") for riggers and bunnies that we kicked off the past month, this turned out to be a big success and we are now planning the next series of masterclasses.
If you are interested in our masterclasses series and want to understand the noble art of kinbaku, we are your man! Visit this link for all the information about our teaching
Want to hear what past participants have to say, hear it straight from the horse's mouth... Read some of our testimonials. They are a brief list of feedback from RopeMarks Ryū students and participants.
http://www.RopeMarks.com/ryu/testimonials/
To participate in one of our other upcoming workshops or masterclasses, visit this link for an overview of our planned events
http://www.RopeMarks.com/ryu/events
Now live on Club RopeMarks, "On top of her world"
The sweet Luisa, a petite bondage-minded beauty from Portugal, so cute you just want to put her in the inside pocket of your coat and take her with you!
Since that is not an option we went for the next best thing, we noticed a blanket chest that she would fit in that we would love to transport her in, take her with us and take her out when we desire.
Before we did that we put her on her blanket chest, on top her to be new world and expose her in all her beauty...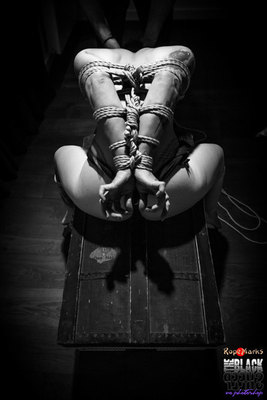 p: TheBlackSheep | m: Louise L'Amour | r: RopeMarks
Go to this update on Club RopeMarks
Now live on Club RubberRestrained, "The initiation of Xenia"
Please welcome new "face" Xenia.
Maybe she caught us in a bad mood, maybe her beautiful looks and pleading eyes made us do it, whatever it was, we did not hold back.
We dressed Xenia from head-to-toe in latex, corsetted her already tiny waist, hooded her beautiful face and corsetted her neck and added a gag. To top this outfit of, we put her in a pair of ballet boots. Xenia is a beautiful rubber-sight.
Next we tied her gloved arms in a self embracing bondage, slapped a wide leather collar around Xenia's already tight neck corset... and made Xenia balance on her ballet boots, supported only by ropes attached to the wide leather collar.
Predicament... stress... anxiety... fear... we had a good time!
You can watch Xenia's struggle, balancing on her ballets... and failing, hanging by her neck, trying to get back on her feet, gasping for air and see the white of her eyes slowly turn red.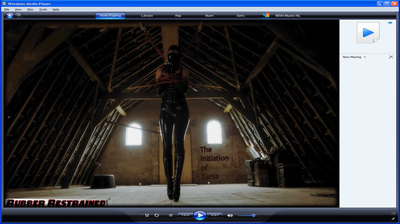 p: Haas&Co | m: Xenia | r: RopeMarks
Go to this update on Club RubberRestrained
The new year is already in full swing for us, some keywords for you to ponder about: Frisian girls, Tuschinski, 50 Shades of Darker, Italian, Berlin, Japanese, Australian, Mexican, InSex, Masterclasses, Theater, Blacklight...
The best place to know where we are and what we are up to is our online schedule. We try to keep it as up to date as possible
http://www.RopeMarks.com/schedule
If you run into us, come and say hi, if the opportunity is there, offer us a drink and chat :)
Thank you for reading all the way to the end.
Until next time,
Bob / RopeMarks