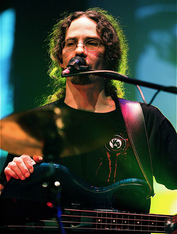 The Singles - Season 2 is the first Kicksville release that really focuses on the seven core members of The City Council. There are still about 18 writers/musicians in total that have contributed to the songs on Season 2, but almost every track is built largely by The City Council. For a few of the songs, we were even able to write as a group for the first time instead of our usual process (i.e., The Mayor and I start a song, bring in various Citizens to play/write, and assemble the final song like it's made out of Lego blocks.). As a result, even though we're even more stylistically spread out than earlier releases, I think the songs have a cohesiveness as a whole that we haven't had before. Lyrically, we've been joking that our subjects range from politics to porn, but the closest we come to a love song is a track called Hot Alien Orgy....

About Dumfukistan:
Here's where the name came from: I have a postcard that shows a map of the US broken down into Red states and Blue States according to the 2004 election results. The Blue states are labeled "America", and the Red states are labeled "Dumfukistan". Here's the scary part - on the flip side of the postcard is another map broken down into Free and Slave states circa 1860...the Red states match up almost exactly to the Slave states.
The Music:
This song started as an introduction for the City Council's main drummer dude, Lou Caldarola, in how to build a part out of loops: We sent him into the drum room to track a few measures of a groove. Then, we had him come back in the control room, pick a cool bit, and tweak the hell out of it with effects and whatnot. We repeated the process with different grooves, and assembled one coherent part from the bits and pieces. Once the song had taken shape, Lou went back and tracked a completely different groove over the top to complement the loops. FYI, on the final arrangement, the main groove is made of the distorted, nasty loops we cut up, and Lou's overdubbed part is the light jazzy stuff on top.
Another cool thing about this song is that Tone Deaf's monologue over the end is completely off the top of his head, which explains some of the non-sequiturs.... He had tracked his part in the middle, we were still rolling, and he just started spewing. One last thing I'll mention is this: Listen carefully to the track. Notice that right after Tone's first spoken-word bit, there's a breakdown to just a shaker and Chris laughing in the background? That's not a shaker... (The first person to guess what that "shaker" actually is gets a free copy of our entire catalog!
Email
me....)
Song Credits
cover art: "Political Blind Eye" by Tone Deaf
Conrad St. Clair: bass, programming, vocals
Mike Stehr: keys, vocals
Lou Caldarola: drum kit, percussion
Chris Huntington: guitar, vocals
Beaker: guitar, percussion
Tone Deaf: spoken word