WFTO Guarantee System (GS)

The WFTO Guarantee System, or GS, is a system that allows producers to provide a label guaranteeing their use of the 10 Fair Trade principles. The label (shown right) is a credible, clear and affordable Fair Trade verification and monitoring system that allows producers to differentiate their product against comercially sourced goods in a global market as Guaranteed Fair Trade. The label gives Fair Trade producers a visible, credible VOICE.

 

For more information, have a look at our membership process tab

here

!

 

 

There are currently WFTO members in 74 countries across 6 continents. In Asia, we represent 18 countries with 108 members and 26 Provisionals. Asia has 16 guaranteed members across India, Nepal, China, Sri Lanka, Bandladesh, and Taiwan.

 

 

The WFTO GS is for both applicants and existing WFTO members. Once through the initial application and lastly the audit to become a guaranteed organization, the monitoring becomes cyclical. The unique aspect of the WFTO GS is the built in, continuous monitoring.

 
Fair Trade Accountability Watch

: a unique system unlike all others. Anyone - peers, the public, consumers, neighbors, etc. - can report suspect practices of WFTO members. Each case will be investigated and a report back will be made. 
MULTI-Level Monitering System

: a procedure that includes Self Assessment > Peer Visits > Monitoring Audits . This procedure ensures multiple perspectives and allows members to 'self-construct' continuous improvement. 


The WFTO GS creates improved competetiveness and efficiencies in operations.The mere act of participating creates value. 
Buyers can buy with confidence, which makes products immediately unique and differentiated from competitors. Customers can immediately identify a product as Fair Trade without having to do extra research.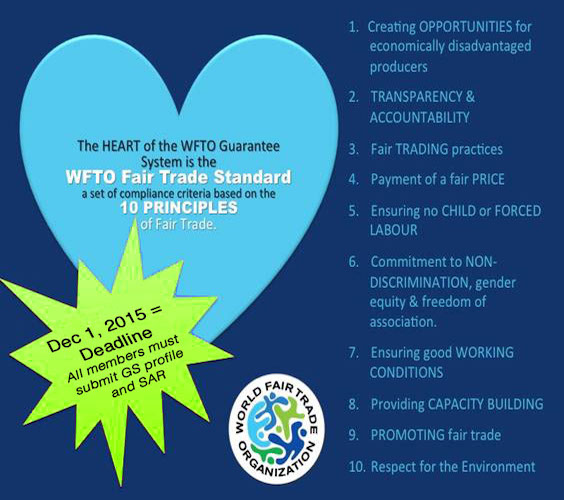 The Application Process
Stage 1: Application for New Members
2 years of legal existence
Commitment to 10 Fair Trade Principles (WFTO Fair Trade compliance criteria)
Step 1: Profile Form and References
Submit PROFILE FORM and supporting documents to sustainability@wfto-asia.com for processing.
Applicant pays handling fee (amount based on turnover).
Regional office collects references, a reference from the country network (if available), in-country comments.
Regional office checks completeness and sends feedback to applicant if needed.
Regional office writes recommendation to Global office and Board.
Global office assesses application and makes recommendation for WFTO Board.
Step 3: Approval (or rejection)
WFTO office sends first membership fee invoice (cost of annual fee is variable depending on size and type of member)
(all existing members according to Monitoring Schedule and Provisional Members)
Step 1: Self Assessment Report (SAR)
Submit SELF ASSESSMENT REPORT including improvement plan and updated Profile Form (if more than 6 months old)
Regional Office checks completeness and sends feedback to applicant if needed.
Step 2: Peer Visit (optional/recommended)
Member proposes peers; WFTO selects.
Member arranges and pays for peer visit.
Peer Report (+ Improvement Plan) sent to WFTO office.
WFTO Office selects auditor
Members arrange and pays for audit.
Auditor shares report with member for comment and corrections
Auditor sends report to WFTO Office
GS Manager assesses report and makes recommendations to WFTO Board.
Step 4: Approval (or rejection)
WFTO board makes the final decision. 
Result = Guaranteed Fair Trade Organisation
WFTO sends monitoring schedule to member.
COST: Annual membership fee
Guaranteed Organizations in Asia
Auromira Exports (Pondicherry, India)
One of our two newest Guaranteed Members,
Auromira Exports
 makes crafts that blend traditional Indian weaving techniques with western influences. They also maintain central goals of preserving the environment and maintaining human health and dignity.  

Maroma (Auroville, India)
 

Maroma

is the other newest guaranteed member. This Fair Trade producer provides a variety of goods including home fragrences, body care, and other items. Maroma employs mostly adult women, shares 45% of its net profits with local villages, and creates a happy, healthy work environment.

 
Want to know more about GS?
Ethical Fashion Forum (EFF)
Ethical Fashion Forum have agreed on a discount unique to WFTO-Asia members. This discount is ongoing, not just for the first year. Participation 
in the online promotion 'Source Expo', held on 
4th and 5th of November, is included in the membership. If you are thinking of joinging, now is the time. There are webinars explaining how to maximize benefits from this international promotion of sustainable fashion suppliers and producers. EFF members also gain access to fundamental industry insights and the fashion market. Here is the link to the exhibitor's page: http://source.ethicalfashionforum.com/article/source-expo-15-exhibitor-registration  
WFTO-Asia would like to thank WFTO Africa for their assistance in the compilation of this newsletter.