The Pachera Group Newsletter
Landing Talent in the
Tightest Job Market in History
It's been a while since we last published a newsletter, since mid-2020 our team has been in high demand.  We've upped our game even higher, added significant resources to the firm, become even more aggressive in our 'hunt' to compete against the 11 million open jobs in the US right now.  

Every week, we take calls from frustrated CEOs who see their business falling behind the competition due to an inability to hire as fast as they'd like.  And every week, we talk about escalating salaries and what to do about that.

Speed, tenacity, insight, decisiveness, and experience have never played a bigger part in landing talent.  You have to know what you want, hunt for it, have a great brand, and nail the close.  Hopefully our insights will help your efforts.
~Vikki
How to Up Your Recruiting Effort
I'm often asked to help coach an in-house recruiting team to get better results. From what to measure, how to find, pitch and close better candidates to presenting a more compelling brand image. There's no mystery around what it takes to be a highly effective recruiter, I'm happy to share all of our industry secrets. Because in the end, it's far easier to talk about how we work, than it is to walk the talk...
Read Post
Hold on to What You Have–Employee Engagement is at a Low Point
It should come as no surprise that working remotely, perhaps getting hired during the pandemic and never meeting anyone is creating a transactional workforce...
Read Post
Competing for Talent against the Titans
Most startups get off the ground with a few people who know each other really well and can often get a few more recruits from their networks..then the hard part begins.
Read Post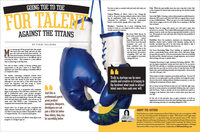 Talent is your most valuable asset.
The talent for finding it is ours.™

Bill Firing's Thoughts on Playing to Win in the Talent Game
The war for talent is here.  And it's not going away anytime soon.  In fact, according to Fortune the talent market will remain highly competitive until 2031 – nearly another decade!...
Read it here
What does Apple, Google and Facebook Pay?
Let's talk $$...insightful read on how FANG brands are competing with others as attrition continues. 3% annual bump seems silly but the rest of the packages are super impressive--Typically, tech giants pay junior to midlevel engineers equity that ranges in value from 30% to 100% of their salary, according to tech recruiters. Managers and senior-level staff can receive annual stock awards valued from two to six times their salary.
Share This Email