=============
**
<><><><>
Clutter-Busting EFT®
Sunday August 2
12 - 2 PM - $25
Abundance EFT®
Saturday August 8
3 - 5 PM - $25
<><><><>
Animal EFT®
Sunday August 9
12- 2 PM - $25
<><><><>
EFT® for Physical & Emotional Healing
Sunday August 16
12-2 PM - $25
<><><><>
Lose Weight, Gain Confidence with EFT®!
Sunday August 23
12-2 PM - $25
<><><><>
Class Details
to reserve your seat 48 hours in advance!
=============
**
Contact Colleen for a free consultation or to book a session for an hour of surrogate muscle testing, tapping, laughing, fear blasting and SWEET RELIEF!
<><><><>
<><><><>
DISCLAIMER: EFT is gentle acupressure and has produced remarkable results in relieving emotional and physical distress.
USE EFT AT YOUR OWN RISK ON YOURSELF AND OTHERS, INCLUDING ANIMALS.
If you apply this newsletter's techniques to yourself or others, you are agreeing to take full responsibility for any side effects and/or outcomes.
* * *
Thank you for subscribing to my newsletter!
* * *
May you be blessed with perfect health, wealth, joy, peace and love! --Colleen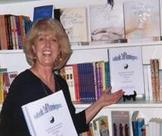 Please forward this newsletter to family and friends who could use the news!
Need help identifying the Core Issues to tap on?
Products to help YOU heal your life with the power of Tapping and Louise Hay's teachings.
* * **
Click
HERE
for Private Session information
.
Mega thanks to YOU, my Worldwide Subscribers for inviting my EFT Secrets and Tips into your inbox!
**

<><><><><><><><><><><><><><><><><><>
Want to easily release your resistance and procrastination, and that of your loved ones?
Read on!
<><><><><><><><><><><><><><><><><><>
PHOENIX-AREA RESIDENTS!
Saturday August 22 FREE Presentation
Animal Communication and Animal Acupressure
Bring your pet's photo and one question for your pet...
...Receive your pet's communication to you THEN
Tap along with Colleen to release your pet's stress!
*
Join us at Lightworkers Gifts 4th Anniversary Celebration!
Join us on Saturday August 22nd 4-9 PM
More details about this exciting event to follow!
<><><><><><><><><><><><><><><><><><>

Tapping to Release
Resistance & Procrastination!
*

What have you been putting off lately? Cleaning? De-cluttering? Exercise? Starting or finishing a distasteful or boring project? TAPPING? (Heaven forbid!)
*
We ALL procrastinate and resist tasks that we consider unpleasant. Humans and animals move toward pleasure and avoid pain whenever possible. It's our nature.
*
Unfortunately, as humans we DO have responsibilities and must eventually tackle even our unsavory tasks. The good news is that tapping easily releases procrastination and resistance!
*
Don't beat yourself up for putting off until tomorrow what you could do today. Forgive yourself then take action, starting with tapping. In 2-3 minutes you should feel motivated! (I speak from personal experience, as the former Princess of Procrastination before EFT® set me free.)
*
TIP: You can apply the tapping surrogately to yourself for your children about their homework, exercise, chores or going to bed on time. Surrogate tap for pets that balk at getting into vehicles, going outside in bad weather or out for a walk.
*
First, identify exactly what you're afraid will happen while doing the task. Is it too hard or uncomfortable to do, will it take too long or is it too boring/no fun? Maybe you're afraid you'll never finish it, never get it right and be criticized? Next, determine the severity of your resistance or procrastination.
*
Apply EFT® or Meridian Tapping Therapy (MTT) to your fears until you feel READY and ABLE and MOTIVATED to TAKE ACTION!
*
Sample Setup Statements for the Sore Spot or Karate Chop area:
*
Even though I'm afraid of starting/finishing this (task name) because I remember how awful it was the last time I did it, I release my fears that it's (too boring/painful/scary, etc.).
*
Even though I have this fears that (procrastination reasons), I now release these fears. I feel safe to start and finish this task. I imagine how PROUD and RELIEVED I'll feel to get this done and I choose to begin NOW.
*
Even though I feel ashamed and guilty about putting off this task for so long, I forgive myself. I tap away all resistance and procrastination, replacing these negative emotions with motivation, determination and empowerment! I reward myself with the successful, speedy completion of (task name).
*
Next, do a 9-Gamut Routine followed by your reminder phrases (you can create them from the above setup statements) on all the EFT /MTT acupressure points.
*
Repeat the tapping until you feel zero resistance. Celebrate your victory over procrastination and resistance!
*
Tap each day for the optimum health of you, your loved ones and your animal friends!
<><><><><><><><><><><><><><><><><><>
Want to learn HOW use MUSCLE-TESTING and TAPPING

together

like Colleen does?
*
People around the globe have ordered my
Muscle-Testing and TAPPING SECRETS in
ONE E-BOOK to help themselves, pets and their loved ones! You can NOW get the E-book and 3 bonus e-books through PayPal, then

download them right away

!
*
Check out the Table of Contents and get details by clicking HERE.
*
GOT ALLERGIES? Get the facts about worldwide allergies and how TAPPING can help HERE!
* <><><><><><><><><><><><><><><><><><>
Note: Colleen Flanagan uses a highly effective form of Gary Craig's standard EFT. For information on the latter, go to www.emofree.com