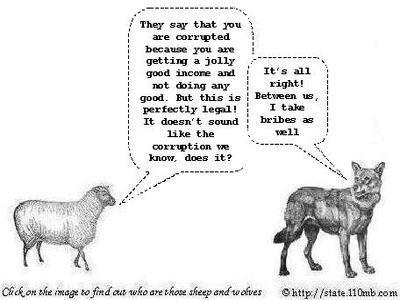 By Ms PM
Legalized corruption will always have the consequences of screwing the pooch and we the people are the pooches. Trying to find an actual definition of "legalized corruption," the best answers were merely examples. Could be I didn't deep enough but spending some time on the search the decision was to go at it from a different angle. Illegal means prohibited or against the law as we all know. Corruption in the political sense is dishonesty for personal gain and dishonest exploitation of power for personal gain along with extreme immorality. Considering these definitions, legalized corruption can only mean that a loop hole has been created by those elected to circumvent laws that govern over the rest of the people that don't fall under the same jurisdiction of judgment when being processed within the court system. One of the best examples is Tim Geithner's job with the IRS. He was caught not paying his taxes and received a little spanking. If or when this happens to you, you would be wishing in one hand and crapping in the other waiting to see which one fills up first, and we all know what this outcome would be.
Running across this blog by Jason Murphey, HD31.org/554, we found his example of legalized corruption none the least bit surprising but on the other hand quite interesting. Senator Clark Jolly had received reports from a few whistleblowers that uncovered abuses. According to Murphey, a one-year probe found "one of the worst abuses of the taxpayer dollar that I (Murphy) have seen. That saga continues to this day."
Voters approve massive bonds for schools or municipalities for new buildings and haven't a clue that they have contributed to legalized corruption. The governing board has the task of hiring the design professionals specifying materials to be used. These extravagant plans include expensive features and because these board members are spending your money, they approve the plans regardless of cost.
Once this happens the designers draw up the specs tightly weaved which allow only one supplier to fulfill the approved plans. Competition is eliminated and the cost has just skyrocketed. There are times when the designer allows the sales engineer for the product manufacturer to write specs and at that time only one product will qualify. This is called Sole-Source Specing. We hear about un-intended consequences but this is an example of intended consequences. Not only are these items more costly to begin with but the cost re-occurs. The example is a bond issued a few years ago for a new data center. The light fixtures are now going out and need to be replaced. The cost is thousands of dollars and state officials will lets the lights die because of the cost to replace them. After all, those high priced do-dads, are the only ones that can be used, they are the same as the original ones installed. Not to worry, taxpayers are still required to pay for the bonds and interest for these expensive and "soon to be non-functioning lights."
Considering Oklahoma comes in at number 38 for corruption, with 50 being the most corrupt state, (our research shows this) it is no wonder that this Sole-Source Specing is "prevalent within Oklahoma government construction contracting."
On February 4th, 2013 Senate Bill 630 was filed in an attempt to stop or at the least slow down the Sole-Source Specing abuse. Murphey signed on as the House author.
Continuing with another newsletter from Murphey it stated that the bill flew through the Legislature and Governor Fallin signed the bill on May 7th. Murphey can only "recall one vote against the bill throughout this entire process." We would like to know the name of this jackass, enabling us to have another blackmail lawsuit brought against us for exposing the wrong doing of this new jackass when they have a hee-haw moment around the Capitol campus.
Murphy wondered why those making money from this corrupt practice weren't fighting to stop it and he soon found out why. The Lobbyist and special interests were asleep at the trough and missed the bill. Shortly after the realization smacked their little heads the special interest asked their lobbyist to pass a bill that would un-do SB 630 and allow them their ability to continue raping taxpayers. Because of the time factor a new bill could not be filed and the miscreants had to figure a way to take over an existing bill. Their miracle appeared when the Moore tornado hit. The lying cheats told the legislatures their proposal was necessary for the recovery effort. By now we wonder what those elected do for a brain. This clear example of not paying attention and knowing what these lobbyists are capable of would do nothing less than get us fired if we were as incompetent at our job. Looking for waste, fraud and abuse and protecting taxpayers so they don't get hosed is at the top of our priority list.
In Murphy's next newsletter he explained how the lobbyist tried to shape shift as leaches and attach their suckers to a bill that would give pay raises to state troopers. Their proposals wiped out trooper pay and would reverse the reform already signed by the governor. Even the naughty lobbyists were afraid the legislatures would see through their greedy scheme so they didn't reference the new law which is not the normal process unless you're trying to pull a fast one. "It simply created a second law which actually looked like a good law on the surface but in reality created a conflict with and reversal of our previously passed reform. Traditionally, when two laws conflict, the law which is approved last governs. In this way, I (Murphy) believe they attempted to hide the unconscionable outcome of their proposal from all but the most observant lawmakers as the casual reader would have no clue as to the real intent of their bill."
The lobbyists consider this as being politically savvy, or as we call it, corrupt and immoral. With the tornado victims in need, it is clear these lobbyists knew they would get the support for their new bill considering they were pulling on the heart strings of legislatures. The lobbyists were able to bypass the requirement of a public hearing which is the normal procedure for most bills before it can be signed. Had the public hearing happened Murphy could have exposed what these deviants were up to.
At this point in time it appeared, according to Murphy, "as if their proposal, HB 1794, was on the fast track to approval, and all our efforts to stop Sole Specing would be in vain."
Jason Murphy's next newsletter stated that there were two days left in session which would have been enough time for the House and Senate's final vote.
But…things had changed. House rules had been changed with the creation of a Calendar Committee, of which is "the guardian of the House floor agenda." This new committee must first get the bill before it is passed to the House. Jason is a member of the committee and was prepared to enter a motion to remove HB 1794 from the agenda. But others had refused to bring it up for consideration.
The reform stayed in law and has impacted how money is being spent. The savings to taxpayers is huge.
This story is similar to the movie Terminator. Just when you think it's safe, another form of evil appears. This is a true example of good versus evil so pay attention folks, we're not done yet.
How Lankford Really Feels about Oklahomans. Yes, that is his middle finger
The Watchman
We next looked at his voting record. What was available only went back to August of last year. We were disappointed in what we saw. Here are a few examples.
Does anyone besides us have a problem with these four votes. The first vote we've already explained. This is part and partial to the UN's Agenda 21 program designed to limit access to all Americans to property that we own. We have no real problem with the second vote until you look at the fourth vote. We are all for paying our Guards and Reserve, but that fourth vote denied retirement pay to veterans. How is that fair. We're sitting here paying tax dollars to advertise food stamps in Mexico, at three times the cost it would take to pay the retirement benefits to these brave men and women, and he would rather deny them this that was promised to them.
The third vote is a little touchier. Yes I believe that the Head Start Program has a legitimate basis for being. What we have discovered though, is through neglect, most places that advertise as Head Start Programs today, are nothing more than glorified day care centers draining the national treasury for every dime they can get. With the predominance of pre-kindergarten programs within public schools today, we are beginning to see less and less need for the Head Start Program. Maybe it's time to consider phasing the program out.
2013 Freedom Works 62%
2012 Bread for the World 25%
2012 Freedom Works 50%
2011 Alliance for Retired Americans 0%
This doesn't bode well for him where taxes are concerned. In fact what this indicates is that he is another big tax and spend liberal at heart.
2012 United States Chamber of Commerce 96%
2012 National Assoc. of Manufacturers 95%
2011 Financial Executives International 86%
2011 National Federation of Independent Businesses 100%
One must say that he has big business in mind when it comes to the business at hand in Congress.
2014 Heritage Action for America 79%
2013 Freedom Works 62%
2012 National Taxpayers Union 78%
2011 Eagle Forum 61%
These are not good numbers for a Conservative to have.
2013 Competitive Enterprise Institute 100%
2012 Federally Employed Women 30%
2011 Federally Employed Women 33%
This gives one the appearance of the Congressman waging a one man war against women in the federal work place. Then he has enough gall to wonder why the Democrats can make that claim.
We could go on and on with pretty much the same results. We've only touched on six of the fourteen pages of this section. There's almost enough here to write a book.
From our investigation we can draw only one conclusion. Representative Lankford is the wrong man at the wrong time. At a time when this nation is drowning in debt, we do not need to send another tax and spend liberal to the Senate. We need a Senator that has a proven track record of Conservative values who will fight to get our out of control spending back under control. We need someone who will fight to protect all of our God given liberties not just the ones he feels like we deserve. Representative Lankford is not that man.
Representative Lankford has repeatedly voted to increase the debt limit. He has repeatedly voted to allow your civil rights to be violated by voting for the National Defense Authorization Act which authorized indefinite detention for American Citizens without the benefit of a Court Hearing or an Attorney. These two items alone make him unfit to sit even as a Congressman much less a Senator. Do we really want a Tom Cole puppet in the Senate?