=============
**
EFT® for Physical & Emotional Healing
Sunday December 20
<><><><>
Lose Weight, Gain Confidence with EFT®!
Sunday December 27
12-2 PM - $25
<><><><>
Call 623-334-3393
to reserve your place at least 48 hours in advance!
Six or more attendees are required for the workshop to be held.
=============
**
Contact Colleen for a free consultation or to book a session for an hour of surrogate muscle testing, tapping, laughing, fear blasting and SWEET RELIEF!
<><><><>
<><><><>
DISCLAIMER: EFT is gentle acupressure and has produced remarkable results in relieving emotional and physical distress.
USE EFT AT YOUR OWN RISK ON YOURSELF AND OTHERS, INCLUDING ANIMALS.
If you apply this newsletter's techniques to yourself or others, you are agreeing to take full responsibility for any side effects and/or outcomes.
* * *
Thank you for subscribing to my newsletter!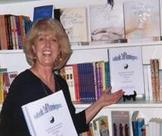 Please forward this newsletter to family and friends who could use the news!
Need help identifying the Core Issues to tap on?
Products to help YOU heal your life with the power of Tapping and Louise Hay's teachings.
* * **
Click
HERE
for Private Session information
.
Mega thanks to YOU, my Worldwide Subscribers for inviting my EFT® Tips into your inbox!
**

<><><><><><><><><><><><><><><><><><>
Whatever year-end holidays you celebrate, may you and your loved ones enjoy incredible joy, peace, health, wealth and success for the rest of 2009 and into 2010!
Read on for holiday tapping tips!
<><><><><><><><><><><><><><><><><><>
*
People have been tapping away their animal's fears, allergies and misbehavior tendencies using my
NEW ANIMAL EFT® E-BOOK!
Details HERE!
*
NOTE: Colleen Flanagan uses a modified yet highly effective form of EFT
®
that she's developed over years of research and hands-on experience. For complete training on standard EFT
®
and the free manual with tutorials, go to
www.emofree.com
<><><><><><><><><><><><><><><><><><>
Do you need a
reliable, talented massage therapist, handyman, Reiki practitioner or intuitive healer
in Phoenix?
I've found them and they're listed
here
!
<><><><><><><><><><><><><><><><><><>
Gift Certificates for Private Sessions with Colleen
are NOW available for holiday gift-giving!
20% session discounts for veterans, military personnel and anyone age 65 and up!
<><><><><><><><><><><><><><><><><><>
FEATURED ARTICLE
EFT to Heal Holiday Grief
by Colleen Flanagan, EFT-Cert1
*
My dad had a knack for making holidays fun and magical. One year my siblings and I (pre-teen know-it-alls) proclaimed we didn't believe in Santa Claus anymore. After attending midnight Christmas Eve church services, we returned home about 1:30 AM to find our living room strewn with Christmas stockings, gifts and decorations.
*
Dad said that Santa had visited despite our not believing in him. He took the secret of that magical night to his grave, always insisting that Santa had visited, as our entire family was at church that night.
*
Our family holidays just aren't the same without Dad's zany humor and loving kindness. This year, many of my wise, tender-hearted subscribers are likely feeling loss of some sort...even the loss of world peace and financial stability.
*
EFT is the perfect pre-holiday gift to give yourself and family, no matter what kind of loss or grief you may be feeling. Releasing all negative emotions or stress via EFT can boost your immune system, keeping you healthy and happy, too.
*
Losses may include loss of a beloved fellow human or an animal friend, loss of health, a relationship, income or a job, or even a loved one stationed far away in the military. Some folks with dysfunctional family members may feel the loss of having a "normal holiday season" and wish they were in healthy family situations.
*
If you're feeling some grief or sadness this holiday season, why not apply EFT until you feel better? If you are not sure what the fear core issue is, try aiming the EFT at a general "fear I'll never get over this sadness, fear, stress and grief."
*
(1) Determine the severity of your grief, anxiety or stress on a scale of zero (none) to ten (maximum).
(2) Use this EFT® Setup Statement or something similar customized for your situation. Tap on your karate chop point or rub your sore spot and repeat three times as you focus on your emotional situation to be healed:
*
"Even though I feel sadness, loss and grief about (your situation), I deeply and completely love, accept and forgive myself and everyone involved. I release my fears that I may never heal or feel happy again. I choose healing and health on every level of my being."
*
(3) Repeat your Reminder Phrases based on your emotions as you tap on the EFT® acupressure points (face, torso, hands).
*
Inner Eyebrow: This holiday grief and feeling of loss*
Side of Eye: Afraid I'll never feel happy again
Under Eye: Missing my loved one around the holidays
Under Nose: Knowing s/he wouldn't want me to feel this grief
Chin: I accept things are the way they are this year
Collarbone: I choose healing over pain and victimization
Under Arm: I forgive everyone involved including myself
Finger points:Choosing peace, joy, love and healing for the holiday season and always. Feeling bad won't change things. Feeling bad might make things worse. I release all unwanted feelings NOW.
*
(4) Do a 9-Gamut Routine.
*
(5) Repeat the above Reminder Phrases or something similar, customized to your situation as you tap on the EFT® acupressure points listed in step 3.
*
(6) Take a deep breath or two then relax. Did any distressing situations or memories come to mind as you tapped? Apply another round of EFT® on the specific memory until you can think about it and have no emotional charge.
*
(7) Are your negative emotions about the holidays gone? If not, you may have several more aspects or fear layers about present or past issues to tap away with EFT®.
*
If you can't identify the core issues to tap away, consider contacting Colleen for a free consultation and an EFT session with surrogate muscle testing to identify subconscious fear blocks!
*
Tap each day for the optimum health of you, your loved ones, and your animal friends-especially during the holidays!
<><><><><><><><><><><><><><><><><><>
Want to learn HOW use MUSCLE-TESTING and TAPPING

together

like Colleen does?
*
People around the globe have ordered my
Muscle-Testing and TAPPING SECRETS in
ONE E-BOOK to help themselves, pets and their loved ones! You can NOW get the E-book and 3 bonus e-books through PayPal, then

download them right away

!
*
Check out the Table of Contents and get details by clicking HERE.
<><><><><><><><><><><><><><><><><><> *
GOT ALLERGIES? Get the facts about worldwide allergies and how TAPPING can help HERE!
* <><><><><><><><><><><><><><><><><><>
PET MISBEHAVIOR, ALLERGIES OR ILLNESS?
Get Colleen's 5 years of ANIMAL TAPPING experience and PROVEN TECHNIQUES in one informative e-book.
E-book's table of contents is HERE!
It's the BEST $20 you'll ever invest in your animals' emotional and physical wellness!
<><><><><><><><><><><><><><><><><><> *