PYLON RECORDS TO REISSUE

XYMOX'S NEWLY REMASTERED ALBUM "TWIST OF SHADOWS"
THE DOUBLE-VINYL SET (INCLUDING 5 BONUS TRACKS) COMES OUT ON NOV. 9TH AND THE 2-CD SET (INCLUDING 10 BONUS TRACKS IN ALL) DROPS ON DEC. 7TH
TOUR DATES KICK-OFF ON HALLOWEEN (OCT 31ST) IN PHILLY UNDER THE BAND'S ORIGINAL FULL NAME CLAN OF XYMOX [DATES BELOW]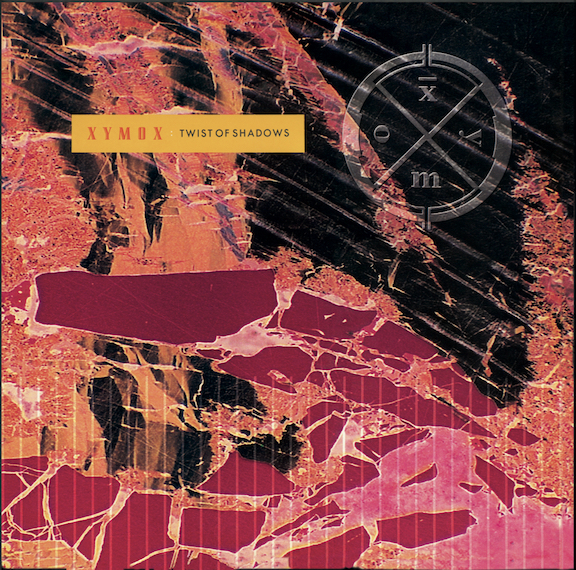 Gothic vocals shrouded by synthesized atmospherics greet you upon entering the world of Xymox. While their album Twist of Shadows isn't exactly industrial in its sound, the bpm's run mid-tempo and sound totally danceable in a New Order-ish way. This expanded remastered double vinyl release includes the club hits "Obsession" and "Blind Hearts," along with several rare 12" mixes and B-sides. A couple of the tracks have string arrangements by famed producer Tony Visconti, who was responsible for several of David Bowie's landmark releases. The two LPs are housed in a gatefold jacket complete with lyrics, and the artwork was designed by Vaughan Oliver of 4AD fame. Originally released in 1989, this is the most accessible Xymox album, selling over 300,000 copies, and their first on a major label. The 2-CD remaster also contains 10 bonus tracks in all with some very rare 12" mixes and B-sides which have never been available on CD.
Xymox's Twist of Shadows will be available as a limited 2-LP vinyl set (500 translucent red & 500 black) on November 9th and as a double CD set on December 7th via Pylon Records. Click here to pre-order.
~~~~~~~~~~~~~~~~~~~~~~~~~~~~~~~~~~~~~~~~~~~~~~~~~~~
XYMOX TWIST OF SHADOWS 2-LP VINYL SET TRACK LISTING:
SIDE A
Evelyn
Obsession
Craving
Blind Hearts
SIDE B
The River
A Million Things
Tonight
Imagination
SIDE C
In The City
Clementina
Senses Coalesce - Bonus
Promises - Bonus

SIDE D
Obsession (Club Mix) - Bonus
Blind Hearts (Club Mix) - Bonus
Shame - Bonus
~~~~~~~~~~~~~~~~~~~~~~~~~~~~~~~~~~~~~~~~~~~~~~~~~~~
XYMOX TWIST OF SHADOWS 2-CD SET TRACK LISTING:
CD 1
Evelyn
Obsession
Craving
Blind Hearts
The River
A Million Things
Tonight
Imagination
In The City
Clementina
Senses Coalesce - Bonus
Promises - Bonus
CD 2
Obsession (Club Mix) - Bonus
Blind Hearts (Club Mix) - Bonus
Imagination (Dance Mix) - Bonus
Shame - Bonus
Hitch-Hikers Dance Guide - Bonus
Imagination (Dub Mix) - Bonus
Obsession (Edit) - Bonus
Imagination (Edit) - Bonus
~~~~~~~~~~~~~~~~~~~~~~~~~~~~~~~~~~~~~~~~~~~~~~~~~~~
CLAN OF XYMOX TOUR DATES:
Oct 31 - Trocadero: Dracula's Ball - Philadelphia PA
Nov 1- Ottobar - Baltimore MD
Nov 2- Bunkhouse - Las Vegas NV
Nov 3- The Casbah - San Diego CA
Nov 4- Echoplex - Los Angeles CA
Nov 5- Marty's on Newport - Tustin CA
Nov 7- DNA Lounge - San Francisco CA
Nov 9- El Corazon - Seattle WA
Nov 10- Star Theater - Portland OR
Nov 11- Star Theater - Portland OR
Nov 12- Venue - Vancouver BC Canada
Nov 14- Dickens - Calgary AB Canada
Dec 1- Lunario - Mexico City Mexico
Dec 8- Synthetic Snow Festival - Moscow Russia
Jan 19- Garagesound - Bari Italy
Apr 6- Dark Malta - Malta Malta
Apr 26- Kulttempel - Oberhausen Germany
Apr 27- Cacoa Fabriek - Helmond Netherlands
Apr 28 - Baroeg - Rotterdam Netherlands
[more dates to be announced soon]
~~~~~~~~~~~~~~~~~~~~~~~~~~~~~~~~~~~~~~~~~~~~~~~~~~~
FOR MORE INFO ON CLAN OF XYMOX:
FOR MORE INFO ON PYLON RECORDS:
FOR MEDIA & INTERVIEW REQUESTS: