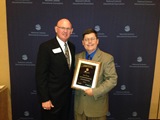 Coalition President Hicks
The McKay Coalition would like to add their congratulations to James Herzog, current Associate Director for Education at the Florida Catholic Conference, upon being selected by the National Catholic Educational Association as this year's recipient of the 2015 Leonard F. DeFiore Parental Choice Advocate Award.  This award was presented to James at the Annual NCEA Presidents Dinner in Orlando last week.  James has been a friend to the McKay Coalition over the years and we count it a privilege to recognize him in this way."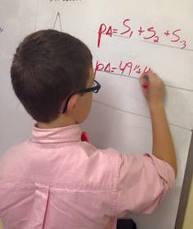 ADMINISTRATIVE RULE CHANGE
WORKSHOP NOTICED
   Florida Department of Education has notified us that there are several changes being suggested in the Rules of the McKay Scholarship.  While the Florida Statute sets a program like the McKay Scholarship in place and gives the broad guidelines and structure of the program, the State Board of Education develops rules that help to manage the program.  Changes to these rules must be noticed to the public and if necessary discussed at public meeting.  We have attached that information.
According to Laura Harrison, Director of the Scholarship Programs, Private Schools and Home Education, 
"We are asking for removal of the "at capacity" verbiage in an effort to give our families every opportunity to accomplish a public to public transfer under McKay.  We are also requesting an amendment to language regarding the parent affidavits to reflect that affidavits are still required, but don't have to be on-file with the department at the time of a first payment getting processed. "
   The first issue, removing the "at capacity" verbiage, is an attempt to widen the opportunities of parents of children with IEP's or 504 plans to transfer to another public school.  Past experiences reported by parents have indicated that the districts often use the "determined by the school district and may be subject to capacity limitations" as the major reason for not accepting a McKay student.    The Coalition of McKay Scholarship Schools concur with the removal of this language.
   The second issue, regarding affidavits, does not take away the requirement of having affidavits on file, but indicates that the affidavits may be sent to FLDOE after the first payment is processed.  This will assist schools by allowing them to have affidavits signed when the parents sign the first payment check and then send them to DOE.  The Coalition of McKay Scholarship Schools concur with this change.
   Please review the attached documents provided and contact Laura Harrison at 1 800 447-1636 or attend the meetings should you have any further questions
   Founded in 2005, Active Screening is a nationwide leader providing and administering background and drug screening programs for thousands of organizations. 
   Active Screening has achieved accreditation by the National Association of Professional Background Screeners (NAPBS) and their compliance services meet all applicable federal, state and local laws.  Active Screening's FCRA Certified Experts are trained to attain qualified candidates, while reducing overhead, potential liability, and hiring delays. For more information, please visit
www.activescreening.com
or call 800-319-5582.

(paid advertisement)