This Week at the Richmond Memorial Library                                    May 18, 2020
For those of you who would like to return some of your library materials, we will be opening our book drop for just this Memorial Day weekend (Friday evening, May 22, through Monday evening, May 25). We will lock the book drop again on Tuesday morning. This will give those of you who wish to return some library materials the chance to do so while then giving us the chance to quarantine the items that have been returned. The health and safety of our staff and community is the highest priority and we want to t

ake every precaution possible. If you have library materials checked out that you would like to keep for a while longer, please do so. We are not asking that every item that is checked out be returned, but are instead giving those who wish to return some items the chance to do so. We plan on opening the book drop again the following weekend as well. As a reminder, fines are not accruing during this time, and there is no rush to return library materials this weekend. Please do not leave book/material donations in the book drop at this time.



Ms. Eileen and Ms. Nancy are hosting Storytime on Fridays at 10 am. Our next one will be Friday, May 22nd. If you've already participated, you will automatically get the invitation link. If you would like to join us for the first time, please send your request via email to
richmondprograms@gmail.com
. Storytime is geared toward ages 2-6.

Have you been following us on social media? If not, you should be! We have been posting regularly on Facebook and Instagram, and we're happy to announce that we're back on Twitter.
AtoZ Food America Database

We are pleased to announce the addition of a new database, or online resource, to our collection. Sponsored by the Friends of the Richmond Memorial Library, AtoZ Food America provides access to 7,000 recipes, 650 ingredient articles, vintage food labels and ads, historical what did they eat articles, how to make food videos, and more. The resource can be accessed by going to our website (richmondlibrary.info) and clicking on the Online Resources tab. Check it out and let us know what you think! And, thank you again, to the Friends of the Richmond Memorial Library.
Puzzles have become extremely popular during quarantine, but we know they're hard to find. We have therefore created a digital puzzle that our patrons can put together on their computers or tablets (the puzzle won't work on most phones). Check out our website (richmondlibrary.info) and click on the Digital Jigsaw Puzzles section under the Adults tab. We will add a new puzzle each week for the next few weeks and hope to add puzzles for children as well. You can modify the puzzle so that the number of pieces are anywhere from 10 to 1,000. Try it out today and let us know what you think!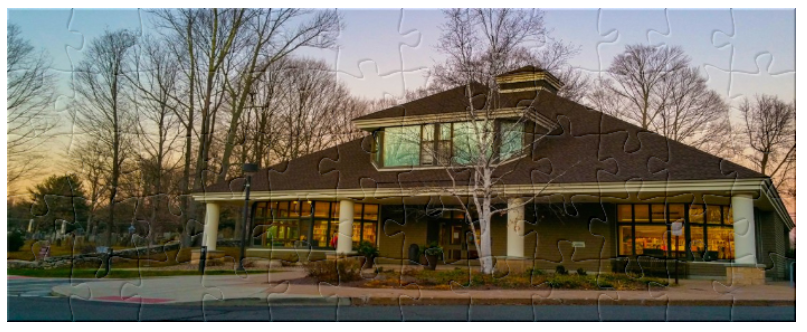 Richmond Library is normally open Monday through Thursday from 10 AM to 8 PM, Fridays, 10 AM to 6 PM and 10 AM to 1 PM on Saturdays from May through September.  Please check with us to make sure we have re-opened before stopping by.

We have started to and will continue to host virtual programs for all age groups. Additional information will be found on our website and social media pages, including video tutorials on how to access the virtual formats these programs will be offered in.

Wednesday, May 20 at 4 pm: Occu-Pie My Thoughts! DIY Maple Pumpkin Sugar Scrub and I'm Going Bananas! DIY Banana Face Mask. Join us on Zoom for a pamper-yourself program with Velya Jancz-Urban and Ehris Urban from The Grounded Goodwife. In order to participate, you will need to have the following materials on hand at home: a small can of pumpkin puree, brown sugar, pumpkin pie spice (or a cinnamon/nutmeg mix will do), maple syrup, olive or grapeseed oil, an 8 ounce Mason-type glass jar with a lid, at least 1 banana, honey, yogurt, and a small mixing bowl. We will share the Zoom link and password soon! 
***Accessibility at RML: The library does not have an elevator. If you need full accomodation, please contact Library Director Aubrey Muscaro at 860-295-6210 or amuscaro@richmondlibrary.info prior to the event (one week preferred) so we can find an alernate space. The meeting room is located on the second floor.

+++Denotes registration required. Please call the library at 860-295-6210 or email us at richmondprograms@gmail.com