GOLD MEDAL FOR OLYMPICS RELEASE
BAKER BRINGS IN THE DOUGH
TRY BEFORE YOU BY BLINKBOX OFFER
PARTRIDGE A "CHRISTMAS HIT"
MANC COMIC EVENT NEARLY DOUBLES IN SIZE
MANGA LETS THE FANS DECIDE
CLEAR VISION GUNS FOR SUCCCESS
ARROW SETS TWITTER AQUIVER
KALEISOSCOPE HEADS FOR THE KITCHEN
KOCH ON THE MOVE
---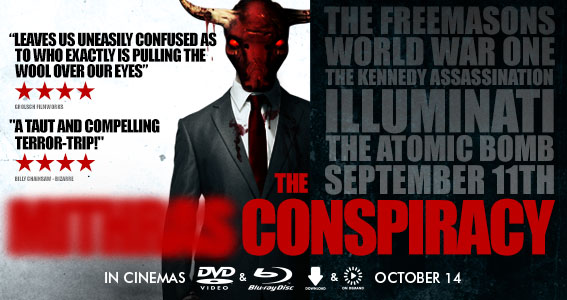 ---
I
f you can't read this newsletter or see the ads, please click
here
It Was A Good Week For…

Messrs Baker and, er, Joe, off to a bright start the pair of them

…
I
t Was A Bad Week For…

Netflix, grilled again by journalists over its refusal to give up viewing figures…
It's a year to the day since the opening ceremony of the Olympics and as the plethora of articles and programmes reminiscing about the summer of 2012 arrive, you could expect the official DVD and Blu-ray of the games to pick up a few more sales. Well, as it happens, the London 2012 Olympic Games release from BBC Worldwide is celebrating something of a landmark achievement itself this week. For the Official Charts Company has revealed in a timely announcement that the title has now sold 651,000 copies, making it the first sports release ever to pass the 600,000 mark in terms of sales and the bestselling sports title ever. It's achieved that historic sum in less than a year, making it all the more noteworthy. And, as the Official Charts Company notes, the announcement comes in a week when the Wimbledon: Official 2013 Gentlemen's Final tennis DVD was released, marking Andy Murray's momentous win, and in a week when England looked increasingly likely to retain the Ashes in cricket. The second bestselling sports title ever is the 2005 record of England's historic win. The Murray tennis release from Good Guys Media meanwhile, is off to a bright start, making 2013 potentially another golden year for sports DVDs. The Official Charts Company's Martin Talbot said: "London 2012 had a massive impact on the British public and their enthusiasm in embracing the event is underlined by the massive success of the highlights release. Its success emphasises just how much we all enjoyed that great summer of sport – so much so, that we wanted to watch it again and again, even once the events had evaporated into history. It also means that, having watched so many records being broken last summer, everyone who bought this incredible DVD/Blu-Ray of sporting history have helped break an all-time record themselves." We'll have a look at the bestselling sports releases of all-time on our website next week, for more on the Good Guys Wimbledon title and its speedy route to market, see the feature up at www.theraygun.co.uk
now…

The sun may be shining, albeit sporadically now, but it's been a big week for releases with some promising results tool. First out of the blocks this week and ahead after the first day's sales was Paramount's GI Joe Retaliation, the sequel to the actioner given extra Rock-power thanks to the presence of Dwayne Johnson. And Paramount and its agency Shine have kept journalists busy this week, sending out fun GI Joe packs to writers everywhere, as well as helping launch a special GI Joe exercise class with Gymbox gyms. The class, launched in Covent Garden with journalists in attendance, is running for a limited period at Gymbox venues and combines military bootcamp elements with ninja moves. Gymbox md Richard Hilton said: "Our members are always looking to try fun and innovative ways to keep fit so teaming up with Paramount Pictures for the release of the GI Joe: Retaliation DVD to launch this class is sure to be a success." It all helped the film off to a bright start. Paramount's Luisa Cotrozzi said: "It was part of our cohesive PR campaign - aimed at engaging the film's 16-34yrs male-led audience. We also deployed an action-fuelled ATL campaign including high-impact TV, disruptive digital media formats and promoted social media posts – including shout-outs to "The Rock" fans. We are pleased with the overall campaign's success – which looks to deliver a strong week 1 result."
Congratulations on the newly launched Curzon Film World, the new label operating under parent Curzon World and the English language sister imprint to long-standing arthouse favourite Artificial Eye. For the new label has got off to a flying start with its debut release, the marvellous musical documentary Beware Of Mr Baker, the profile looking at the former Cream drummer and his weird and wonderful world. The first Curzon Film World title came out on Monday July 22 and has performed admirably in its first week, shifting more than 1,000 units on its first day, no mean feat for a title that didn't appear on any grocers' shelves. The film was, according to the regular weekly round up on our website, the best reviewed DVD release in last weekend's newspapers and, in addition to the existing PR, there's still marketing to come, with an advert appearing in The Guardian today (Friday), with the Facebook and youtube campaign continuing. The title has also been helped by window posters in Fopp stores which highlight Beware Of Mr baker and the second Curzon Film World release, A Late Quartet, due our on Monday (July 29), while we also liked HMV Oxford Circus' end display unit (for pictures of these, see our website). Curzon's Paul Diment said: "We're extremely happy with this week's sales performance of Beware of Mr Baker. It's also a great start for our new Curzon Film World label. The support from retailers (especially HMV and Fopp) has been exceptional, and proves that there's still an appetite from strong music documentaries."
---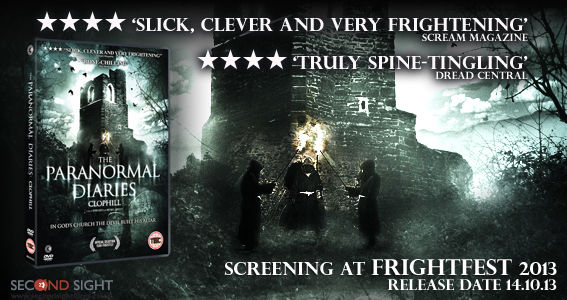 ---
After last week's flurry of blinkbox activity (see our newsletter as well as our website, where we've rounded up all the blinkbox Game Of Thrones goings-on), the Tesco-owned video on demand operator has been busy again this week. Its latest announcement concerns its TV offering, riding on the back of its HBO and Game Of Thrones content. The deal offers consumers the chance to watch the pilot episode of a raft of TV titles from the likes of BBC Worldwide, Fox, HBO and Warner for free. Titles covered under the try before you buy scheme include the first episodes of one of the most talked about series of recent years, The Wire, as well as True Blood, Supernatural, The Americans, The Following, Modern Family, The West Wing and I'm Alan Partridge. The offer started this week and runs through until August 19, during which time they will be able to try any or all of the 28 debut episodes on offer. Commenting on the deal, blinkbox ceo Michael Comish said: "Great TV continues to be one of our biggest obsessions and the fuel for many conversations. There's more choice than ever before thanks to services like ours and our insights told us that customers relished the opportunity to try TV before committing to purchase. After all, life's too short to watch something that you're just not into. We think you should be able to enjoy great TV all year round, anytime and anywhere, not just when programmes are scheduled. We're confident that we have the best selection of great TV, so offering a taster for free seems like a good way to introduce people to our service. We're delighted to say be able to say 'try TV on us.'"
Aha, mention of Alan Partridge brings us neatly on to a couple of premieres held this week, as Studiocanal unveiled its Alan Partridge: Alpha Papa to audiences first in Norwich, then London. Steve Coogan was on hand in character and the PR achieved by the film was incredible, Partridge even ousted the Royal Baby off one national newspaper's front page. And the film? Our correspondents from HMV were there to witness it. Andy Anderson said: "It's a fantastic film, very funny, everyone has to go and see it. It's got Christmas Hit DVD written all over it." HMV's Tim Scaping added: "I really enjoyed Alpha Papa; hilarious, with a very high gag hit-rate, often not the case with big screen adaptations of comedy series and characters."
Also premiering this week and also garnering acres of publicity, was Red 2, eOne's sequel to the big-selling actioner starring Bruce Willis, Helen Mirren and co. That duo, as well as Mary Louise Parker, were all out in force for the film's bow (we were THIS close to Willis himself as he walked down the aisle to greet the crowds), and even the Internet brouhaha about some of Willis' interviews only helped give further column inches to the film. It's another hugely commercial offering, which could even outdo the original in terms of both receipts and sales. HMV's Andy Anderson said: "It's a great film, better than the first one, so it should do even better when it gets to home entertainment."
---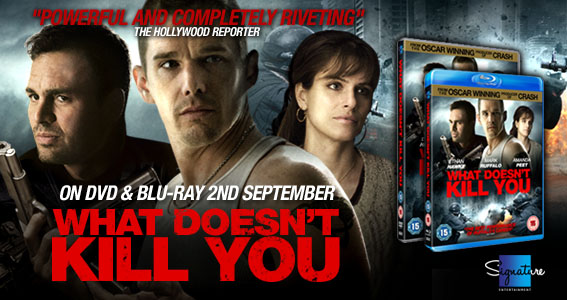 ---
Sticking with HMV briefly, it's interesting to note that stores across the chain are offering a generous 10 per cent off all video and audio product this weekend, among other elements (it excludes tech and games). The offer is, a message spreading virally said, "to celebrate the start of the summer holidays". The offer is being sent out and distributed via facebook and Twitter, with consumers encouraged to pass the offer and accompanying voucher on to friends and family. It's part of the ongoing activity in stores, with the retailer currently offering an HMV Decades promotion and activity where, over the next six weeks, stores will be celebrating films and music from the past half a dozen decades, starting this week with the 1950s. This kind of activity is all leading up to a huge relaunch scheduled for later in the year ahead of the busy final months.
Back to Partridge then, or rather Steve Coogan, as August is shaping up to be a big month for releases involving the actor. While the aforementioned Alpha Papa arrives at cinemas on August 7, less than two weeks later (August 19) sees the home entertainment launch for a film that has its roots more in real life, as Coogan takes on the role of the self-styled King Of Soho, Paul Raymond, whose empire took in everything from adult magazines to property. Commenting on the release, Studiocanal's said: "We repositioned The Look of Love from its theatrical campaign, highlighting the fun and sexy tones of the film to target a bigger and more mainstream audience. We will run a large TV campaign across male channels and have eye-popping London Underground 4-sheets from August 12. With Alpha Papa released in Cinemas on August 7 and The Look of Love released on DVD/Blu-ray on August 19, Steve Coogan will be everywhere."
---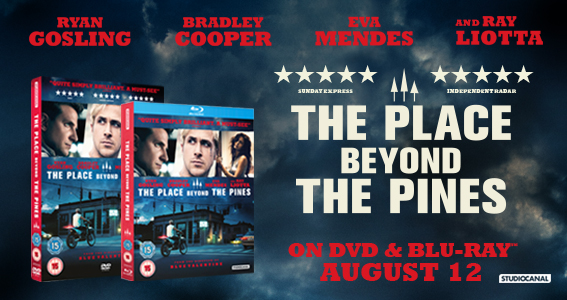 ---
It's been a tale of two Comic Cons over the past week or two, as not one but two events took place. One was the biggest event on genre fans' diaries across the globe, the San Diego Comic Con, aka SDCC, the latter the nascent MCM Manchester Comic Con, a lot closer to home but gaining in importance. Our very own Jerome Mazandarani was one of the lucky ones jetting out from the UK, he said: "I was lucky enough to be part of the UK contingent travelling to San Diego Comic Con last week along with members of Titan Group, Future and assorted PR, journalistic and media people. It was the biggest Con yet. The weather was beautiful and the fans were great." He discusses the eagerly awaited Black Sails (for Game Of Thrones fans everywhere) and hints at some interesting acquisitions in a fuller report up on our website shortly…
Our old pal and former trade press editor Toby Weidmann was out there too, in his capacity as supremo at the UK's own Walking Dead publication. He said: ""The sheer magnitude of SDCC was what really amazed me. It doesn't just take over the convention centre, which is big enough as it is, but the whole of the downtown area, with hotels, bars, ships, and sports arenas all forming part of it. The highlight for me on a professional level was the transmission date of Season Four of AMC's The Walking Dead (October 9). On a personal level, it was getting hands-on time with the new games consoles, Xbox One and PS4."
Up in the not-quite-as-hot north west of England, the MCM Manchester Comic Con, sister event to the well-established London flagship for the growing MCM operation, held its latest event last weekend, which saw a record number of visitors – nearly 20,000 – through its doors. The success, it was 138 per cent higher than last year's, means the show will expand to a two-day event in 2014. Manga was there, again, and the company's Andrew Hewson said: "Fan conventions are the best environment to engage directly with fans and to find out their appetite and excitement for upcoming releases. I recently attended the MCM Manchester Comic Con, which Manga Entertainment is a proud sponsor of. As well as selling DVDs, Blu-rays and box sets on our booth we were also there to announce new acquisitions scheduled for Q4 and early 2014 and to record a live @MangaUK podcast. The theatre where our panel took place was full and the response we had was fantastic, every announcement was extremely well received. This year was absolutely packed to the rafters."
---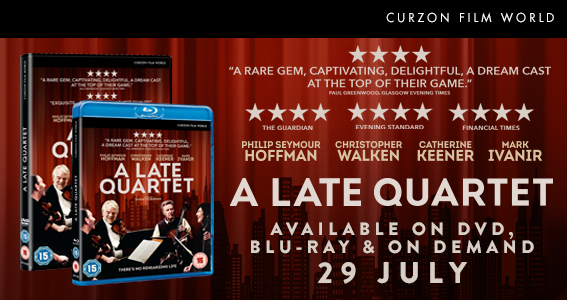 ---
Speaking of Manga, the company also has an interesting angle for its forthcoming release of the second part of Steins Gate, due in September. After notoriously precious anime fans complained about the sleeve design of the first volume, the company did the decent thing and offered them the chanced to help choose the design for the next sleeve themselves, setting up a poll for different designs giving them the vote, effectively. Manga's Andrew Hewson said: "Manga fans are notoriously a very vocal community and one of the things they tend to complain about is sleeve designs. Whether that be because they don't like characters we have chosen to use on the front, the general style/layout or the fact it is different from the Japanese or American release (bearing in mind fans don't understand the approval process and how meticulous and strict licensors can be with their properties). Prime example recently is when we released the first part of a new series, Steins Gate. After gaining permission to exclusively use the Japanese artwork we thought fans would love this, but turns out we were wrong. Fans didn't particularly respond well to it initially (but that didn't seem to affect our excellent week 1 sales). So, we decided to give them the opportunity to choose the cover design for part 2. The response we had was impressive, but also very interesting from a sales point of view, the number of people that voted correlated to same amount of people who bought the first part week one. Voting is now closed and we'll be unveiling the winning design next week, which we hope fans are happy with."
Talking of cult items, former anime marketer at ADV Films Hugh David, who's more recently been at the likes of Network and Palisades Tartan, is turning his hand to publishing, working with independent Boomstick Media to launch Cult TV Times, an online magazine targeted at tablet readers and aiming to offer in-depth coverage of everything TV-based, including plenty of DVD and Blu-ray coverage – its target market includes not only Netflix and LOVEFiLM users but regular box set buyers too. Editor Hugh David said: "Our remit covers everything from Anime to Nordic Noir, WWE to Inspector Wexford, with the emphasis on longform features and profiles alongside carefully curated news and reviews. We also update the website daily with fresh content as well, feeding into different reading habits - we know our readers today consume content in various ways today." Publisher Neville King added: "We're always looking for good ideas and great writing to add to our portfolio of sites, so when the opportunity to develop Cult TV Times came up we jumped at the chance. The collective experience of the team that has come together to create Cult TV Times is amazing, and we are confident that we're offering something different and taking it a step further with the e-magazine format." The first issue is due on Monday (July 29), you can see a dummy issue here.
We've recently been talking at length about Delta's rather tough series Run, released this week following its Channel 4 transmission on consecutive nights last week (for more, see our website), but this week's we're looking at something all together different from the Kent-based operation, as it readies newly-signed children's franchise Mr Moon, based on the bestselling children's books, for release on August 26. Three volumes of the programme, which airs on Disney Junior, are due on that date, Delta's Charles Webster said: "Mr Moon is a new children's brand in the Delta DVD portfolio. Created by Kate Veale, the character has long been popular with the pre school audience through a series of books, and through the animated series being broadcast on the Disney Playhouse channel. With an audience already in place we believe we can position the DVDs to satisfy an eager group of consumers - both children and parents. We are currently releasing our second bath of titles and have more scheduled for later in the year."
---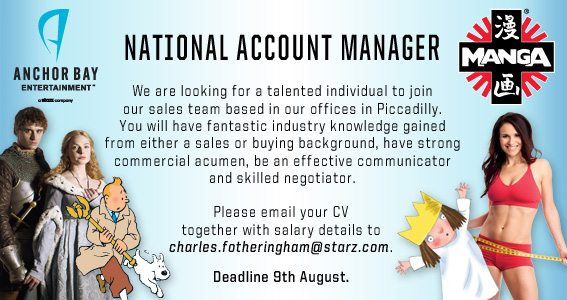 ---
Clear Vision is continuing to ramp up its plans to expand its feature film slate and is readying itself for its third release on this stage, the wonderfully titled Bring Me The Head Of The Machine Gun Woman, due at cinemas in September ahead of its home entertainment bow (the trailer is here).
Next up for the company is Eden, which scored an impressive raft of coverage on its two print theatrical and vod bow last weekend, which paves the way for its arrival on DVD, Blu-ray and digital formats on September 9. Clear Vision brought over Chong Kim, the real-life abductee whose tale is recounted in the film, and she appeared across TV and radio, including Sky News, numerous BBC radio shows, magazines such as Look as well as plenty of reviews. Clear Vision's Simon Allan said: "Chong Kim's recent media tour in the UK gave consumers a real insight into the true story Eden is based on. Maven PR did a great job getting Miss Kim's tale across various media platforms giving the film tremendous exposure, alongside great reviews from film and national press."
The independents, as noted here before, are becoming increasingly adept at using social media to announce their forthcoming titles, and Arrow and its Arrow Video arm did just that today (Friday), unveiling its October titles via Twitter, Facebook and tumblr. It's an impressive slate, taking in underrated Tobe Hooper sequel Texas Chainsaw Massacre 2, along with some rare and early Hooper films; Brian De Palma's The Fury, his first film after Carrie and the fourth of half a dozen releases from the director due from Arrow; a Steelbook special of The Beyond as a Zavvi exclusive and, for its Arrow Academy imprint, a first-ever UK Blu-ray for The Night Of The Hunter. Arrow's Francesco Simeoni said: "There's always a great anticipation from our fans for Halloween-based announcements and we were giddy this morning knowing what we had in store – a foursome of classic gothic horror films. The feedback has been incredible, by the multitude of platforms we now employ to make our announcements the spread was incredible, we saw the forums chattering away literally within seconds of our announcement and should keep things going right through the weekend, ensuring many people hit those pre-order links while anticipation and excitement is high." More on its October slate shortly on our website, with a look at the bestselling titles on the Arrow Video imprint due up on our site next week…
Some acquisitions news now, and Kaleidoscope has picked up the UK rights for newly announced animation feature Once Upon A Time In The Kitchen, as well as looking after the worldwide distribution of the film through its Kaleidoscope Film Distribution arm. The animated family tale follows the adventures of utensils and cutlery in the kitchen. It will include the vocal talents of the likes of Nicholas Hoult and Gemma Arterton, and is due to start production in September, with KFD representing the taking the film to Toronto. Kaleidoscope's Spencer Pollard said: "We are delighted with the recent acquisition of Once Upon A Time In The Kitchen. We expect a lot of interest from the market and it should be a busy time in Toronto and the upcoming AFM. Once Upon A Time In The Kitchen has all the right ingredients to be a potential global theatrical family smash with excellent animation, a very fun script and A-List voice talent both for the UK and international market."
---
---
The BFI has published its annual Statistical Yearbook, looking at British films and the UK market, as well as the performance of British films overseas. As ever it makes for fascinating reading, and it was interesting to note that the BFI has called for video on demand operators to share more information about their figures (although given the reticence of some, this may be wishful thinking – see our Quote Of The Week below). The vod market, it said, was worth £243 in 2012, marking further "rapid growth". BFI chief executive Amanda Nevill said: "Three very British superheroes – Bond, Boyle and Bean – helped fly the flag for UK film during the Olympic opening ceremony and our suave British spy led something of an invasion into global cinemas in 2012. UK films captivated audiences and 007 spearheaded another strong year for UK film internationally, which collectively pulled in $5.3 billion and helped export British culture and creativity around the world in 2012. Our Yearbook shows film's continued importance to the UK economy overall, with a record turnover of £7.7 billion and trade surplus of £1 billion in 2011. It's encouraging that UK audiences of all ages embraced the cinema experience and it's very exciting that we may be heading towards a tipping point in audience use of video on demand services. But we can't fully explore this growing new market without the numbers so we need providers of video on demand services to release robust data to help us better understand and analyse the emerging vod market for the benefit of the entire UK film industry." We'll be pulling apart some of these facts and figures on our website next week, and talking of annual reports, see our website now for a closer look at the BBFC's report for 2012, broken down into bite-sized chunks…
Some moving news to end with, and Koch Media has, as we've noted here, been going through a rapid period of expansion, so speedy, it seems, it has run out of space in its old Camden location. The company has now moved to Hammersmith, the full address being Koch Media, Second Floor, Building 5, 50 Brook Green, London, W6 7BJ.
---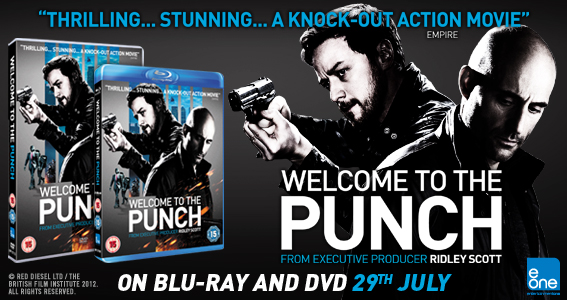 ---
QUOTE OF THE WEEK
We can have lots of types of content over the next five to six years.. We're fundamentally in the membership happiness business, as opposed to the TV business."
Netflix's ceo discussing its latest earnings with the media. The company is likely to move more into documentary filmmaking. However, it still refused to discuss actual viewing figures, saying only its original shows were getting "TV-sized audiences". HBO executives later gained capital from talking about Netflix's refusal to reveal its numbers…
AT THE MOVIES
Monsters University remained atop the UK box office, with a haul now totaling more than £8.6 million. Highest new entry was The World's End, with £2.12 million on its debut; the only other new entry was Koch's The Frozen Ground. Universal's Despicable Me 2 has not gone past the £30 million mark.
We've oft-talked about our old favourite Danny McBride here, and there's been lots of activity around the Eastbound & Down star's camp this week. HBO has confirmed he's developing a new comedy, based around a high school, for the channel, it comes as the aforementioned Eastbound & Down nears the end of its run. He's also said to be starring in the next Cameron Crowe film (as yet untitled), alongside Bradley Cooper…
Fox's adaptation of Frankenstein continues apace, as the studio has this week confirmed that James McAvoy is in talks to play the titular scientist, with Daniel Radcliffe already assigned to the role of Igor…
This week's Gone Girl news, and Brit actress Rosamund Pike is said to have been offered the lead role in the filmed adaptation of the bestselling novel. The film is due to be directed by David Fincher, and Pike will play the wife who disappears, with Ben Affleck as suspect number one, her husband…
SITE OF THE WEEK
Our old pal Alan McQueen, one of the key protagonists in the development of the world cinema and arthouse genres, is behind this site, so it's well worth a butcher's. We've got our eye on one or two of them… http://www.filmposterart.co.uk/
TWEET OF THE WEEK
We've had some pictures of the amazing GI Joe packs and other free stuff we've been sent this week… Follow us on www.twitter.com/theraygun
Loads of gravity around this week. Eagerly awaited by those in the know…
A clip from THAT Lars Von Trier film…
Strong, independent sci-fi fare, due from Signature over here…
And here's more from Signature too¬
Now trailering on Channel 4, due to air shortly and then likely to continue Acorn's purple patch…