VISIT OUR SITES
---
---
Also see:
FUNDRAISING 
Thank You All our Fundraising Hero's!!
KEEP UP TO DATE
Login
to your own account and check on the 'Notifications' tab to get a daily email
MARK YOUR PAGE
Login to your own account
and click on 'Bookmark this' on any page. Bookmarks are saved to your account under 'Bookmarks' tab
COMMUNITY
Highlights of this month...
Aspergillosis in AIDS
On the eve of
World AIDS Day
and in a first study of its kind 
Denning (2016)
has estimated the numbers of people with AIDS that might lead a prolonged life if better diagnostics and treatment for serious fungal infections were more widely available worldwide.
Of the 1.2 million deaths in 2014,estimates indicate that 47% were due to fungal infection and a further 24% due to tuberculosis (TB). Assuming 60% of those people could be reached with new diagnostics and antifungal treatment the author calculates 1 million lives could be saved over the next five years. The spreadsheet published with the paper allows individual country estimates to be made.
Of the 1 million saved lives 90 000 are likely to be those with Chronic Pulmonary Aspergillosis (CPA) many of which will have CPA as a consequence of having TB, so will potentially have to be treated for both infections, but this is not a straightforward proposition.
The best method for diagnosing CPA in patients with AIDS has yet to be established
Azole drugs (e.g. itraconazole) that are likely to be the drug of choice in many countries interact badly with rifampicin such that the two cannot be used together
Itraconazole also interacts with the antiretroviral drugs commonly used to treat AIDS
It is clear that there remains much work to be done to achieve 90 000 saved lives from CPA, but those ends are achieveable and without question worthwhile, especially as part of a broad antifungal campaign targetting advanced disease in AIDS patients.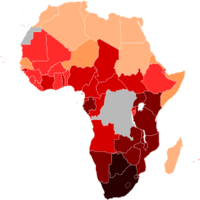 NOTE: the link between
Aspergillus
and AIDS does not stop with CPA infection. In
2013 we reported
on a research paper that showed that higher amounts of aflatoxins  in the diet (caused by
Aspergillus
contamination of food) of people in Africa correlated with higher loads of HIV virus in the blood of infected patients.
Resistance of Aspergillus species to antifungal drugs is a rising problem, partly due to exposure to antifungals in clinic but a big part is also played by the use of azole antifungal chemicals for agricultural purposes throughout the world. Early indications suggest flower bulbs (tulips) and onions may be especially affected. As Aspergillus is exposed to huge amounts of azoles used as fungicides, it becomes resistant to the same drugs we use in clinic to treat aspergillosis. Once patients become infected with spores from these resistant species - usually by inhaling the tiny spores - then it becomes more difficult to treat their infection. There are only intravenous alternative non-azole drugs but as yet not many.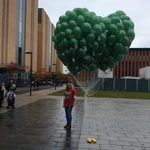 The
Fungal Infection Trust Great Big Spore Race
was a great success with hundreds of entrants. Despite the calm weather balloons have been found having travelled over the Pennine mountains for 50 miles. One claim even came in from Offenburg, Germany (700 miles) though that remains to be verified.
Illustrated Cases in Medical Mycology 
The
Patients section
of the website has been an invaluable resource for all aspergillosis patients & carers almost since the inception of the Aspergillus Website. At its peak it was getting 25 000 unique visitors per month but that had declined to less than 10 000 as a lot of activity that used to take place on this website moved to
Facebook groups
and
NHS Choices
websites.
The Patients section is still referred to for reference material and we are constantly adding new material as discussions in one of the groups identifies a subject that we need to cover in detail.
Management of Chronic Pain
came up recently and was addressed by adding a new page to the 'Keeping Well' section. Other new pages include 'Dehumidifiers', 'Insects/fungus is crawling on my skin'.
We have also introduced a new blog to the website that allows us to publish a constant stream of news &  articles relevant to patients as well as discussion points that are often picked up by the social media groups we run. Patients are also welcome to register with the website and write their own content eg 
'I'M STILL STANDING – (ME 'N ELTON!) by Elizabeth Hutton
.
As a consequence of these changes this website section is moving closer to the heart of our Patient & Carer community once more and its use is now increasing.
The authors looked at 112 recipients of a kidney transplant (KT) who developed Invasive Pulmonary Aspergillosis between 2000 and 2013. Cough, fever, and sputum production were the most common symptoms at presentation. Six- and 12-weeks survival rates were 68.8% and 60.7%, and 22.1% of survivors experienced graft loss.
Occurrence of IPA within the first 6 months and bilateral involvement at diagnosis were independent predictors for 6-week all-cause mortality, whereas the initial use of a voriconazole-based regimen showed a protective effect.
The administration of antifungal combination therapy had no apparent impact on outcome.
In conclusion, IPA is a major complication among KT recipients. Maintaining a low clinical suspicion threshold is key to achieve a prompt diagnosis and to initiate voriconazole therapy.
Voriconazole is associated with increased risk of squamous cell carcinoma (SCC) but there are few guidelines for the offsetting of risk and benefit for this treatment.
The authors retrospectively studied a group of lung transplant recipients in order to identify increased risk of SCC versus reduced risk of Aspergillus infection and mortality. 
The authors found that there was a 73% increase in risk of SCC (a risk that slowly gets worse with prolonged treatment with voriconazole) versus a 50% reduction in Aspergillus colonisation and a reduction in mortality of those who were colonised of two thirds.
The benefits are clear and the authors ask physicians to take action to reduce risk of SCC on a patient by patient basis (e.g. reducing exposure to the sun)
The authors have assessed galactomonnan (GM) detection as a potential tool for the diagnosis of cerebral aspergillosis (CA). 44 patients were evaluated (17 with probable or proven CA, 27 no CA) and with a cutoff of 0.5, 1.0 or 2.0 the sensitivity, specificity, and positive and negative predictive values were 88.2%, 96.3%, 93.8%, and 92.9%, respectively.
The authors find that GM detection has a high diagnostic performance for CA and may be useful to diagnose or virtually rule out CA without the need for biopsy.
It is well established that R-EBUS can help identify and localise pulmonary lesions but it had not been trialled for use in neutropenic patients with persistant febrile neutropenia. This paper assesses R-EBUS assistance for the localisation of invasive fungal infection lesions (4 patients) and precise biopsy enabling treatment optimisation.
No complications were observed. R-EBUS assisted TBB is a promising and safe procedure for the evaluation of nonresolving pulmonary infiltrates in febrile neutropenic hemato-oncological patients.
Despite the availability of new diagnostic assays and broad-spectrum antifungal agents, invasive fungal infections remain a significant challenge to clinicians and are associated with marked morbidity and mortality. In addition, the number of etiologic agents of invasive mycoses has increased accompanied by an expansion in the immunocompromised patient populations, and the use of molecular tools for fungal identification and characterization has resulted in the discovery of several cryptic species. This article reviews various methods used to identify fungi and perform antifungal susceptibility testing in the clinical laboratory. Recent developments in antifungal resistance are also discussed.
Fungal pathogens severely impact global food and fibre crop security. Fungal species that cause plant diseases have mostly been recognized based on their morphology. The manner in which fungal pathogens are identified should urgently be reconsidered. The technologies that would provide appropriate information for biosecurity and quarantine already exist, yet the scientific community and the regulatory authorities are slow to embrace them. International agreements are urgently needed to enforce new guidelines for describing plant pathogenic fungi (including key DNA information), to ensure availability of relevant data and to modernize the phytosanitary systems that must deal with the risks relating to trade-associated plant pathogens.
Rapid emergence of pathogens in agro-ecosystems: global threats to agricultural sustainability and food security
These studies document the speed with which pathogens evolve to overcome crop resistance genes and pesticides. They also show that crop pathogens can be disseminated very quickly across and among continents through human activities. In this review, we discuss how the peculiar architecture of agro-ecosystems facilitates pathogen emergence, evolution and dispersal. We present four example pathosystems that illustrate both pathogen specialization and pathogen speciation, including different time frames for emergence and different mechanisms underlying the emergence process. Lastly, we argue for a re-design of agro-ecosystems that embraces the concept of dynamic diversity to improve their resilience to pathogens.
Clinical presentations varied between dogs. Predisposing factors were identified in 4 of 5 cases. Diagnostic modalities utilized were corneal cytology and fungal culture. Corneal cytology confirmed the presence of fungal organisms in all five cases. Aspergillus, Scedosporium, and Candida were cultured from three cases, respectively. Specific antifungal treatment included 1% voriconazole solution or 1% itraconazole ointment. Keratectomy and conjunctival grafting surgery was performed in two patients. Resolution of infection and preservation of vision were achieved in 4 of 5 patients.
The aim of this study was to define a dose regimen for voriconazole in bottlenose dolphins. Dolphins treated with voriconazole between November 2005 and September 2015 at the Dolfinarium Harderwijk, the Netherlands, and TDM was performed were included.
In order to obtain a median top plasma concentration of 5 mg/l, the loading dose was calculated to be 10 mg/kg (range 9.0-14.2 mg/kg) divided in three administrations (3.3 mg/kg every 24 hours). The maintenance dose was calculated to be 4 mg/kg once a week (range 1.7-6.0 mg/kg); 17% of the dolphins did not reach the therapeutic window of 1-5 mg/l without TDM. A TDM-guided dosing algorithm was developed in order to obtain therapeutic plasma concentrations in this population.
We have simplified the blogging facility on the Patients website (
www.nacpatients.org.uk
) to try to encourage more people to add their own content - writing about event that tell us more about living with aspergillosis or any other relevant material. Write your own blog by
registering with the website
 and then after logging in go to the blogging page at
www.nacpatients.org.uk/blog
 and click on 'Create new blog entry' at the top of the page. Then just start typing, upload pictures, add other media. The only limit is your imagination!
The Patient & Carers meeting in November was one of those that stimulates a lot of interest. Once per year Dr Paul Bowyer of the National Aspergillosis Centre, UK gives the group a talk on some of our latest advances in understanding aspergillosis. Paul heads up our research team that works closely with our patients groups so this is an opportunity to let everyone know about any recent advances.
A couple of years ago Paul's team started to collect DNA samples from many of our patients to analyse if there were any genetic clues to the question 'why do some people get aspergillosis while most of us dont?'
This year Paul reported on a single gene defect found in 10% of our ABPA patients, what it does and why it leaves people who carry the mutation vulnerable to infection.
Aspergillosis Community (National Aspergillosis Centre) normally meets on the first friday of each month at the Altounyan Suite, North West Lung Centre, Manchester at 1.30pm BST/GMT. If you can't make it in person, you are welcome to listen in to our
live broadcast
.
NB we are running trial SKYPE meetings immediately after the main meeting from December 2016. If you have SKYPE join in on drgraham.atherton - better still contact us first to add your contact details to our SKYPE list and we will contact you after the main meeting.

If you want a text reminder when each meeting is approaching (UK only) then send us an email at admin@aspergillus.org.uk.