VetsAid Selects 2019 Veteran NonProfit Partners to Benefit from Concert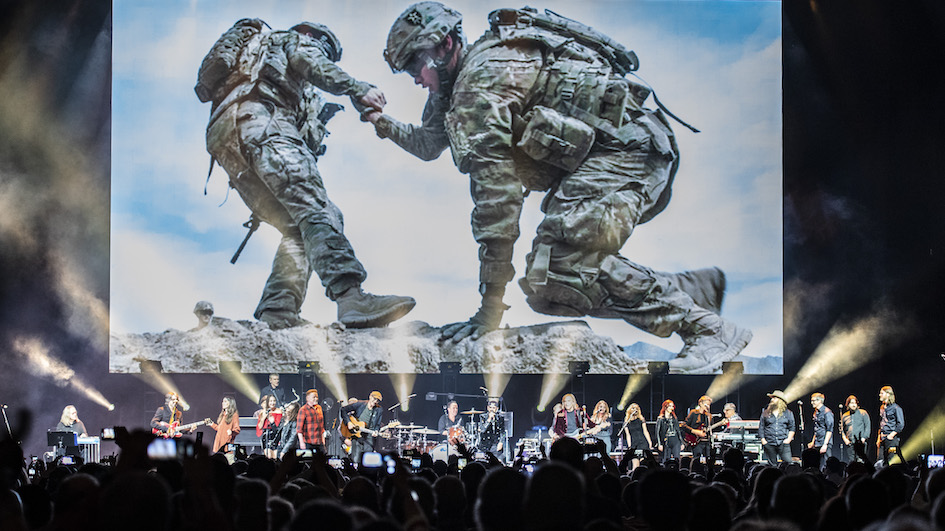 2018 VetsAid, Photo credit, Peter Dervin
(Washington, DC) VetsAid, the third annual concert to support veterans and their families hosted by Joe Walsh, Rock and Roll Hall of Fame Inductee and multi GRAMMY Award recipient, has selected the nonprofit partners that will benefit from this year's November 10th concert at the Toyota Center in Houston, Texas. The grants are broken out into large and small grant recipients and all net proceeds from the concert determine the final grant amounts. Founded by Walsh in 2017, the 501C3 VetsAid has disbursed over $1.2M to veteran-serving nonprofits.
The large grant recipients selected are: Combined Arms, Headstrong Project, United States Veterans Initiative (U.S. Vets), Next Op Veterans, Vets4Warriors, Coalition to Salute America's Heroes, Swords to Plowshares and Sentinels of Freedom.
The small grant recipients selected are: Grace After Fire, Train A Dog Save A Warrior (TADSAW), Texas Veterans Outdoors, Smiles for Veterans, Hero's Bridge, Every Third Saturday, Vets on Track Foundation, Easter Seals Houston and Heartstrides.
Providing support to organizations that care for the nation's veterans and military families is deeply personal to Walsh, a Gold Star survivor whose father died while on active duty on Okinawa, Japan when Walsh was 20 months old.
"It's with great excitement that we announce our grant recipients for VetsAid 2019," explains Joe Walsh. "VetsAid is a festival that we bring to points across this great country of ours and this year we are honored to spread the love and funds to the veterans community in and around the Houston metro area. Come celebrate with us this November 10th at the Toyota Center!"
With assistance from the National Association of Veteran-Serving Organizations (NAVSO), Walsh and the Board of VetsAid reviewed numerous organizations before selecting these 17 veteran focused nonprofits.
"Mr. Walsh is a great philanthropist and advocate for the military and veteran community," says Kelly Finn Störmer, Chief Operating Officer of the National Association of Veteran-Serving Organizations (NAVSO), the organization assisting the selection process. "We are honored to partner with VetsAid to recommend high impact programs creating positive change for veterans and military families."
Houston has the 2nd largest veteran population in the nation with over 250,000 veterans. Mr. Walsh will serve as the keynote speaker and Grand Marshal of the "Houston Salutes American Heroes Veterans Day Celebration" honoring the brave men, women and families who have fought and sacrificed for the nation's liberty and freedom.
VetsAid 2019 will feature sets from ZZ Top, Brad Paisley, Sheryl Crow, Jason Isbell & the 400 Unit and Joe Walsh and will take place at 5:30pm on Sunday, November 10, 2019, on the eve of Veterans Day, at the Toyota Center in Houston, Texas. Tickets are on sale now at: www.toyotacenter.com.
Elizabeth Freund / Beautiful Day Media & Management
Elizabeth@BeautifulDayMedia.com