"I mean looking back at this journey, I couldn't have done it any other way . . . . I understood that my only way to stay true to myself, which was kind of the point of all this process, finding what it is my moral truth, and the way I want to face reality with it."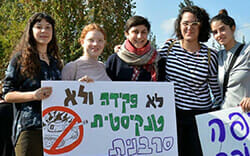 Tamar Ze'evi, center, along with other Israeli youth protesting against being drafted into the Israeli army. The sign reads, 'Neither clerks nor tank drivers, we are refusers and feminists.' (Photo: Mesarvot)
"I understood that if I will simply say what I believe in and the real reasons I'm not willing to enlist, it means I will have to go to jail." Tamar Ze'evi, who at the age of nineteen refused to serve in the Israeli military. "I guess my story begins from growing up in Israel and specifically in Jerusalem, which is living, growing up in conflict."
Courage to Resist's mission to "Support the troops who refuse to fight, or who face consequences for acting on conscience, in opposition to illegal wars, occupations, the policies of empire…" led to solidarity with Israeli objectors soon after our founding. Check out "US Resisters' Solidarity with Israeli 'Shministim' Refusers"(Dec. 2008).