RINGO STARR AND HIS ALL STARR BAND ANNOUNCE LATIN AMERICAN & ADDITIONAL U.S. TOUR DATES FOR FEBRUARY & MARCH 2015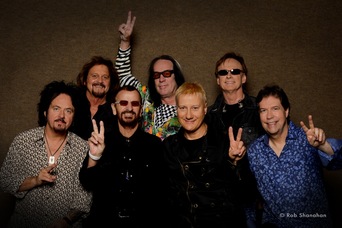 Ringo Starr and his All Starr Band - Steve Lukather, Richard Page, Gregg Rolie, Todd Rundgren, Gregg Bissonette and Warren Ham - announced new tour dates beginning on February 13 in Louisiana and then onto Texas, Birmingham, South Carolina, and Orlando before traveling throughout Latin America with shows in Puerto Rico, Dominican Republic, Brazil, Chile, Mexico and more. The tour continues through March ending with 3 shows in California in Santa Ynez, San Francisco and San Diego and a show in Las Vegas.
This incarnation of the All Starr band is the same line up he has played with since 2012, and the addition of these new dates comes as no surprise to anyone who has heard Ringo talk about this band, with whom he loves performing. "We have so much fun playing together , we don't want it to end!" Ringo also loved touring in Latin America and said "the audiences were just great and so loving, we can't wait to go back".
RINGO STARR AND HIS ALL STARR BAND ON TOUR:
February
13 Riverdome, Bossier City, LA
14 Cowan Center, Tyler, TX
15 BJCC Concert Hall, Birmingham AL
17 The Peace Center, Greenville, SC
18 Fort Pierce, FL
21 Hard Rock Hotel Punta Cana, Dominican Republic
22 Coliseo de Puerto Rico, San Juan
24 Van Wezel PAC, Sarasota FL
26 HSBC Brasil, Sao Paolo, Brazil
27 Vivo Rio, Rio de Janeiro, Brazil
March
1 Buenos Aires, Argentina
3 Movistar Arena, Santiago, Chile
6 Bogota Corferias, Colombia
8 Coliseo Merida, Yucatan, Mexico
10 National Auditorium, Mexico City
12 Chumash Casino, Santa Ynez CA
13 Masonic Theater, San Francisco CA
14 Pala Casino, Pala, CA
15 The Pearl at Palms Casino Resort, Las Vegas, NV
For additional dates and on sale dates please check local listings and for more information please visit:
ABOUT RINGO STARR:
On January 20, 2014 Ringo Starr's musical legacy was celebrated when The David Lynch Foundation honored him with the 'Lifetime of Peace & Love Award'. The event included star-studded tributes to Ringo's extensive catalog that was broadcast on AXS July 13, 2014. Participating artists included Joe Walsh, Ben Harper, Ben Folds, Brendan Benson, Bettye LaVette, The Head & The Heart and Jesse Elliot and Lindsey McWilliams of Ark Life, with an equally stellar backing band featuring Don Was, Benmont Tench, Peter Frampton, Steve Lukather and Kenny Arnoff. (
http://www.davidlynchfoundation.org/peacelovefund/
http://www.davidlynchfoundation.org
)
January 26 saw Ringo perform his song "Photograph" on the GRAMMYS, followed by him jumping on the kit during his old band mate, Paul McCartney's performance. Ringo & Paul then performed together again the following evening, this time playing several songs for the Emmy Award-nominated taping of CBS' "The Beatles, A Grammy Salute; The Night That Changed America," celebrating the 50th Anniversary of their first U.S. visit and appearance on the Ed Sullivan Show. It was broadcast on the exact anniversary, February 9, and aired again February 12. It has also been broadcast internationally.
In February 2014, Simon & Shuster published "Octopus's Garden", a children's book based on Ringo's lyrics. This book arrived on the heels of December of last year's PHOTOGRAPH, the Genesis Publications book (
http://www.genesis-publications.com/photograph-by-ringo-starr-the-signed-limited-edition/
). PHOTOGRAPH was first released as an e-book in conjunction with The GRAMMY Museum exhibit "Ringo: Peace & Love," a record-breaking exhibit that drew over 120,000 visitors in its run from June 2013 to late April 2014. It was also the first ever major exhibit to focus on a drummer.
On July 7 John Varvatos announced that Ringo would be featured in his Fall 2014 advertising campaign and as Ringo joked, "making his dream to be a male model come true." The campaign also benefited the David Lynch Foundation with a dynamic social media component in which fans were called to upload a photo of themselves making the peace sign and tagging the post with #peacerocks. For each photo tagged, John Varvatos donates a dollar to the Foundation.
Summer & October 2014 saw Ringo tour North America with his All Starr Band, the same line up since 2012 who also toured in 2013 the Pacific Rim in February and then in October in Latin America, concluding with two Stateside shows at the Palms in Las Vegas. The summer tour also included exhibits of Ringo's artwork, which can be seen at
www.RingoStarrArt.com
. In September 2013 Ringo was awarded the prestigious French Medal of Honor, being appointed Commander of Arts & Letters in recognition of his musical and artistic contributions. Ringo's most recent solo release was Ringo 2012 (Hip-O Records/UMe). In January 2013 UMe released the live DVD "Ringo at the Ryman." April 20, 2013, in conjunction with Record Store Day, UMe released a Ringo Starr seven-inch vinyl singles collection, featuring "Photograph," "It Don't Come Easy" and "(It's All Down To) Goodnight Vienna."
# # # #
Contacts:
Elizabeth Freund
Beautiful Day Media
Elizabeth@beautifuldaymedia.com