Electrify magazine, an international travel and lifestyle publication, recently spent five days at Sea Horse Ranch for a photo and video shoot capturing the magnificent surroundings of Sosúa and Cabarete. Electrify magazine caters to the global-generation of millennial travelers, with a print edition available on newsstands in North America, Europe and Australia, and a digital edition available for 25,000 subscribers.
The crew included an international collective of talent from Los Angeles and New York, with fashion models/social media influencers from Brazil, the United Kingdom and Canada. Electrify magazine will present their next issue, with the feature story and short film set at Sea Horse Ranch, at the international art fair, Art Basel in Miami, December 2016.
---
The Beach Club Summer Specials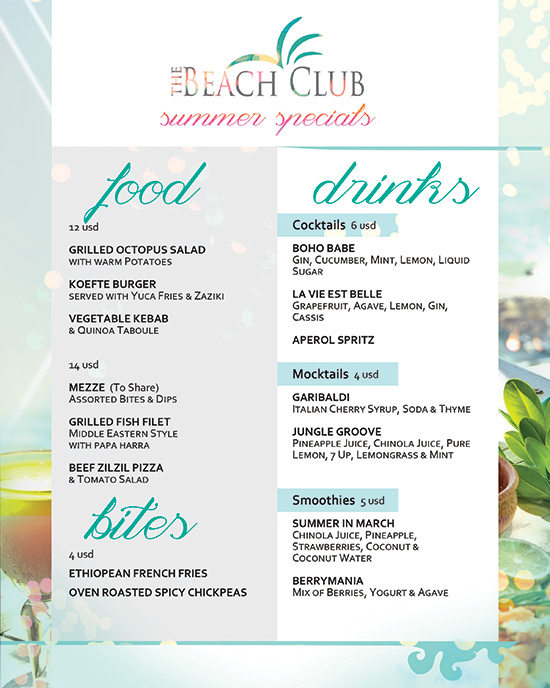 Summer is a special time in the Caribbean, and where better to enjoy the fresh ocean breeze, lovely view and gourmet offerings than the Beach Club at Sea Horse Ranch. You can chose from an array of delicious fresh local dishes prepared for lunch and dinner, and our new specialty cocktails, perfect for sunset happy hour. Come and enjoy the peace and relaxation of dining in style, in front of the Atlantic Ocean.
Hours – Tuesday – Sunday, 11am to 10pm, Lunch, Dinner & Cocktails
Reach The Beach Club directly at +1-809-571-4995.
---
Local Attraction - Dudu Lake / Blue Lagoon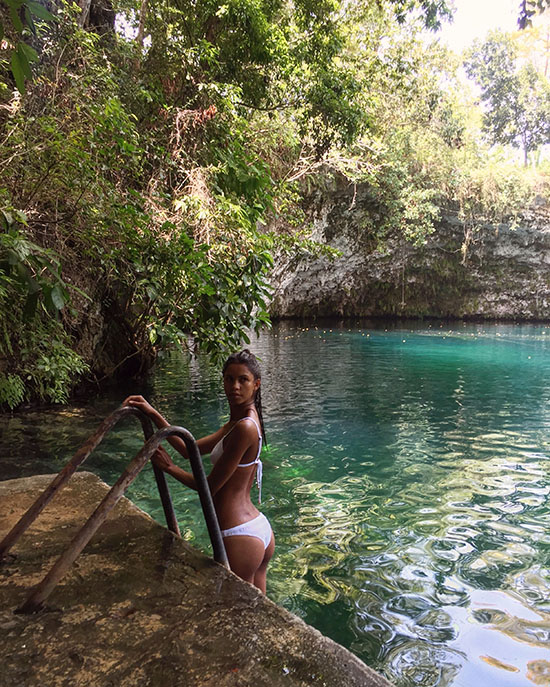 Just a few minutes' drive from the center of Cabrera, in María Sanchez Trinidad province, there is a magnificent natural swimming hole called Laguna El Dudú or El Dudú Lagoon (Dudú Lake). The area is protected by the Dominican Ministries of Environment, and Tourism. There is a small fee (US $2) for entrance, and amenities include a small restaurant with typical food, and restrooms. This Cenote is a must-see for all nature lovers, and it is a fun day trip to Cabrera, which is an hour away from Sea Horse Ranch in Cabarete.
Dudú Lake has crystal clear, fresh water that can be accessed by a concrete staircase. You can enjoy the shade and view from the balcony above in the restaurant, and snack on the delicious fried plantains (Tostones), or an ice cold Presidente beer or Coca Cola.
Location: Rt. 5, Cabrera, María Sanchez Trinidad province, near Playa Entrada.
Tel. +1 (829) 854-6452
---
Featured Property - Villa Diana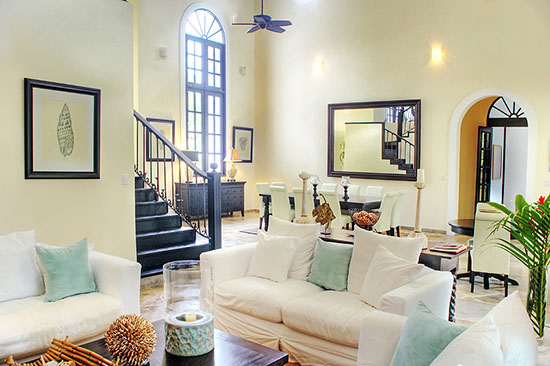 Villa Diana is a dream vacation villa with exquisite space and location. This four bedroom luxury Caribbean property is a classic beach villa with beautiful architecture, an open floor plan, and harmonious interiors embodying both sophistication and relaxed coastal living. The contemporary kitchen with inspired vintage style features Viking appliances, counter tops in rich coal granite with spectacular iridescent blue flecks, and fresh vanilla painted cabinetry. An expansive terrace provides ample entertaining space, or quiet retreat, with several comfortable couches for lounging.
A nicely furnished media room with cherry floors and large screen TV provides comfortable viewing for films and television. All four elegant bedrooms are tastefully furnished in sage and amber hues. An eclectic mix of local art in serene palettes and vintage black and white local photography connect the home to the local colors and environment. All bedrooms have en-suite bathrooms finished in marble vanities, with crisp white tiles, abundant storage and stocked with Frette towels.
The living and dining area open to terrace for seamless indoor-outdoor living. More than twenty royal palms grace the lush gardens. Villa Diana is serenely located on a quiet cul de sac that leads to the Sea Horse Ranch beaches. This timeless villa enjoys one of the best residential addresses in the Caribbean.
Contact us to learn more about property rental or ownership of this lovely island villa.