SHOP HOURS
Monday: CLOSED
Tuesday: 12 - 6
Wednesday: 12 - 6
Thursday: 12 - 8
Friday: 12 - 6
Saturday: 10 - 6
Sunday: 12 - 4

 

Here at ReBelle March makes us think of two things, Malabrigo March and March Madness!  




Malabrigo March happens every year and hundreds of Malabrigo junkies put their regular knitting on hold and focus on projects using Malabrigo.  There are contests, prizes and knit-a-longs.  Some of the categories are: most projects cast on, best use of color and go the distance (most yards of Malabrigo used).  Check out all the contest categories and knit-a-longs on the official Malabrigo March 2015 thread found here.




Of course you are familiar with the basketball version of March Madness, but here at ReBelle we contribute to the madness a little by having a sale every March.  I can't tell you just what will be on sale yet, but I can tell you that the sale will be held on Saturday, March 28th.  Stay tuned for an update closer to sale time!

 
Just in time for Malabrigo March, we have 12 colors of the latest Malabrigo yarn, Mechita.  As the name suggests, Mechita is a smaller version of Mecha, both are single ply and 100% superwash merino.  Mechita is fingering weight with 420yds per 100g skein.  If you're looking for a fun project, I suggest the
Three Color Cashmere Cowl
.  It's one of the knit-a-longs for Malabrigo March and it looks like a fun and easy knit!
There's some new local suri alpaca/merino yarn from Wild Rose Farm in Versailles.  This 50/50 blend is fingering weight and available in some lovely marled solids and a couple varigates.  Get your local fiber fix!
There's a lot of great deals to be had on our clearance shelf.  The latest yarn to find itself there is Hollywood.  It's a worsted weight yarn that's 87% superwash wool, 10% acrylic and 3% polyester.  It comes in solid colors with just a hint of sparkle.  Regularly priced at $9/skein, it's now just $6.25 for a 208 yard/100g skein!  What a deal!
The pulled sari fiber is back in stock, and this time it came in three different colors!  This fiber is made from silk remnants and can be spun by itself or blended with other fibers for spinning or felting to create interesting textures!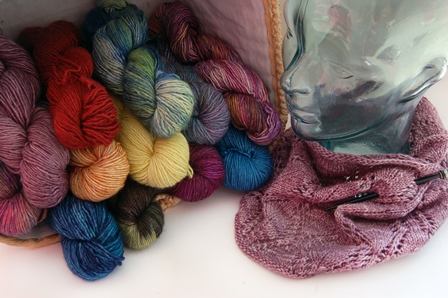 In honor of Malabrigo March, we've selected Silky Merino as the yarn of the month.  Silky Merino is a luxurious blend of 51% silk and 49% merino wool.  Unlike many silk blends, Silky Merino maintains it's loft while still having the softness and sheen that silk is known for.  With 150 yards per 50g skein, this single ply DK weight yarn is wonderful for cowls, hats, scarves, shawls and sweaters.  We knit up
A Noble Cowl
, a quick lacy pattern that allows you to wear this cozy fiber right next to your skin.  This luxury yarn already has an affordable price tag, but this month it's an extra 10% off!  Here are some other patterns that would work well for trying out this yarn:
Norie
(hat),
Sweet William
(hat),
Looped Loop
(cowl),
Shaelyn
(shawl),
Vine Bolero
and
Behind My Back
(pullover).
Featured Upcoming Classes
 Natural Dyeing with Indigo




The indigo plant has been used to create deep, beautiful blues for thousands of years. This will be a combination class and open dye workshop. For those who want to learn we will talk about the different methods of creating and maintaining an indigo vat and we will make the vats for the class to use. We will also talk about the history and chemistry of indigo dyeing. For those of you who just want to dye with indigo there will be vats made up for dyeing fiber as well as fabric and people to instruct you in the process.