Good Morning CSA Members,
Today, Wednesday June 1st is your first CSA pick up.  Your share will be available for pick up from 4-7pm at your chosen pick-up location. 
We are excited to share the first carrots and radishes of the season with you tonight as well as some wonderful greens. Please note, pick-up this evening will include only vegetable, flower and egg shares. Fruit, coffee and bread all begin next week; more detalis below. 
We look forward to seeing old friends and meeting new families this evening,

Carrots
Radish
Bok Choy
Salad Mix
Fruit Share -next week, strawberries               Flower Share - Spring alliums                            Egg Share - available every week                       Coffee Share - next week                                    Bread Share - next week                               Coming next week: carrots, spinach, spicy greens, pea shoots and more.....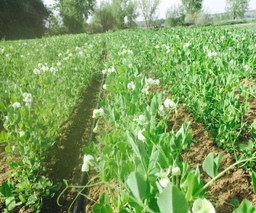 Flowering snap and english peas....
Beginnings are always exciting. We are experiencing many of them. A new crew of interns : Sam, Meghan, Mikinzie, Erin, Molly and Jocelyn and a new sprouting of food from the fields.
This season has so far been one of beginning again in other ways as well. New pigs, Tamworths, some of which can be found on the farm out by the farrowing area.  Visit the baby Berkshire x Mangalitsa piglets who are grazing in the front fields counting cars and smiling for the cameras, with their older, wiser  "teenage" Berkshire friends.
  Artie and Susan are back at the Farm Store this year on Wednesdays.  Lindsay and Ben are back at the Kids Camp teaching the little ones the cycle of seed to plate. Yet through all of this newness the constant remains, providing the freshest, most nutritious food to you and your family. We are very excited to share this weeks harvest with you and to meet new members and welcome the back returning ones. Enjoy!
   Each season we begin our fruit share with certified organic strawberries from northern Califlornia as there are not any berry farms in Colorado that have the 175+pounds of berries available for our fruit share members.  These farms in the Salina valley work with Growers Organic, a Denver based produce & fruit wholsale company to supply us with strawberries for our CSA. We recieve the berries with in two days of them being picked usually, as they harvest per our order.
   So, why no fruit today? When the delivery truck came in the berries were poor quality, so our order was not accepted. While conventional strawberries were available, we are dedicated to only sourcing organic.  Thus, no fruit is available today. 
    The Colorado fruit from the western slope is more abundant than it has been in years, as the spring weather is cooperating with the fruit growers so far this season. While there is not fruit available for this week's pick-up, we will be sure to offer this week's 3 pound average of fruit in future pick-ups this season.  Tis the spirit of CSA, share the risk, share the bounty. Here is to celebrating the bounty!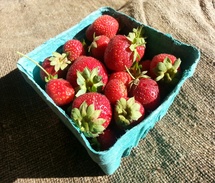 In the spring, at the end of the day, you should smell like dirt.
                                - Margaret Atwood
Grilled Bok Choy
4 heads baby bok choy (about 1 pound)
1/4 cup white-wine vinegar
2 tablespoons tomato-based chili sauce
2 teaspoons light-brown sugar
2 tablespoons vegetable oil
Coarse salt and ground pepper
Directions
Heat grill to low. Trim large leaves from baby bok choy; halve heads lengthwise. Rinse well under cold water to remove grit.
In a large bowl, whisk together white-wine vinegar, tomato-based chili sauce, light-brown sugar, and vegetable oil; season with coarse salt and ground pepper. Add bok choy; toss to coat. Remove from bowl, reserving sauce.
Place bok choy, cut sides down, on grill; cover, and cook until tender, about 10 minutes. Serve bok choy drizzled with reserved sauce.
1/2 cup toasted almonds, sliced
1 cup parmesan cheese, grated
2 cloves of garlic, minced
1 bunch carrot tops, leaves only, discard the stems
Juice of 1 lemon
1 tablespoon honey
1 cup olive oil or enough to blend it all together into a thick pesto
salt to taste
6 eggs
Directions
For the pesto: Put the ingredients in a food processor and blend thoroughly. Blend it more than you would other pestos, you don't want any big carrot leaves as they will get stuck in your throat. When everything is well broken up, add a little more olive oil to loosen it up so you can drape the pesto over your egg.
For the eggs: Cover the eggs with cold water in a sauce pot. Bring to a boil then shut off the heat, cover the pot and wait for 10 minutes. After 10 minutes, submerge the eggs in ice water. Wait another 10 minutes then peel the eggs and cut into quarters. Place quartered eggs on a serving dish and drape with the pesto.
French Dressing
1 squirt of mustard
1 Tablespoon tomato paste (organic)
⅓ cup olive oil
¼ cup white wine vinegar
1 Tablespoon of honey (optional)
½ tsp onion powder or small chunk of fresh onion
Directions
Put all ingredients in a small blender and blend until smooth.
Essential CSA Pick-up Info.
 CSA pick-up
begins today,
Wednesday June 1st from 4-7pm
at your
designated pick-up location
, either:
 Cure Organic Farm Store, 7450 Valmont Rd.
 Boulder Farmer's Market, 13th between Arapahoe and Canyon
Can I change my pick-up location?
Sure! Just
email us
, and give us a
week notice
.
What do I do if I miss a pick-up?
If you
email us
before
8am on Thursday
morning, we're happy to pack your share for you, and have you pick it up at the Farm Store that day.
We just need to know ahead of time that you'd like your share packed.
Where does my food go if I miss a pick-up?
All of the food leftover from the CSA gets donated to our Thursday morning field volunteers.
Can someone else pick-up my share?
Sure! If you're out of town, or can't make it, feel free to have a friend or neighbor come get your share.
Can I bring my pet to pick-up?
Please leave your pet at home during pick-up.
What if I have more questions?
The fastest way to reach us is by
emailing
us at: cureorganicfarm@yahoo.com
Want more info? See our
CSA Membership web page
for all the details 
Six Week Beekeeping Class
   Join us on Saturdays at the Cure Organic Farm apiaries for a comprehensive, six-week course for beginning beekeepers. We cover everything you'll need to know for your first year of beekeeping, from starting up your home apiary to treating bee disease, harvesting honey, and preparing your hives for winter.
    We believe that the apiary is the best place to learn about beekeeping. Dynamic class sessions include a balance of classroom and "in-hive" activities, offering participants plenty of hands-on bee experience. This early summer course provides beekeepers the opportunity to implement what they learn in class on their own hives at home. Small class size allows our two beekeeping instructors to provide plenty of personalized attention.
Course topics will include:
June 11: Introduction to beekeeping
June 18: Preparing your home apiary
June 25: Basic beekeeping techniques
July 2: Disease diagnosis and treatment
July 9: Caring for the queen bee
July 16: Honey production and strategies for winter survival
    This course is for first-time beekeepers, or beginners looking to develop their skills. Our instructors are bilingual, so both English and Spanish speakers are welcome! Class size will be limited to 8 (minimum 5 participants). Youth 15 years and over are welcome to participate if accompanied by an adult. For liability reasons, we ask that all participants be bee-allergy free.

CSA pick-up begins-  Wednesday, June 1st, 4-7pm.
Farm Store Open- Wednesday-Friday from 11am-6pm;               Saturday-Sunday 10am-4pm.
Boulder Farmers Markets- Wednesday evenings from 4-8pm; Saturday 8am-2pm. April-Nov.
Denver Union Station Farmers Market- Saturdays June 4th-Nov 1; 9am-2pm.
Volunteer Day- Every Thursday from 9am-noon. We will finish planting tomatoes in the field tomorrow!
Roasted Carrots with Harissa Yogurt
1 pound baby carrots with stems still attached, scrubbed
1 tablespoon honey
1 tablespoon extra-virgin olive oil
1/2 teaspoon ground coriander
1/4 teaspoon kosher salt
1/8 teaspoon freshly ground black pepper
Harissa Paste

1 tablespoon ancho chile powder
1 tablespoon smoked paprika
1/2 teaspoon ground caraway
1/4 teaspoon cayenne
1/4 teaspoon ground coriander
1/4 teaspoon ground cumin
3 tablespoons extra-virgin olive oil
1 tablespoon tomato paste
1 tablespoon honey
1 teaspoon kosher salt
1 clove garlic, grated

Juice of 1/2 lemon

1 1/2 cups Greek yogurt
Garnish

2 tablespoons crumbled feta
1 tablespoon pomegranate seeds
Directions
For the roasted carrots: Preheat the oven to 400 degrees F.

Put the carrots on a baking sheet and drizzle with the honey and olive oil. Sprinkle with the coriander, salt and pepper. Roast until fork-tender, 15 minutes.

For the harissa paste: Mix the ancho chile, paprika, caraway, cayenne, coriander and cumin together in a small bowl. Add the olive oil, tomato paste, honey, salt, garlic and lemon juice. Mix well until it forms a paste.

Put the yogurt in a medium bowl, add 1 tablespoon of the harissa paste and swirl it into the yogurt. Do not mix it in all the way; keep the harissa swirled in the yogurt. (Transfer the remaining harissa paste to an airtight container and keep refrigerated for up to 2 weeks.)

Dollop about 1/2 cup of the harissa yogurt onto the center of a plate. Arrange the carrots over and around the yogurt. Sprinkle with the feta and pomegranate seeds. Serve with additional harissa yogurt.



Cure Organic Farm

7416 Valmont Rd.
Boulder, CO 80301
cureorganicfarm@yahoo.com
www.cureorganicfarm.com