=============
**
EFT® for Physical & Emotional Healing
Sunday August 16
12-2 PM - $25
<><><><>
Lose Weight, Gain Confidence with EFT®!
Sunday August 23
12-2 PM - $25
<><><><>
Class Details
to reserve your seat 48 hours in advance!
=============
**
Contact Colleen for a free consultation or to book a session for an hour of surrogate muscle testing, tapping, laughing, fear blasting and SWEET RELIEF!
<><><><>
<><><><>
DISCLAIMER: EFT is gentle acupressure and has produced remarkable results in relieving emotional and physical distress.
USE EFT AT YOUR OWN RISK ON YOURSELF AND OTHERS, INCLUDING ANIMALS.
If you apply this newsletter's techniques to yourself or others, you are agreeing to take full responsibility for any side effects and/or outcomes.
* * *
Thank you for subscribing to my newsletter!
* * *
May you be blessed with perfect health, wealth, joy, peace and love! --Colleen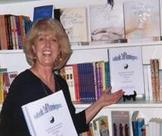 Please forward this newsletter to family and friends who could use the news!
Need help identifying the Core Issues to tap on?
Products to help YOU heal your life with the power of Tapping and Louise Hay's teachings.
* * **
Click
HERE
for Private Session information
.
Mega thanks to YOU, my Worldwide Subscribers for inviting my EFT Secrets and Tips into your inbox!
**

<><><><><><><><><><><><><><><><><><>
Want to easily release your pet's fears of going to the veterinarian?
Read on!
<><><><><><><><><><><><><><><><><><>
PHOENIX-AREA RESIDENTS!
Saturday August 22 FREE Presentation
Animal Communication and Animal Acupressure
Bring your pet's photo and one question for your pet...
...Receive your pet's communication to you THEN
Tap along with Colleen to release your pet's stress!
*
Join us at Lightworkers Gifts 4th Anniversary Celebration!
Saturday August 22nd 4-9 PM
Details about this exciting event HERE!
<><><><><><><><><><><><><><><><><><>

Tapping to Release
Pet Fears of the Veterinarian Office
*


Do your animal friends run and hide when it's time to go to the vet? Have you tried surrogate tapping
before
the trip?
*
*
If you consider the animal's point of view, the vet's office is SCARY! The animal is taken from his home and comfort zone to a place with all kinds of strange noises, smells, unfamiliar animals and people. No wonder some pets become anxious there.
*
Apply EFT® or Meridian Tapping Therapy (MTT) to yourself for your pet so you both have a calm, safe visit. If you apply the acupressure on the animal, try massaging the Reminder Phrase points for extra relaxation.
*
Sample Setup Statements for the Sore Spot or Karate Chop area:
*
Even though I (pet's name) am afraid of the unfamiliar sights, sounds, smells, people and animals at the vet's office, I release my fears NOW. I know that my human Mommy and Daddy will keep me safe and protected, wherever we go.
*
Even though I (pet's name) am terrified being out of my comfort zone and home, I now release these fears of not being safe. I trust my human caregivers to keep me safe and protected.
*
Even though I (pet's name) don't like riding in the car or truck because the motion makes me feel sick and unsafe, I release my fears of being in any vehicle. Mommy and Daddy love me so much and keep me safe wherever we go.
*
Next, do a 9-Gamut Routine followed by your reminder phrases (you can create them from the above setup statements) on all the EFT /MTT acupressure points.
*
Repeat the tapping until your animal friend is completely calm and relaxed. You'll probably feel better, too!
Interested in trying Traditional Chinese Medicine techniques on your dog or cat to put their bodies back into balance? Phoenix holistic veterinarian Beth Dutton recommends the book "Four Paws, Five Directions" by Cheryl Schwartz. This book is recommended for vets and pet owners.
*
Tap each day for the optimum health of you, your loved ones and your animal friends!
<><><><><><><><><><><><><><><><><><>
Want to learn HOW use MUSCLE-TESTING and TAPPING

together

like Colleen does?
*
People around the globe have ordered my
Muscle-Testing and TAPPING SECRETS in
ONE E-BOOK to help themselves, pets and their loved ones! You can NOW get the E-book and 3 bonus e-books through PayPal, then

download them right away

!
*
Check out the Table of Contents and get details by clicking HERE.
*
GOT ALLERGIES? Get the facts about worldwide allergies and how TAPPING can help HERE!
* <><><><><><><><><><><><><><><><><><>
Note: Colleen Flanagan uses a highly effective form of Gary Craig's standard EFT. For information on the latter, go to www.emofree.com