Nicky Charles Newsletter – July 2017

Just a quick update to let you know what I've been working on since the release of Deceit can be Deadly.
1. Coming July 31, 2017…
Law of the Lycans, the original trilogy is an ebook boxed set. It's the perfect way to introduce your friends and families to the series!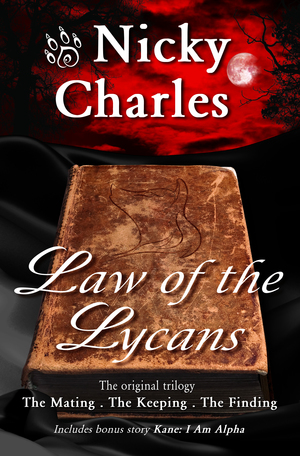 ✰✰~•
✰
•~ Pre-order sale price - only $3.99USD ~•
✰
•~
✰✰
($5.99 after August 5th)
Pre-order links:
*I was going to try for pre-orders on Amazon as an experiment to see how much it negatively impacts sales ranks after release however, Amazon is not being cooperative at this point. Keep checking their website...
2. Kane: I am Alpha…
Included in the boxed set will be a treat for the hard-core fans of the series – a novella from Kane's POV. Read about the series of events that led up to the The Mating as well as getting a peek inside Kane's head.
**If you don't wish to re-purchase the first 3 books but still want this novella, don't despair! It will be available by itself on December 26, 2017.
Pre-order links:
*no Amazon pre-orders at this point
"We've been taking pictures."
Marla's announcement drew the wolf's attention. He watched as she sat down.
She flicked her long, blond hair over her shoulder managing to lounge elegantly despite the fact she was perched on a log. "I'm going to help Ryne arrange another exhibit. Now that I've been promoted at Bastian's I'll have more say on the scheduling of art shows."
"You'd make a great picture, Kane." Ryne raised his camera.
"That's a wonderful idea." Marla clapped her hands. "Kane, you're so handsome, everyone will be fawning over a picture of you."
"I thought I was the handsome one?" Ryne quirked a brow at her and she laughed.
"You're a sexy, dashing devil and you know it, Ryne Taylor."
Ryne bent and gave her a thorough kiss. "And don't you forget it." He turned towards his brother and began to focus the camera. "Give me a smile, Kane."
A growl from the intended subject had Ryne pausing. "Now don't go all wolfie on me, Kane. I know you don't want any humans to see pictures of Lycans. This would just be for family."
He hesitated and Ryne pressed his point.
"It could be a Christmas present for Helen. You know she dotes on you."
He cocked his head and then sighed, giving his permission.
"Great." Ryne quickly began snapping pictures from various angles.
Finally tired, the wolf yawned and shifted to human form. "That's enough, Ryne. I'm supposed to be working not acting like some pin-up boy."
Marla grinned. "And a fine pin-up boy you'd be."
---
3. Untried Heart – available November 13, 2017
Jan Gordon and I have teamed up again to bring you another heart-warming Christmas tale!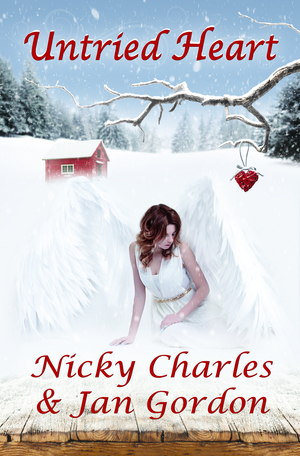 What happens when perfection is too perfect?
Eugenie, a young and untried guardian angel, loves her life in Heaven, yet something seems to be missing. When she is assigned to her first interactive case she wonders if it will provide the excitement she craves.
Her client, Benjamin Davis, is certainly interesting enough. Is he the key to her happiness? Possibly, but when a relic from her previous life surfaces it causes all kinds of complications.
With the guidance of her superior, the Archangel Michael, and additional help from Zeke, an up and coming GA, Eugenie sets out on an adventure that could change her life in ways she never expected.
Untried Heart is the second installment in the Guardian Angel series by Nicky Charles and Jan Gordon.
Pre-order Links
*no Amazon pre-orders at this point
Michael watched as his youngest GA entered his office and slid into the visitor's chair. She was breathing quickly, evidence that she'd rushed to make sure she was on time. Eugenie wasn't the kind to flaunt rules. If a meeting was scheduled for ten o'clock she'd do her best to be present at the appointed time. It was one of he things he liked about her but, at the same time, it was one of the things that caused him to worry. Self-control, when taken to excess, could stifle the spirit. Hopeftully, the case he was giving her would change that.
Once she was settled and looking at him expectantly, he began.
"Eugenie, I feel you are ready for a more challenging role as a GA. I have a case that needs a sensitive and delicate touch, something I believe you are able to deliver."
Eugenie's eyes widened and a smile spread across her pretty face.
He'd known his announcement would please her. Would it continue to meet with her approval once she learned the details?
She clenched her hands and nodded. "Thank you, Michael. What do you need me to do?"
"The details are all in here." He leaned forward and nudged a manilla folder across the desk towards her.
She swallowed hard, staring at it as if it were a snake about to attack.
---
4. Nicky Charles…an editor?
Yes, I tried my hand at editing this year, helping a dear friend with her first novel and I think it turned out quite well. Check it out if you want a great read!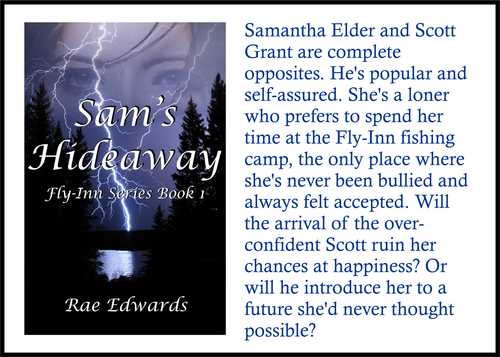 (*Please note this was likely my only dabble at editing – I think I'll stick to writing from now on, lol!)
---
5. The next LOTL novel…
I know many of you are wondering about the next Law of the Lycans novel. I'm working on one…slowly…and was hoping for a release date in early 2018. Progress has been sporadic for the past months though as my mother was diagnosed with cancer. However, today we had a good report - test results show the cancer hasn't spread beyond lymph nodes! Yay! With my mind more at rest now, I hope I can get focused on writing again and the book will not be too delayed.
Thanks for understanding!