SHOP HOURS
Monday: CLOSED
Tuesday: 12 - 6
Wednesday: 12 - 6
Thursday: 12 - 7
Friday: 12 - 6
Saturday: 10 - 6
Sunday: 12 - 4

 

We will be CLOSED for Thanksgiving on Thursday, November 26

and open 11am-5pm on Friday, November 27

 

 

November is already rushing by, but be sure to take time to stop in at ReBelle and smell the yarn.  We have a lot of new bags, baskets, and knitting accessories to help you keep track of your knitting projects that are sure to multiply as the weather gets colder.

 

 

We will be CLOSED for Thanksgiving on 

Thursday, November 26

and OPEN 11am-5pm on 

Friday, November 27

 
The ReBelle girls have launched Knitters Against Swatches, a 36-card, knitting-themed, unofficial expansion for Cards Against Humanity.  
Do you love Cards Against Humanity, but wish it shared your love of fiber so you could reference esoteric knitting jargon like you do at Stitch 'n Bitch? Behold, 
Knitters Against Swatches provides you with 36 knitting-centric cards to liven up your deck. This unofficial expansion is meant to be played 
with
Cards Against Humanity
 – played on its own, it will provide a very short and unfulfilling experience, like running out of yarn halfway through a sweater.  We've got them in the shop, or for those who aren't local, you can order here.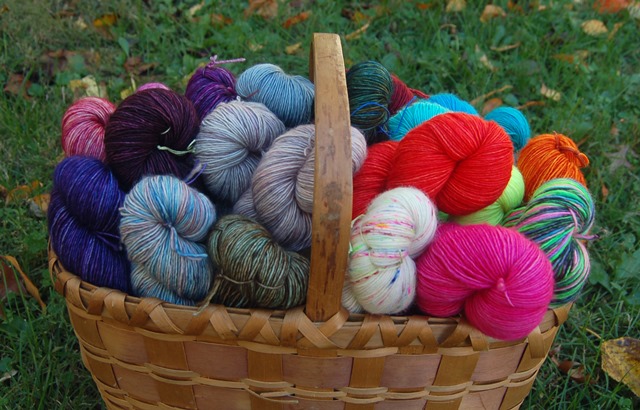 We've got a fresh batch of Madeline Tosh!  We have 14 new colors of Tosh Merino Light, 6 new colors of A.S.A.P., 3 new colors of Tosh Sock and 3 new colors of Prairie.
Look at these adorable felt bags from Frabjous Fibers!  The small pouches are great for notions, double points, or as a wallet.  Since they are felted, they offer some protection against needles poking through and the larger bags are great for holding tablets.
We have a slew of new fairly traded baskets!  These baskets are perfect for storing your yarn and projects because they don't snag.  They are also great for toting and storing in general: groceries, toys, stuffed animals, art supplies, clothing, magazines, or fill it up and make it a gift basket!
Look at these adorable needle gauges!  We have a ton of new designs in large needle gauges or the small ones that come with a clip to hook on to your knitting bag or key chain!
Our clearance shelf is bursting once again with two gradient yarns, Rabat (above) and Casablanca (below).  Rabat is a chunky weight blend of 46% wool, 35% acrylic and 19% silk with 109 yards per 100g, it knits up nicely on a size 10-10.5.  Rabat is ideal for knitting up
Seyfert
(cowl),
Spin Cycle Hat
,
Simple Lace Shawl
and, naturally, the
Rabat Point Vest
.
There's a fresh batch of bags from Slipped Stitch Studios!  We've got several of the popular 2 skein bags and we've added some notions pouches, pattern holders as well as their newly redesigned Double Project bag.  The Double Project bag now has 5 interior pockets (2 pleated ones for yarn and 3 for other storeage) as well as 2 snapping loops for use as a yarn guide or hooking on your keys, scissors, notions bag, or whatever you need to keep close at hand.  It also has a reinforced bottom, a drawstring closure, and a large handle.  You can even use it inside out, with the pockets on the outside for easy access and even more space!!
The yarn of the month for November is Eco Wool.  Eco Wool is a fabulous yarn made of 100% Peruvian Highland wool, it is aran weight and comes in large 8.75 ounce (250g)/478 yard skeins.  It is fantastic for sweaters and afghans, but great for other things too, it also felts very nicely.  You can knit a single strand on a needle size 9-11 and it also looks great doubled on a size 15.  Sarah made a pattern for her Pet Love Christmas Stocking, shown above, and here are some other patterns we think are great for Eco Wool:  Vertical Stripe Throw and Afghan, Umaro (afghan), Hemlock Ring Blanket, 
Aidez (cardigan), Cobblestone Pullover, 
Cadeautje (thrummed slippers), and Springtime Bandit (shawl).
Featured Upcoming Classes
 

 

 

 

 

 

 

 

 

Come learn to crochet this cowl featuring a novel crochet technique using two weights of yarn to create interesting texture and pattern. The resulting fabric is soft and lightweight, resulting in a cloud-like cowl you'll always want to wear. The pattern is easily memorizable, and is a perfect take along project. A knowledge of basic crochet stitches is required. *Materials needed: Super bulky and fingering weight single ply yarn and a size G crochet hook.


 

Sunday, November 15th. 4-6pm

 

 

 

 
 Spinning Art Yarns - Corespinning and Add-Ins($25)

 

Corespinning is a great way to show off the colors and textures of a batt. In this class you will learn to spin fiber around a yarn core. You will learn proper technique as well as a few tricks for creating a balanced yarn. After the corespinning we will spend a little time learning different techniques for adding flowers, beads, and other items to your handspun yarns. This is an intermediate spinning class so you will need to come to class with a working knowledge of your wheel and basic spinning techniques. For this class you will need 1 oz of commercially produced lace-fingering weight yarn, a 3oz batt, a wheel, 2 bobbins, a lazy kate, and a niddy noddy (optional)

 

Saturday, November 14th. 1-3pm